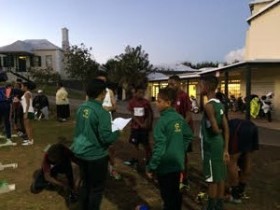 The campus of Whitney Institute was a beehive of track and field activities recently as the school hosted the Racing of the Bulls.
Students from Whitney Institute and Dellwood Middle Schools battled it out in track and field events including the 60M, 300M, 1000M races; Long Jump, Turbo Javelin Throw, and 4x100M Relay.
A spokesperson said, "As you entered the grounds of the school you were welcomed to the sounds of DJ Brother Ritchie as he looked to keep the crowd lively and excited.
"Acting Commissioner of Education and former Whitney Principal, Dr. Freddie Evans was the night's announcer.
"He kept the events flowing so that the night started and finished on time. The event was spearheaded by the Whitney Institute Physical Education Head of Department, Mr. Devarr Boyles."
School Principal Reeshemah Swan said, "Mr. Boyles came to us with a proposal to have a mini track event under the lights. Initially it was due to be held in December; however, due to inclement weather, we postponed it till tonight.
"The purpose of the track meet was to give our athletes exposure to athletic competition, allow them the opportunity to mingle with their other school peers in a healthy and fun environment, to foster comradery among the school community and to allow our young people the opportunity to work alongside some of Bermuda's noted track and field greats.
"For example, we had the support and assistance of our school track coach, Mr. Larry Marshall, Jr; Mr. Devon Bean, BNAA National Coach; Mrs. Debbie Jones-Hunter, a former Whitney Board member and Bermuda sprinter whose record still stands in the 200M; Miss Terry-Lyn Paynter, our current school officer and former Bermuda Carifta athlete and Mr. Norbert Simons, of the Department of Youth and Sports and former Bermuda sprinter.
"We also had the assistance of Mr. Wayne Raynor and Ms. Nicole Caines of the BNAA who assisted with the Hy-Tek system and the finish line and Mr. Emmanuel Faria of the BSSF, our official record keeper of scores and times.
"We are grateful for the support of all persons who came out and assisted in this inaugural event as there were many persons who played a supportive role behind the scenes."
"The event was truly one of community as was expressed by those present. Parents and family members could be seen around the grounds sitting on the bleachers and in chairs, watching the events whilst indulging in the baked goods and hot food items sold by the Whitney PTA.
"With additional and continued support, the school will be hosting more events such as this for our young people."

Read More About