The final 2017 RES Spring Show Series competition gets underway this weekend — March 11th and 12th — at the grounds of a unique property.
"We are extremely grateful to the generous invitation of Mr. Ralph Terceira and family who have offered the use of Ocean View Farm, St. Mark's Road, Smiths for the venue of the final RES Spring Show," a spokesperson said.
"This beautiful property affords all competitors an opportunity to compete on grass and is especially timely given next month's Ag Show to be held at the Botanical Gardens which also is a grass venue.
"Along with the regular hunter/jumper and equitation classes as well as the Hunt Club Classes, the RES show will also feature a special Pleasure Driving Open Single carriage class consisting of two- or four-wheeled vehicles capable of carrying a passenger and for the first time a carriage obstacle course which should prove to be exciting. The carriage events always proves to be a crowd pleaser as drivers show up with beautifully turned out vehicles.
MP Glen Smith will be competing with his driving horse JS Magic at the RES Spring Series Finale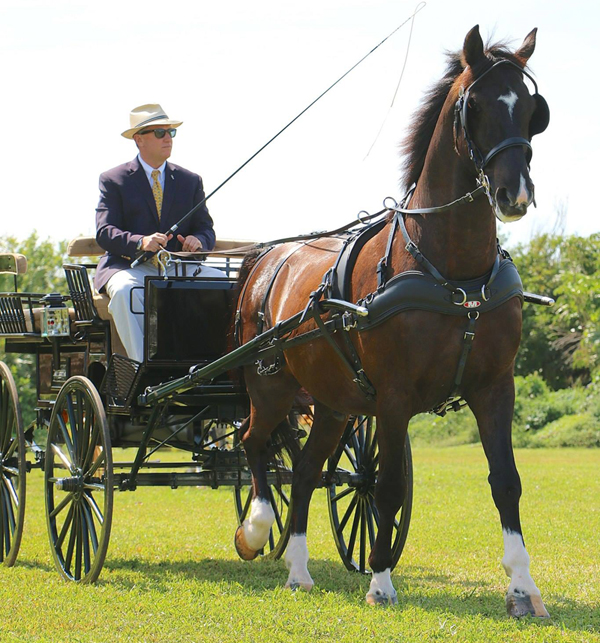 This being the final of the show series, championships and special prizes will be awarded for the following divisions:
Hunter Pony Classes; Low Hunter Pony Classes; Junior Hunter Horse Classes; Working Hunter Horse over 15.2hh Classes; Low Hunter Horse Classes; Walk & Trot Equitation 10 Years & Under Classes; Short Stirrup Equitation 12 & Under Classes; Junior Equitation Under 12 Classes; Junior Equitation 12-14 Classes; Junior Equitation 15-18 Classes; Adult Equitation Classes; Lead Line Equitation Under & Years Classes; X-Rail Hunter Under 12 Years Classes and 2' Hunter 12 Years & Under Classes and a special trophy will be awarded in the carriage division.
Individual Championships will also be awarded for various jumping classes.
"We welcome our visiting qualified judge Ms. Kim Kirton of the U.S. and FEI Jumper Judge Paul Pereech of Bermuda," a spokesperson said.
"The weekend show gets underway both days at 8:30am and the public is welcome no admission charge. Signs will be posted clearly indicating approved parking areas off of St. Mark's Road and we would kindly ask everyone to abide by them as this is private property and we are able to host the show there by kind invitation.
"Finally,  a special thank you to the kind sponsors whose contributions are very much appreciated: Title Sponsor the Lindo's Group of Companies and Lead Sponsor Auto Solutions; Gold Sponsors: Easy Hauling Ltd., and Lucas Oil [Martins Precision Automotive]; Silver Sponsors: The Beach, Treecon and Bermuda Veterinary Services and Bronze Sponsors Bermuda Worldwide Shipping and Sousa's Landscaping."

Read More About