The CONCACAF website has featured Dante Leverock, posting a profile on the Bermudian footballer who they called a "rising talent in CONCACAF."
The story said, "The 6-foot-4 Bermudian international played for the USA's Harrisburg City Islanders, but he's now with Ilkeston FC in England, where he competes for Bermuda legend Shaun Goater."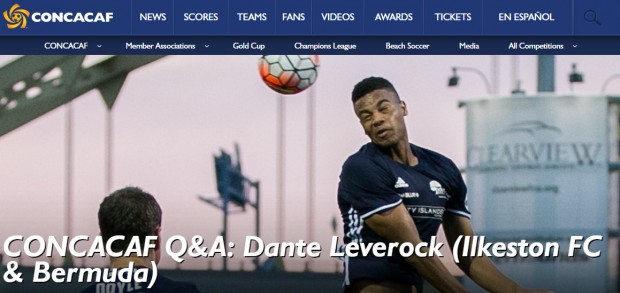 Asked how it feels to be playing for Ilkeston FC where the manager is former Manchester City and Bermuda star player Shaun Goater, Mr Leverock said, "Working with Goater is an experience I'm lucky to have as a player.
"He has a wealth of knowledge and has played in the highest level in England, so I'm trying to learn as much as I can while I'm working under him. He had a lot of success as a player and I will work hard to do the same as well."
Asked about his goals for 2017, Mr Leverock said, "This year, I want to reach the highest level possible, proving myself and developing into a top defender whether that is in the Football League or professionally in Europe.
"I expect to be back at a professional club by the summer. I want to be best defender Bermuda has ever seen. That is my personal goal.
And in giving advice to young people who want to play football professionally, Mr Leverock said, "As a kid who wants to wake up every day and play football, my advice is to work hard and practice every second you can and never give up on your dream.
"I'm lucky enough to be living mine with my support system. My career is dedicated to my mother."
You can read the full story here on the CONCACAF website.

Read More About