Greenrock said they "welcome the decision by shipping firm BCL to invest in a more fuel-efficient cargo ship to replace the Oleander vessel," adding that they "encourage them in working towards a green shipping focus."
Earlier this month the Bermuda Container Line [BCL] confirmed they signed a contract to have a new, custom, container vessel built to service Bermuda.
BCL said that in an effort to "think about long-term sustainability and environmental responsibility, we have ensured that the new ship will incorporate the capability to convert to liquid natural gas [LNG] operation, which many see as a game-changer for shipping in the future."
The new ship is scheduled to be delivered in the first quarter of 2019, at which time BCL's current container vessel Oleander will be retired.
The Oleander, pictured in 2015, is scheduled to be retired in 2019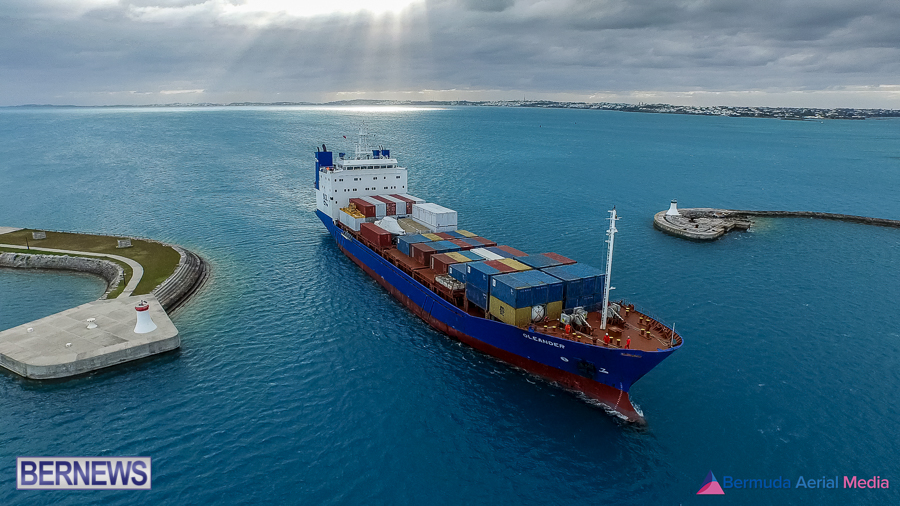 A Greenrock spokesperson said, "Bermuda has an ethical responsibility to play its part in reducing greenhouse gas [GHG] emissions – as well as economic incentives to do so – and this includes not simply GHG emissions from energy production and motor vehicles in Bermuda itself, but also areas such as international shipping that supplies the island.
"International shipping largely relies on highly polluting 'bunker' fuel, which contributes greatly to not just air pollution itself, but also to global GHG emissions – shipping is projected to account for some 17% of global emissions by 2050.
"Recent moves by the UN's International Maritime Organisation to cut sulphur emissions by 2020 are welcome [capped at 0.5% of shipping fuel content from 2020 [current levels can be as high as 3.5%], however Greenrock is disappointed that similar moves to cap carbon dioxide emissions did not reach agreement at the time.
"While we remain hopeful that such agreement will be reached sooner rather than later, we encourage BCL to take a leadership role and set their own ambitious action to reduce the carbon footprint of shipping to Bermuda.
"We note BCL's commitment to long-term sustainability and environmental responsibility, however we do not agree with the focus on LNG [the new ship will incorporate the capability to convert to LNG operation].
"LNG is not without it's problems – it is a high carbon fuel that only makes a marginal CO2 reduction for ships. In a world working towards low or zero carbon, there is no place for LNG as anything more than a short-term transition marine fuel, and it will need to be replaced by genuine low carbon fuels. Furthermore, LNG is largely based on fracking, an operation that threatens communities and the environment.
"Better alternatives would be to install emission abatement technology, like in road vehicles, investments in fuel cell technology, or, more ideally, a focus on alternative energy sources, such as battery technology, and wind power.
"In fact, on the same day as BCL has noted the retiring and replacement of the Oleander, there is an article in the Guardian about new technological developments regarding 'spinning sails' which have the potential to see a 10% fuel saving from wind power for international shipping.
"We welcome BCL's focus on sustainability and we encourage them in working towards a green shipping focus. Shipping remains the most energy-efficient way to move large volumes of cargo – however it can – and must – be done greener."

Read More About
Category: All, Business, Environment