[Part of the Bermuda Tourism Authority's 'Tourism Forward' series]
If you grew up fishing off the rocks in Bermuda, Bryan Harvey is determined to have you rediscover that experience Sunday on the Railway Trail in Hamilton Parish.
He's part of the Bermuda Tourism Authority's Rediscover the Rail Trail event so that the experience he began offering to visitors recently can be exposed more broadly. He's fished all his life. At one of his usual spots last year he encountered a visitor who asked to join him. By the end of that day, Mr Harvey sensed opportunity.
"I was in between jobs and everything so I said you know what, let me try this out," he said.
Now he's offering the experience to guests of the Grotto Bay Resort, taking them to fish off the rocks along the Rail Trail, typically near the hotel between Crawl and Coney Island. If they get lucky, he sends the catch back in a bag with ice. The chefs at Grotto Bay prepare it for the guests' dinner.
"You give me your order, I turn into a waiter," Mr Harvey said. "You want it baked? You want it fried? You want it boiled? Whatever. You go get washed up and you've having dinner right there. That's the deal with Grotto Bay."
BTA Director of Public and Stakeholder Relations Glenn Jones said of Sunday's event: "Our goal at the Bermuda Tourism Authority is to get entrepreneurs thinking about what kinds of experiences they can offer along the Railway Trail, all across the island that will enhance the experience of the people that are using it. Bryan's example of fishing off the rocks is one way to do that."
Photo courtesy Scott Ripley: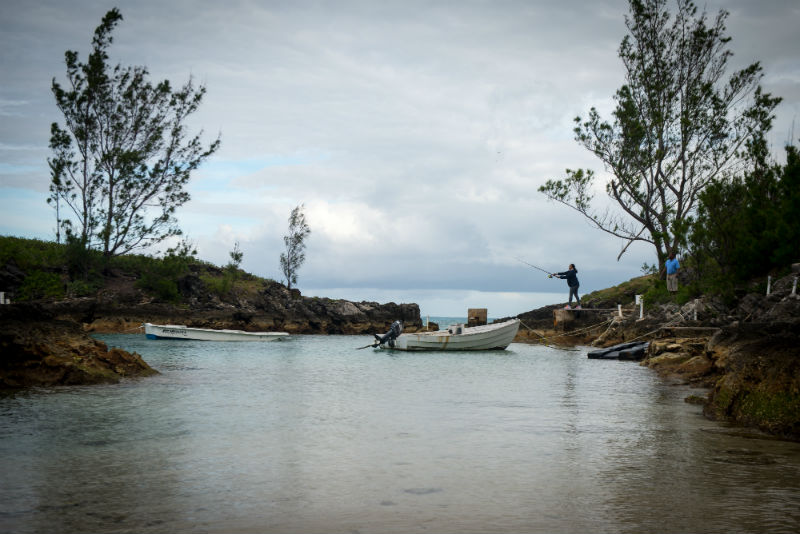 Based on Mr Harvey's advice, the BTA has designated a "Best Place to Catch a Fish" along the Rail Trail in Hamilton Parish and on Sunday Bryan will be there helping anyone who is interested put a line over. There are six other special spots as well, everything from "Best Place to Steal a Kiss" to "Best Place to Take a Plunge".
Participants who visit each spot can participate in a One Communications social media contest where GoPro Cameras and Beats by Dre are among the prizes. For more information about the event visit www.gotobermuda.com/bta.
Watch the Tourism Forward video series online at the BTA's Vimeo channel. Tourism Forward also airs on cable on Channel 82.

Read More About