People attending the Rediscover the Rail Trail event on March 5th can win prizes for posting photos of their day on social media.
The prizes include up to three GoPro Cameras, two sets of Beats Headphones and almost a dozen gift certificates, courtesy of One Communications.
The goal of the contest is to motivate people to discover seven "best places" on the Rail Trail between Shelly Bay and Bailey's Bay.
The places were curated by the Bermuda Tourism Authority [BTA] as part of its strategy to get the public to reimagine how it uses the trail, particularly as it applies to solidifying Bermuda's credentials as a year-round travel destination.
One Communications, a partner in the event, will reward those who capture and post memorable images of themselves experiencing the best places. Posts on Facebook and Instagram with the following hashtags are eligible: #RailTrailBDA and #OneCommUnity.
The post with the most likes by the end of the day on March 9th, 2017, advance to be considered for prizes; participants are encouraged to share their images widely.
Maiesha O'Brien and Daniel Johnson of the BTA's Product & Experiences Division show off one of Sunday's "Best Places" signs.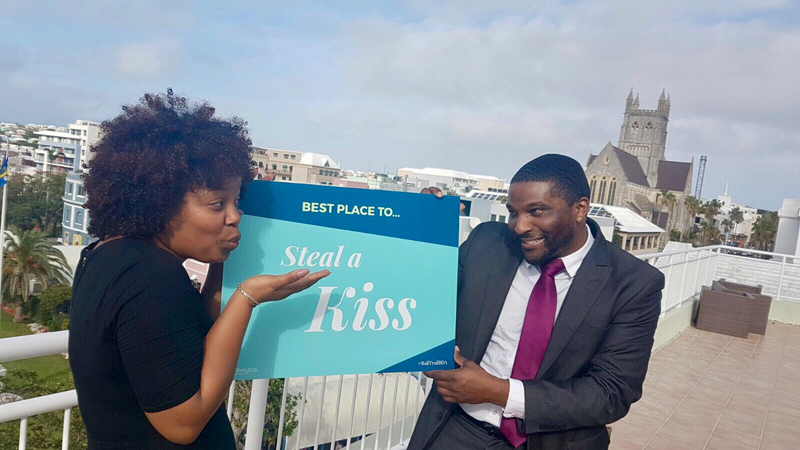 The public will know when they have come upon a best place because it will be marked on the Rail Trail with a sign. The list of best places includes:
Best Place to Steal a Kiss
Best Place to Enjoy a Picnic
Best Place to Roll Out a Yoga Mat
Best Place to Watch a Sunset
Best Place to Catch a Fish
Best Place to Take a Plunge
Best Place to Break a Sweat
"If you visit the best place to catch a fish I recommend you put a line over with the fisherman we have out there and snap a picture," said Glenn Jones, the BTA's director of public and stakeholder relations.
"I think those who throw themselves into the full experience on Sunday will be rewarded the most.
"We're grateful to One Communications for coming up with this great contest. They are certainly helping us all reimagine how we experience the Rail Trail and, via social media, they're helping us share this aspect of Bermuda life with people around the world."
As part of the day's activities, One Communications will provide a free WiFi hotspot at Bailey's Bay Cricket Club to enable people to post pictures to social media quickly and easily, while the excitement of rediscovery is still fresh. Click here to register for Sunday's event.
BTA Rail Trail Infograph Schedule [PDF]: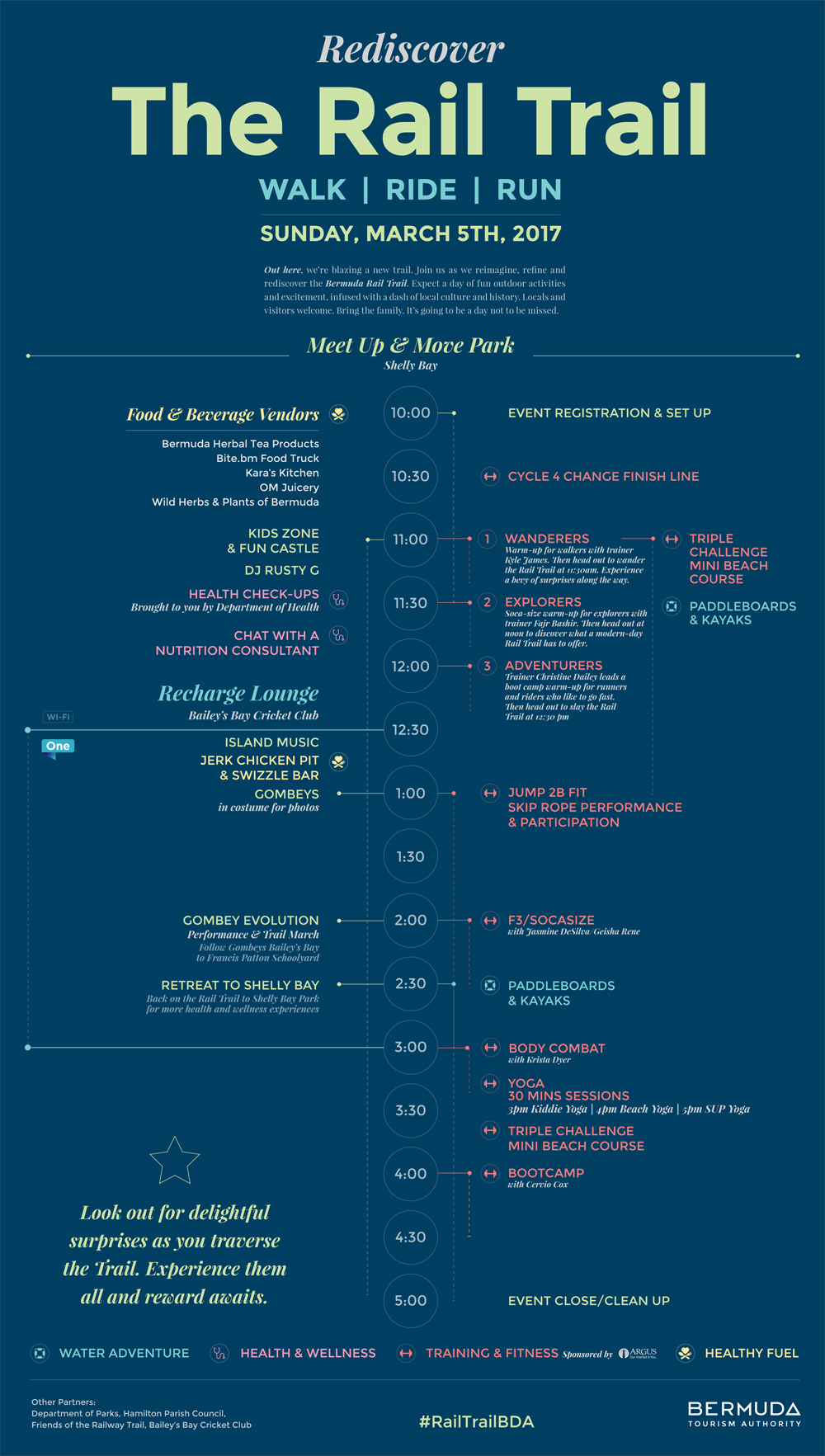 Read More About
Category: All, Entertainment, technology