As Bermuda lends itself to enable America's Cup fans to watch the racing and stay on board boats for the duration of their stay, some visitors will be embarking on a 'water-borne vacation' to the island to watch the 35th America's Cup.
One family who have taken full advantage of this unique opportunity are the Samis family from Chicago, Illinois who have booked their stay in Bermuda with The Moorings, which is an Official Charter Supplier to the 35th America's Cup.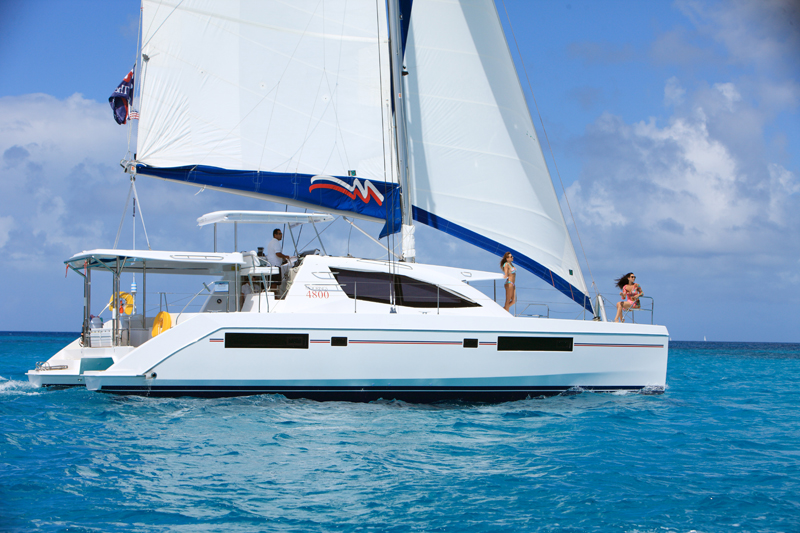 Alexandra and John Samis will be bringing YiaYia [Georgia Samis who is John's Mother] and Annie [Alexandra and John's daughter], and family friends Tom and Kathy Barnard and their children, Peter and Katie.
Both families are members of the Chicago Yacht Club and they will all be making the short trip from Chicago to Bermuda to spend a week on board one of The Moorings' all-inclusive crewed yachts.
Giving an insight into why the Samis and Barnard families decided to make the trip to Bermuda, Alexandra explained, "Annie and I went to the Louis Vuitton America's Cup World Series Chicago event back in June 2016 and it was exhilarating.
"We were there every day, including when both the Oracle Team USA and Emirates Team New Zealand boats capsized, and we absolutely loved it.
"I grew up taking vacations with The Moorings and my daughter Annie took up sailing a while back. Tom, Kathy, Peter and Katie Barnard have also been sailing with The Moorings since 1969 so they are the natural choice for us.
"With Annie, we enrolled her in a two week program and she's never looked back. She's now part of a competitive race team with Peter and she is determined to see more women racing in the America's Cup in the future, so the Cup really is an important part of our lives.
"Annie and Peter decided to enter a competition to take part in the official America's Cup Endeavour Junior Regatta, and they were both lucky enough to win through to take part in the event itself in Bermuda. That is obviously the opportunity of a lifetime, so we could not say no to that.
"However, the America's Cup is obviously also going to be a world class event, and for my husband John, who also loves Formula 1 motor racing, this is a chance for him to see what he calls 'F1 on the water' up close.
"We definitely aren't the sort of people who would fly to Bermuda in a private jet, but we are the sort of people who want to be part of such a truly unique, once-in-a-lifetime event.
"Booking with The Moorings means we don't have to worry about anything at all while we're in Bermuda, from what to have for dinner to where we'll be watching the racing from, and we know we will have incredible views.
"Finally, we will have a front row seat for the races Jimmy Spithill and the Oracle Team USA guys are competing in, and while we will be cheering for them, we will also be able to cheer for Peter and Annie when they take part in the America's Cup Endeavour Program Regatta."
The 35th America's Cup will take place from 26th May to 27th June.

Read More About