The Bermuda Tourism Authority will unveil an interactive visitor engagement area in the America's Cup Race Village to encourage spectators to get out and see the rest of the island before and after race events or on days when no is racing scheduled.
The BTA said, "A team from the Bermuda Tourism Authority will staff the space to highlight Bermuda's attractions, restaurants and BTA-sponsored events in June, including Tall Ships, Bermuda Heroes' Weekend and Celebration Zones set up in Hamilton and St. George.
"In Hamilton the Celebration Zone theme is Bonfires & BBQs, with events taking place June 8th and 22nd. In St. George the theme is maritime-inspired known as Pirates and Plunder, taking place on June 14th in the town centre.
A temporary Bermuda Triangle at Albuoy's Point, Hamilton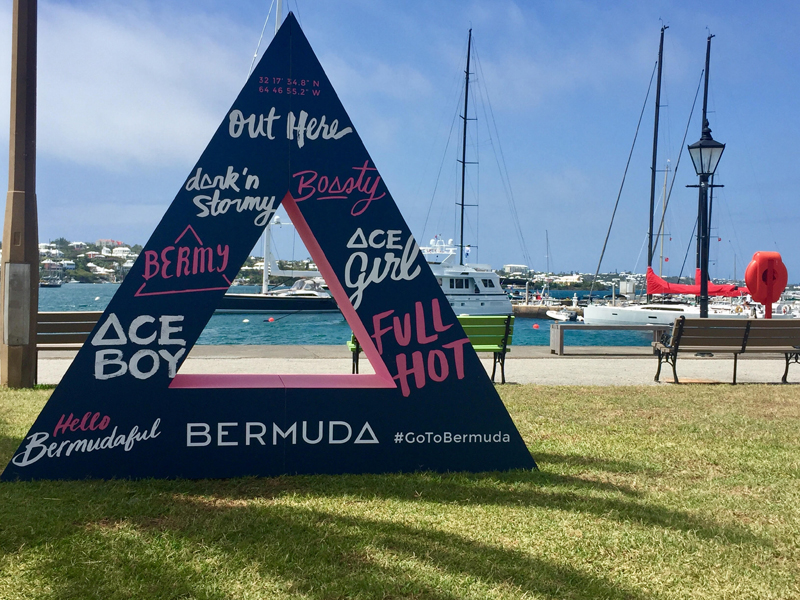 "Celebration Zones are opportunities for small businesses and independent vendors to set up on the street Harbour Nights style," said Pat Phillip-Fairn, chief product and experiences officer at the Bermuda Tourism Authority.
"We created these events to engage first-time visitors here for the America's Cup with an island life street fair experience, the kind of thing that is a staple in the Bermuda way of life.
"A lot of visitors will be here because they love sailing, but we want them to also fall in love with Bermuda. That's how we get them to return. Celebration Zones will be genuinely Bermudian and will show visitors what we do out here all the time."
Meantime, the Bermuda Tourism Authority marketing team have set up temporary Bermuda Triangles in Hamilton, Dockyard and St. David's for visitors to discover during the 35th America's Cup. These efforts were coordinated with the Corporation of Hamilton, West End Development Corporation and Bermuda Land Development Company. Each of the three triangles is distinctively different.
Bermuda Tourism Authority engagement area location in the America's Cup Race Village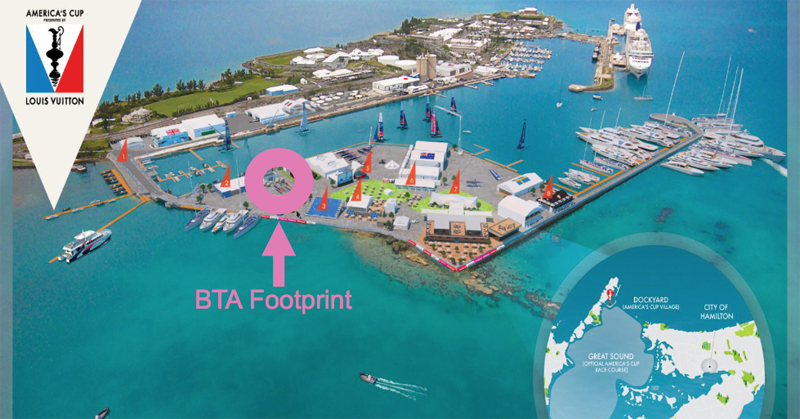 Visitors will be encouraged to take photographs with the triangles and share content on social media using specific hashtags. They can also visit the America's Cup Race Village space to pick up a hard copy of their photo.
The area, set up near the entrance of the America's Cup Race Village, has a Bermuda moongate entrance, a Bermuda-inspired colouring wall and mesh technology that will allow visitors to download Bermuda-relevant content to their smartphones without the use of a data network.
Bermuda Tourism Authority CEO Kevin Dallas said: "From our footprint in the race village to a packed event schedule, the Bermuda Tourism Authority has a plan to engage visitors and encourage them to spend their time and money island-wide.
"We encourage everyone to download the event schedule available on our website because we're convinced the more Bermudians our visitors meet at these events, the more likely they are to return."
Find the all-in-one event schedule for May and June online.

Read More About
Category: All, Entertainment