Tourism-branded pink bean bags, which were featured during the Louis Vuitton America's Cup World Series, will be up for grabs in an Endeavour fundraising effort organised by the Bermuda Tourism Authority [BTA].
"After being inundated with requests to buy the sailing spectator seats which lined the America's Cup event village, the BTA decided to pivot popularity into opportunity, raising money for the benefit of Bermuda's young people," the BTA said.
"We think it's an excellent opportunity to support an America's Cup legacy benefit," said Victoria Isley, chief sales and marketing officer for the BTA.
"Anyone who makes a minimum contribution to the Endeavour program will receive from the BTA a comfortable Bermuda tourism-branded Fat Boy Bean Bag Chair. We hope this incentivises donations from individuals or companies who otherwise may not have contributed."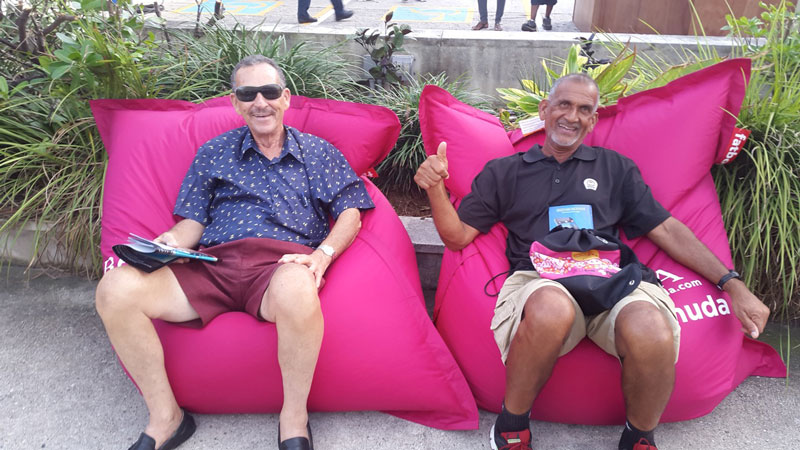 The BTA added, "A $200 donation made online at the Bermuda Community Foundation website will qualify the donor to receive a bean bag. There are 30 available.
"All proceeds, less the cost of Customs duty, will go to the Endeavour programme. However, a letter has been sent to the Collector of Customs requesting duty be waived so that Endeavour can receive the maximum benefit.
T"his promotion will begin at noon on Wednesday, October 28, 2015, and will last one week, until noon on Wednesday, November 4 [or until supplies run out]. The donor must donate at least $200 and only one bean bag will be rewarded per transaction.
"The donor must select the "America's Cup Endeavour Community Sailing Programme" from the drop down menu as the recipient of the funds. Details on how to collect the bean bag will be sent to the donor via email after making the contribution online.
"A quantity of bean bag seats disappeared during the Louis Vuitton America's Cup World series weekend. As they're recovered or returned they will be added to the inventory available to the public in order to grow the amount benefiting the Endeavour Programme.
"Therefore the BTA will happily accept the return of any bean bags at its office in the Washington Mall complex or at any of its Visitor Information Centres in St. George, Hamilton or Dockyard.
"Even if no additional bean bags are recovered, and assuming the Collector of Customs grants the request for waived duty, the Endeavour Programme stands to receive as much as $6,000 as a result of this effort."
Read More About