[Updated with photos & video] The City of Hamilton and the Bermuda Tourism Authority [BTA] are inviting the public to attend a "prep rally" today [Oct 12] to get the island fired up for the Louis Vuitton America's Cup World Series, with six speakers set to offer remarks at the event.
The speakers, from whom brief remarks are expected, include Hamilton Mayor Charles Gosling, St. George Mayor Quinnell Francis, Erica Smith of the Bermuda Economic Development Corporation, Eugene Dean of Emperial Group, America's Cup Jam Emcee Nadanja Bailey, and Bermuda Tourism Authority CEO Bill Hanbury.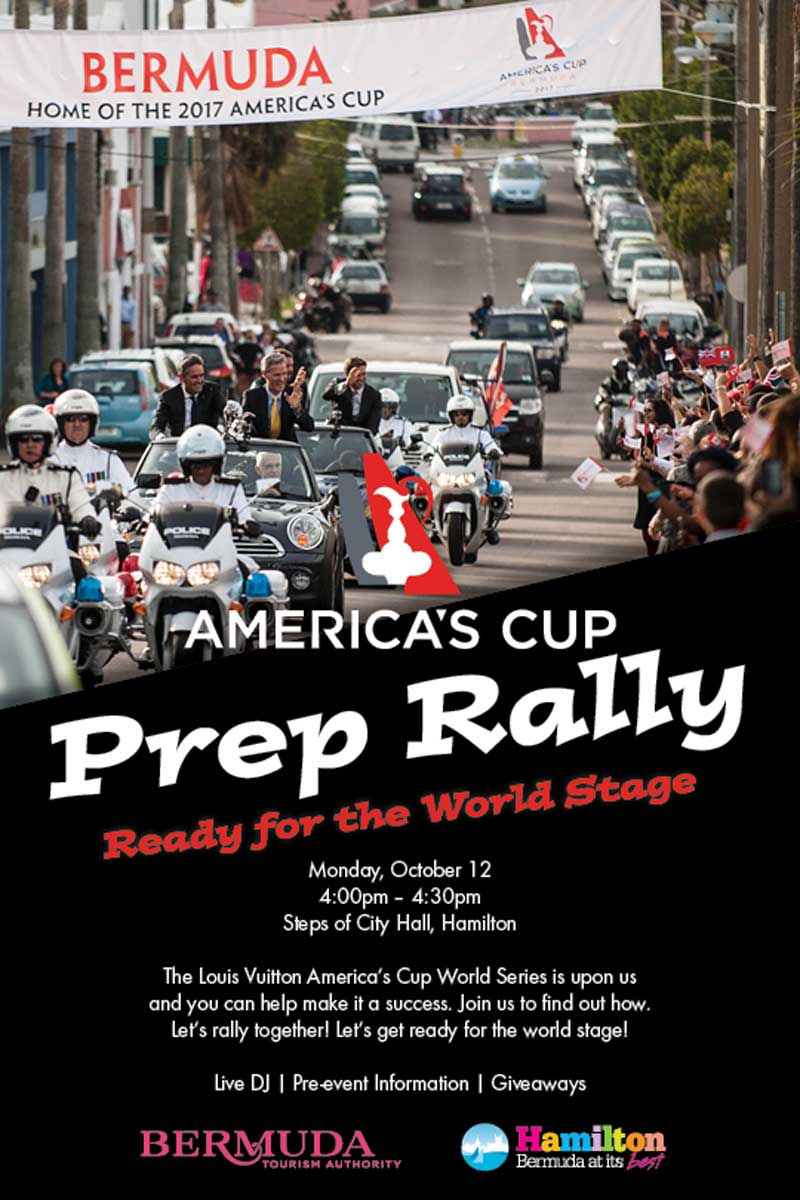 A BTA spokesperson said, "The three chief objectives for the prep rally are to acknowledge Bermudians who are contributing to make the Louis Vuitton America's Cup World Series a success: vendors in the "Our Bermuda" event village, local performers at the concert, people putting on Endeavour Day in St. George, etc; hand out hospitality buttons specifically for the America's Cup, asking people to wear them as part of our readiness plan, and create a visual moment by getting everyone who attends to take a group photo with our "Home of the 2017 America's Cup" banner on the steps of City Hall."
Audio of the BTA's Glenn Jones on the prep rally:
BTA CEO Bill Hanbury previously said, "We're calling it a prep rally because we want everyone to feel fully prepared for what's coming, ready to roll out the red carpet and ready to show off the amazingly warm hospitality Bermuda is famous for.
"We're excited to unveil Bermuda to a new generation of travellers."
Update 4.20pm: The event is underway, and you can watch it live on our Periscope account here.
Update 11.46pm: 35 minute video from today's event added below
.
Click to enlarge photos:


Read More About