Mexico comes to Bermuda this Cinco de Mayo weekend, with Security Associates, in conjunction with Bermuda Boxing Federation hosting the first 'One World Bermuda Boxing Festival' on Saturday [May 6] at the National Sports Centre, which will see Bermuda's Nikki Bascome take on Mexico's David Rangel Gomez.
Bermuda Boxing Federation [BBF] President Nathan Dill states, "One of our goals was to ensure continuous opportunities for our member gyms and athletes to compete and this event will represent Bermuda's first truly international boxing event.
"One World Boxing Festival signifies the value of sport in creating positive interactions among athletes worldwide and we are proud to host this event. BBF introduced the Youth Boxing Academy with the mission of introducing life skills needed to excel, while developing the art of boxing in Bermuda."
Bermuda Boxing Federation Vice President, Leo Richardson spars with teen boxer at the Controversy Gym training facility, as seven year old boxing students, Zenai and Zakai Taylor warm up in the background. The Security Associates 1-World Boxing Festival put on b the BBF, will showcase junior boxers as well as Bermuda's top ranked fighters going against international fighters
.
Mr. Dill continued, "The primary goal of the BBF executive is to create partnerships with individuals and organizations that are passionate about the value of sports in the lives on the youth.
"Our sponsors for this event have taken the opportunity to show their support for our mission and for that we are grateful, in particular for that of our title sponsor, Security Associates, for our continuing partnership."
Security Associates CEO Dr. Carlton C. Crockwell said, "Our mantra at Security Associates is that Secure Families Mean Secure Communities. We are delighted to announce our partnership with the Bermuda Boxing Federation for the One World Boxing Festival.
"With part proceeds directed to the Youth Boxing Academy and the Coalition for the Protection of Children, the benefits to our community have been well demonstrated.
"As the monies raised will go toward holistic development of our young leaders in the ring and the community – the future of Bermuda's boxing community is assured through the Youth Boxing Academy."
Dr. Carlton Crockwell, Chief Operating Officer, Security Associates announced his company's partnership with Boxing Federation then sparred with former Boxing Heavyweight Champ, and Vice President Leo Richardson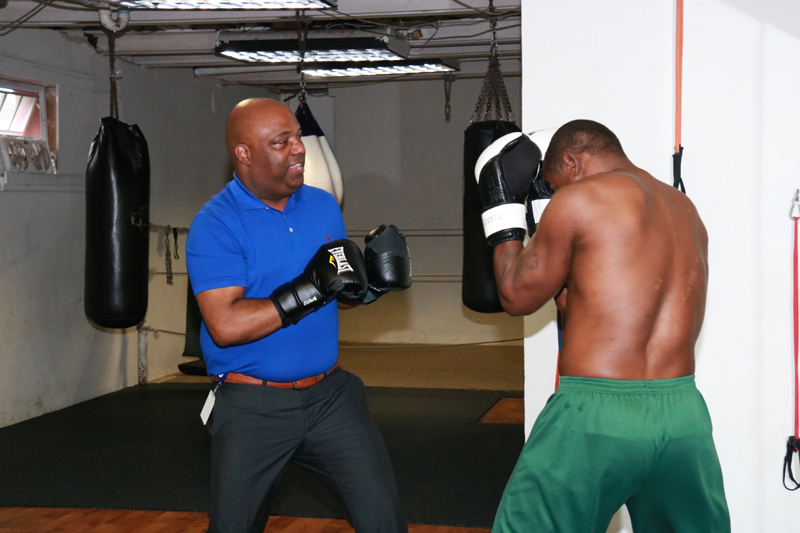 Coalition for the Protection of Children adds, "The Coalition for the Protection of Children is very pleased to be partnering with the Bermuda Boxing Federation. We are glad that they are providing opportunities for young children to participate and develop in the sport."
Bermuda Boxing Federation Program and Event Coordinator Melissa Looby adds, "Boxing in Bermuda represents an opportunity for the community to come out and support our own.
"Our athletes have immense talent, and events like these offer the chance for our athletes to encounter talent that will increase their exposure and raise the bar. Many of the local amateur boxers are following in the footsteps of athletes like Nikki and it the goal of BBF to increase the resources available so that nothing can hinder their growth."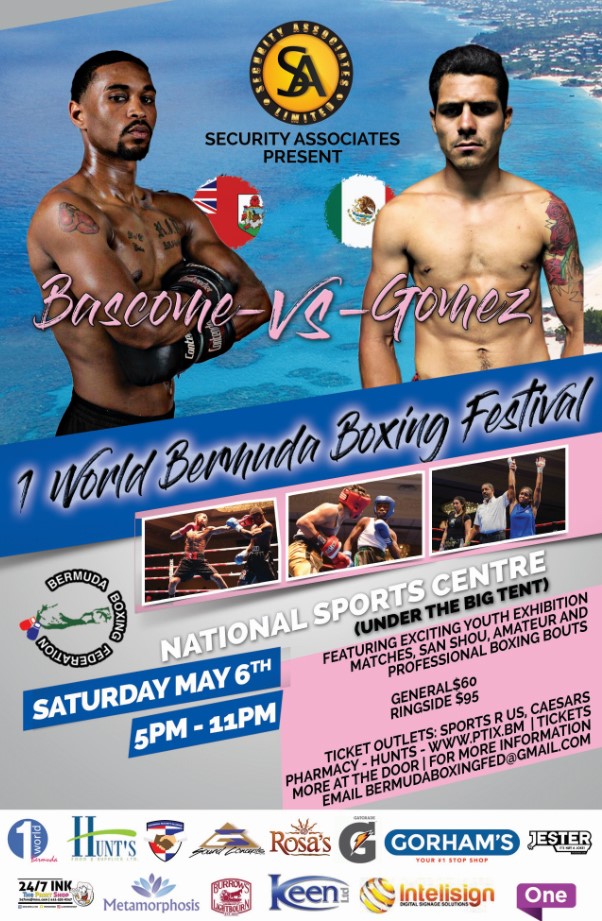 The One World Boxing Festival will feature local amateur athletes Robert "King" Somner, Andre Lambe, Jaylon Roberts, Courtney Dublin and Matthew Tannock. The main event will feature Bermudian Professional Boxer Nikki 'Nifty' Bascome against Mexican Boxer David "El NeNe" Rangel Gomez.
After 17 professional bouts, Gomez looks to end his current five bouts losing streak against the older, undefeated Bascome, who will defend his spotless 6-0 record. General admission tickets are $30 for youth [16 and under] and $60 [17+] and ringside tickets are $95.
Tickets are available online at www.ptix.bm, or by visiting Sports R Us, Caesars Pharmacy, Hunts and Kit N Caboodle. For more information on the Bermuda Boxing Federation, its programs and initiatives, email bermudaboxingfed@gmail.com.

Read More About