Restoration House Ministries International in partnership with The Anglican Church of Bermuda are inviting all members of the community to join them for the first annual Community 24 Hour Prayer Room on Tuesday, June 6 from 12:01 a.m. to 11:59 p.m. at The Cathedral Hall, 29 Church Street, Hamilton.
"In these times of social, economic and political uncertainty, with various people and entities constantly opposing each other, we as members of the inter-faith community must demonstrate unity. We must pray together for the future of our county, our leaders and our children," a spokesperson said.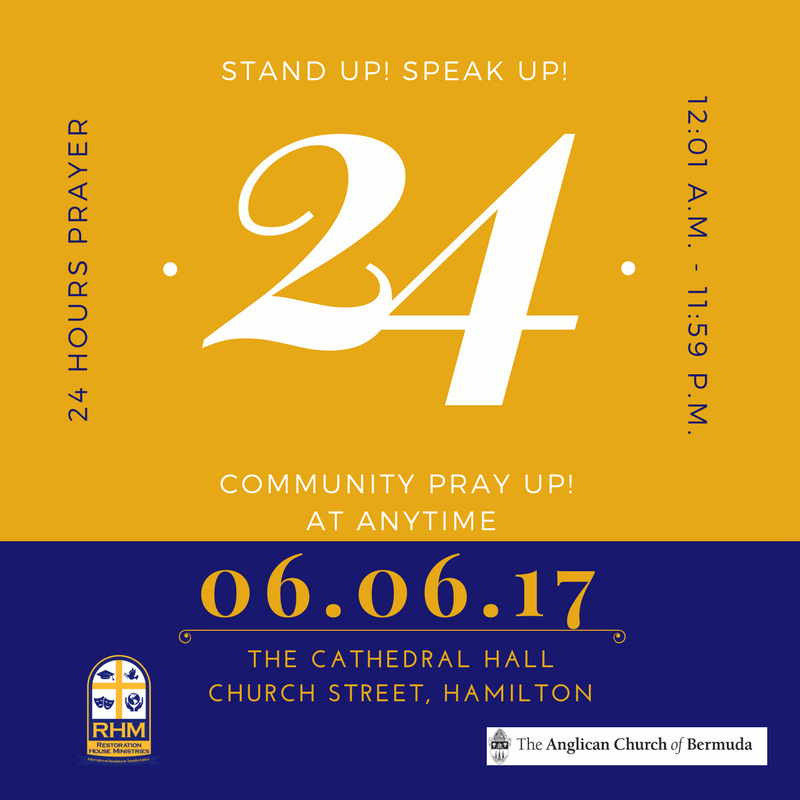 "The word of God tells us "If my people who are called by my name will humble themselves, and pray and seek my face and turn from their wicked ways, then I will hear from heaven and will forgive their sins and heal their land." [2 Chronicles 7:14 ESV].
"The Anglican Church of Bermuda has been in engaged in a ten-day period of prayer. From Ascension Day [May 25th] to Pentecost [June 4th] the Church will been praying for an outpouring of the Holy Spirit as we navigate together as one people, called by God. The Community 24 Hour Prayer Room will be a beautiful ending to this special time.
"We welcome you to join us as we pray for the needs of this Island and its people. Our goal is to have fervent prayers of hope and peace taking place non-stop for the entire 24 hours. There is strength in numbers, power in prayer and hope it unity. Join us as we lift our country up to God.
"Should you need further information please contact Restoration House Ministries at rhm@logic or 236-2725 or contact the Anglican Church of Bermuda at 292-6987 or diocese@anglican.bm."

Read More About