Celebrating the 58th anniversary of the success of the Theatre Boycott, Imagine Bermuda will be hosting a free 'Family Friendly Short Walk & Talk' beginning at Whitney Institute on Sunday [July 2] from 5.30 pm in appreciation of the efforts of the Progressive Group.
A spokesperson said, "He, not busy being born, is busy dying."
"This quote from Bob Dylan captures a key choice, open to each of us. In reflecting on 'Life's Journey' we can either select a productive mindset, giving birth to our "better selves" or choose otherwise.
"For several weeks in 1959, a small group of 20-somethings, who had been 'busy being born' personally, spent time together, mindfully reflecting on how they might contribute to giving 'birth' to a better Bermuda.
 Two young student volunteers of the Aquarium Staesha Pitcher and CaVon Raynor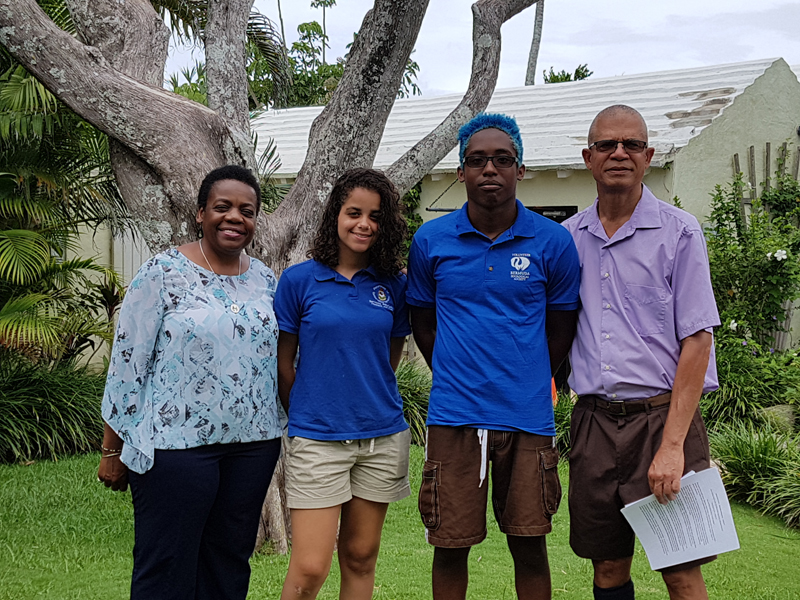 "While forging a shared Vision, they came up with the idea of the Theatre Boycott, capturing imaginations across the Island, sparking a community-wide collaboration. Within 2 short weeks of spontaneous, peaceful campaigning, a significantly opened Bermuda was born, on July 2nd 1959.
"In appreciation, we are celebrating those efforts on Sunday, July 2nd from 5.30 pm with a free 'Family-Friendly Short Walk & Talk'. Beginning at Whitney Institute, we will take in the former home of the Williams' Family, where the Progressive Group secretly nurtured that 'seed' of a renaissance.
"This 'Walk' includes Honourary Co-Patrons; Charles Marshall and Dennis Wainwright – two elders who have demonstrated that productive mindset in both Flatts and Bermuda in general. The 'Walk' will also highlight a few other milestones in the Village; such as the link to Reginald Fessenden – the inventor of the Radio and the significance of the Aquarium.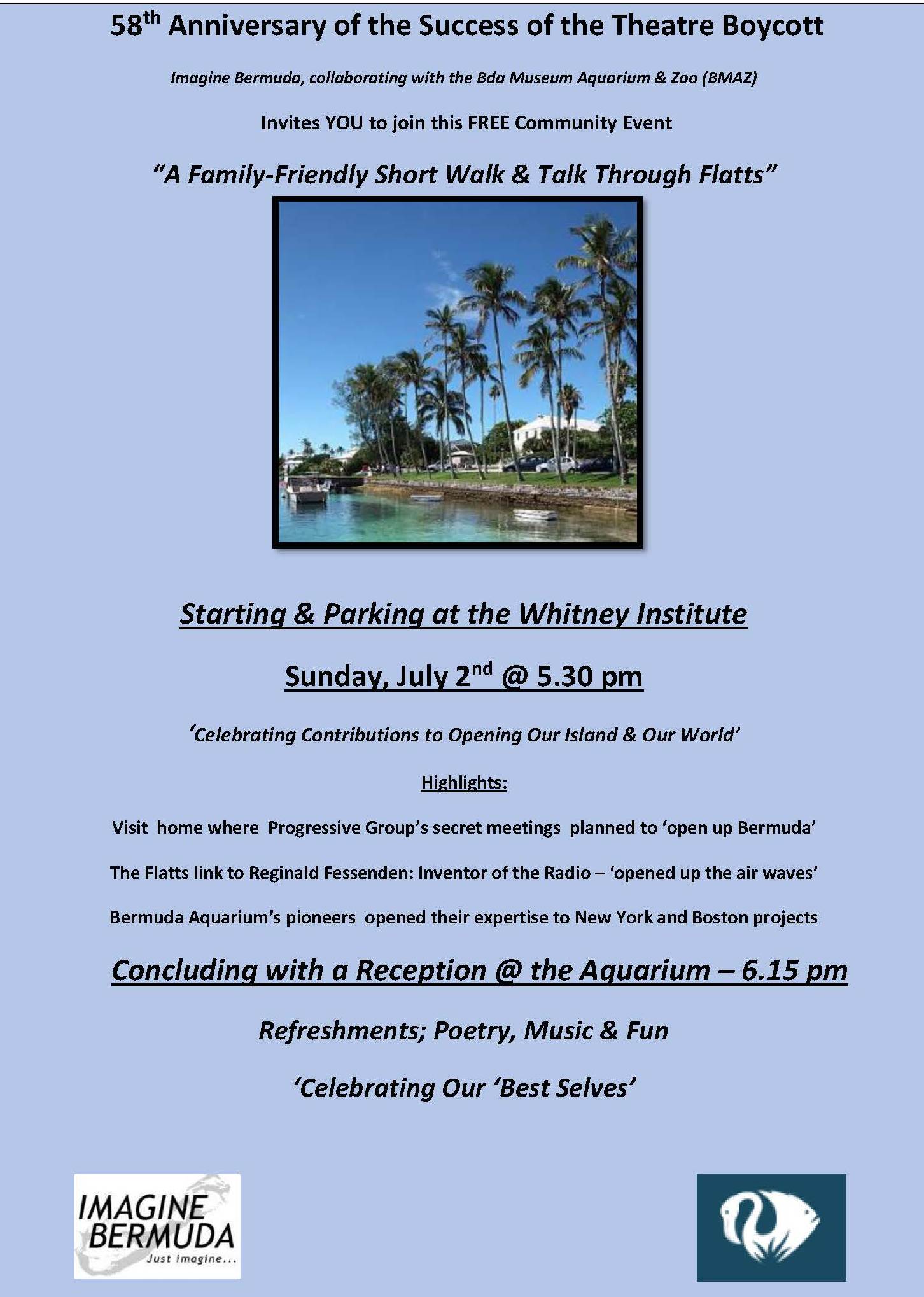 "The Bermuda Aquarium, Museum & Zoo [BAMZ] and the Bermuda Zoological Society [BZS] will host a reception for participants, at their beautifully restored campus, at the conclusion of the 'Walk', at around 6.15 pm. This will involve not only light refreshments but also some entertainment; including Gene Steede; young singer/pianist Willard Burch and the Russian School of Dance.
"We'll park and begin at Whitney – a school- and conclude at BAMZ, an iconic part of our local infrastructure promoting 'life-long learning'. These 'book ends' speak to the choice to be 'busy being born'; the theme captured in reflections of these stories of our Island's shared heritage, empowering and inspiring upcoming generations.
"BAMZ & BZS also demonstrate the power of collaboration, with their small but world-class interactive exhibitions, through rallying volunteer support. That same community spirit that renewed Bermuda in '59, can today leverage Island sports clubs 'busy' developing young people.
"We are networking through this celebration, with local clubs – Crossroads, Flatt's Victoria, Wolves and Devonshire Colts. The aim is to share stories, nurturing a healthy sense of self – and foster connections for future efforts that promote in young people an understanding of the potential of the mindset to remain 'busy being born'."
Read More About