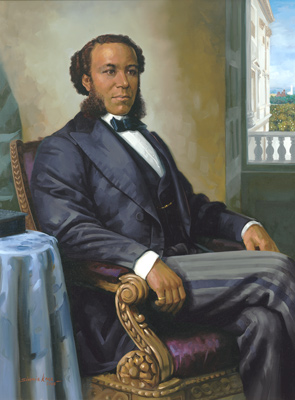 The US Census Bureau has profiled former Bermuda resident Joseph Rainey today [Feb 7], to mark the seventh day of Black History Month.
Born into slavery in 1832, Joseph Rainey lived in Bermuda from 1862-1866, and went on to become the first African American to serve in the U.S. House of Representatives,
"I tell you that the Negro will never rest until he gets his rights," he said on the House Floor. "We ask [for civil rights] because we know it is proper," Mr Rainey added, "not because we want to deprive any other class of the rights and immunities they enjoy, but because they are granted to us by the law of the land."
Joseph Hayne Rainey was born on June 21, 1832, to Grace and Edward L. Rainey in Georgetown, South Carolina. Edward Rainey was a barber, and his master permitted him to work independently if he shared some of his profits, as required by law.
In 1859, Joseph Rainey traveled to Philadelphia, where he met and married his wife, Susan, a mulatto, originally from the West Indies. Mr Rainey continued to work as a barber, and the couple had three children: Joseph II, Herbert, and Olivia.
The Confederate Army called Mr Rainey to service when the Civil War broke out in 1861. At first, he dug trenches to fortify the outskirts of Charleston. He later worked as a cook and a steward aboard a blockade runner, a Confederate ship charged with carrying tradable goods through the Union Navy's blockade of the South.
In 1862, he and his wife escaped to Bermuda. We had abolished slavery in 1834, and proved a hospitable home for the Raineys, who lived in St. George's where Mr Rainey set up a successful barbershop.
The Bermuda National Trust said: "It is believed that Joseph Rainey, a free Black man from South Carolina, operated a barber shop in or near the kitchen at Tucker House [pictured below] from 1862-1865. Rainey and his wife arrived in Bermuda during 1862, after escaping the South due to the American Civil War. Rainey must of lead a busy life in the local community as a barber and lodge member and his wife also established herself as a successful dressmaker."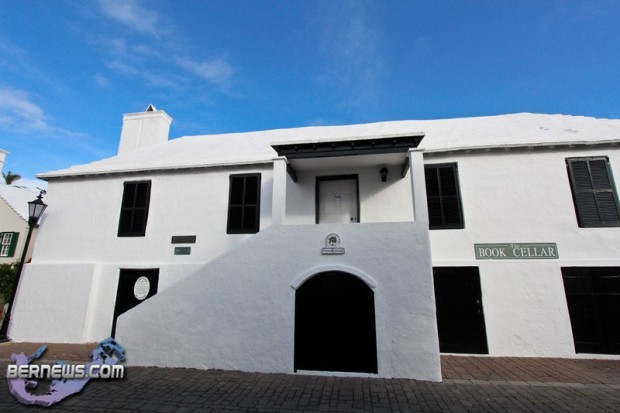 Though he only spent a few years in Bermuda, historians suggest that Mr Rainey's experiences living in a community where black people had been free for three decades had a profound impact on him and his political mindset.
Bermuda's blacks had been free for nearly 30 years when Rainey arrived, but it was still a British colony with close commercial ties to the South. St. George's was the hub of the blockade running business in Bermuda, and the Raineys were able to use the resultant thriving economy and growing population to their advantage.
Rainey was said by Bermuda historian John Stow to have been "invariably courteous to everyone, a good listener, a hard worker and possessed a strength of character which carried him from a slave's cradle to a position of national importance in Washington, DC."
In St. George's, Stow wrote, "Rainey came into contact with a community all of whose members had enjoyed freedom and education for more than a generation. His personality expanded and his quick mind grew."
Everyone needed a skilled barber in the booming town, and Mr Rainey and his wife rented a room in a small building on Tucker's Lane, which joins York and Water Streets, then turned their room into a barbershop. Once known as "Silk Alley," it was later renamed "Barber Alley" in his honor.
Writing in 1953, Stow said that there were "still among us those whose fathers were shaved or had their hair trimmed" by Mr Rainey. "Many of the notables of the town frequented his shop and conversed about men and affairs and helped him in his efforts to improve his education. Mr. Joseph Ming Hayward corrected his (writing) exercise books for him while waiting his turn in the chair." Rainey continued his education on his own, borrowing books from neighbors and friends.
Sailors, seamen, and prominent community figure came to the barber shop, offering Mr Rainey the latest news about the Civil War. Rainey confidently weighed in on the issues of the day with his British customers and became active in civic affairs as a member of the Alexandrina Lodge, No 1026.
Mr Rainey drafted a congratulatory message sent to President Lincoln upon his issue of the Emancipation Proclamation freeing the slaves in 1863. Barely two years later, Mr Rainey had to compose the Lodge's resolutions when Lincoln was assassinated.
In 1865, the couple moved to the town of Hamilton when an outbreak of yellow fever threatened St. George. Mr Rainey worked at the Hamilton Hotel as a barber and a bartender.
When the Civil War ended, Edward Rainey made an insistent case for his son to return to South Carolina to take part in the many opportunities suddenly available to blacks. Though life was good for them in Bermuda, yellow fever was slowing the economy of the island as a whole, so the Raineys returned to Charleston in September 1866.
After Mr Rainey returned to the US, someone said of the barber-turned-politician: "At his work he learned not only the outside shape of the human head but its inside workings."
The wealth Joseph Rainey acquired in Bermuda elevated his status in the community, and looked upon as a leader, he soon became active in the Republican Party.
Listen to today's 'Profile America' feature on Mr Rainey, courtesy of the U.S. Government, here.
In February 1870, Representative Benjamin F. Whittemore resigned his northeastern South Carolina seat, having been charged with selling appointments to U.S. military academies. The Republican Party nominated Rainey for the remainder of Whittemore's term in the 41st Congress [1869–1871] and for a full term in the 42nd Congress [1871–1873].
On October 19, 1870, Mr Rainey won the full term, topping Democrat C. W. Dudley by a substantial majority [63%]. On November 8, he defeated Dudley once again, garnering more than 86 percent of the vote, in a special election to fill the seat for the remainder of the 41st Congress.5 Joseph Rainey was sworn in on December 12, 1870, as the first African American to serve in the U.S. House of Representatives.
Mr Rainey's work on the Committee on Freedmen's Affairs—created in 1865 to handle all legislation concerning newly freed slaves—earned him the most recognition. In 1871, he delivered his first major speech, arguing for the use of federal troops to protect southern blacks from the recently organized Ku Klux Klan. Enumerating the dangers of returning home to South Carolina on congressional breaks, exposing himself to violence by the Red Shirts—a virulent South Carolina white supremacist organization—Mr Rainey said, "When myself and my colleagues shall leave these Halls and turn our footsteps toward our southern homes, we know not that the assassin may await our coming, as marked for his vengeance."
The Ku Klux Klan Act was signed into law by President Ulysses S. Grant on April 20, 1871, but the bill failed to stop Klan terrorism.8 After his speech, Rainey received a letter written in red ink instructing him and other advocates of black civil rights to "prepare to meet your God."
Mr Rainey's fight against discrimination was not limited to prejudice against African Americans. Appointed to the Committee on Indian Affairs, he made history in April 1874 when he took the chair from Speaker James G. Blaine, becoming the first black American to preside over the House of Representatives. He oversaw the debate on an appropriations bill providing for the management of Indian reservations. Mr Rainey also generally opposed legislation restricting the influx of Asian immigrants to the United States.
Joseph Rainey retired from the House on March 3, 1879, and he died of congestive fever on August 1, 1887.
Read More About