The PLP held a press conference to announce more of their election candidates for the upcoming General Election, with Christopher Famous to run in Constituency #11 Devonshire East, Curtis Richardson to run in Constituency #22 Paget East, and Kathy Simmons set to contest Constituency #25 Warwick North East.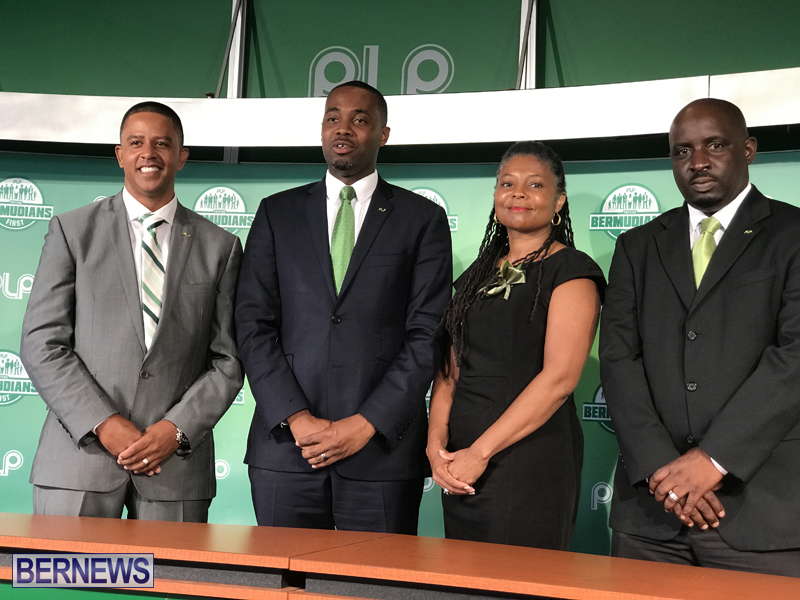 Mr Famous will run in C#11, a seat which is currently held by the OBA's Bob Richards, who won with 57.5% of the vote in the last General Election. The results from C#11 in the 2012 election are below.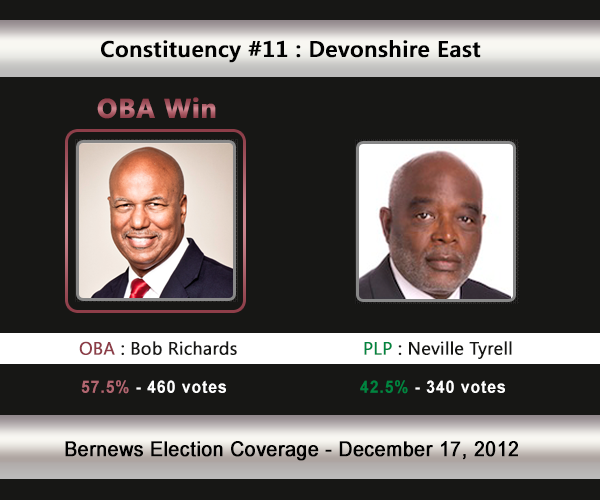 C#22 is currently held by the OBA's Dr Grant Gibbons, who won with 74.2% of the vote in the last General Election. The results from C#22 in the 2012 election are below.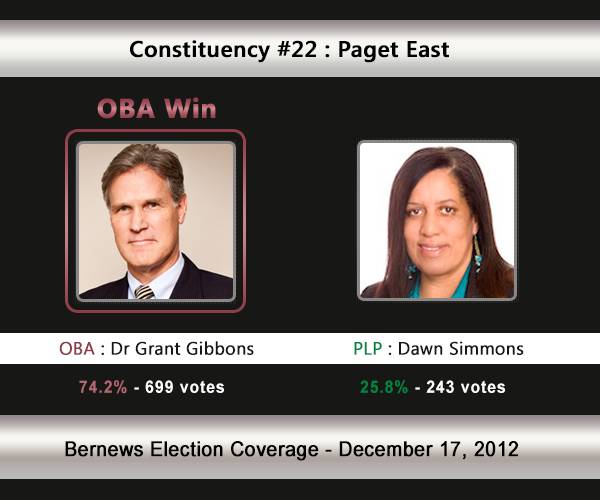 C#25 is currently held by Independent MP Mark Pettingill, who, then a member of the OBA, won with 57.72% of the vote in the last General Election. The results from C#25 in the 2012 election are below.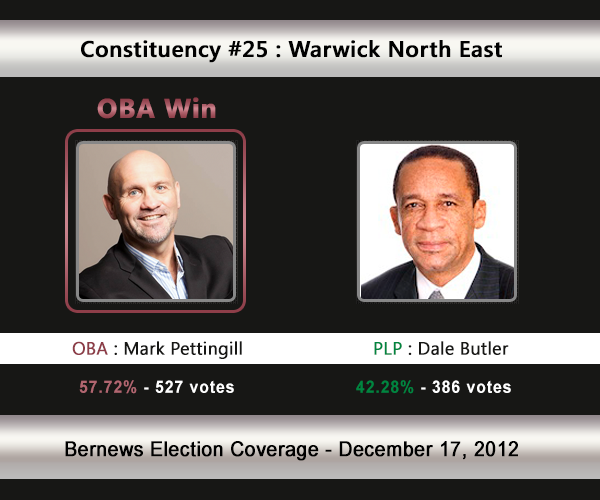 Opposition Leader David Burt's Remarks:
Hello and Welcome to Alaska Hall for our latest Candidate Announcements for the 2017 General Election.

First, I am pleased to announce Mr. Curtis Richardson as the PLP's Candidate for Constituency 22, Paget East. While Curtis may not be well known in media circles, he is a dedicated Party worker who has been operating at a grassroots and local level for most of his life.

During our conversations, Curtis told us that he was nurtured by a large, close-knit family who instilled many of the principles which guide him today; in fact like many other people who serve, he counts his upbringing as pivotal to making him the family man he is today.

Curtis was educated at the Whitney Institute and then Bermuda College; he then attended Morris Brown College, and received his Bachelor's Degree in Architecture from the Savannah College of Art and Design.

Curtis is an Architect having had previous experience in the Public Sector working variously for the Police, Customs, and the Corrections Department at different times. His career choices have demanded strict discipline, strategic and immediate responses to stressful situations, while also keeping an eye for the most telling detail. This training and his work 'knocking on doors' representing the PLP is what committed him to a life of service to our People.

Curtis is married and was blessed with a seven-year-old daughter born on Bermuda Day, and a one-year-old son who was born on Cup Match Eve! If you spend any time with him, you will know that you are in the presence of a deeply thoughtful father, whose care for his Country has brought him to frontline of politics and he is now ready to reach one of the highest offices a Servant of the People can attain; Member of Parliament.

Next, it is my pleasure to announce the Progressive Labour Party's Candidate for Constituency 25 Warwick North East, Ms Kathy Lightbourne Simmons.

Kathy is a Barrister and Attorney, who is also an accredited Commercial Mediator. Professionally, Kathy has had a diverse legal career working in several different aspects of Law. She began her career as a general legal practitioner and enhanced her profession by becoming an Assistant Parliamentary Counsel in the Attorney General's Chambers…and then Parliamentary Counsel. It was in these roles that Kathy was able to provide legal advice and a legal overview of the Laws that were being drafted, and/or tabled to be passed in the House; we look forward to utilising her vast experience once we are in Government and leading the House's legislative agenda.

Kathy is currently a Consultant Advisor and Legislative Strategist to the Legislature; but in addition to working at the Attorney General's Chambers, Kathy has been Permanent Secretary in the Ministry of Legal Affairs, a Legal Consultant to the Cabinet Office, and a member of the Public Access to Information [PATI] Implementation Team.

Kathy is a member of the Commonwealth Association of Legislative Counsels and the current Chairperson of the Co-parenting Mediation Council here in Bermuda. She has a long interest in politics and a deep devotion to fostering more harmonious and tolerant relations within the community.

Kathy received her Bachelor of Arts [Major Political Science] from St. Mary's University, in Halifax; and her Law degree from the University of Buckingham, in the UK. Kathy is married to Myron and they have three sons, Ian [22], Shane [20] and Jon [19].

I am proud that Kathy as agreed to be a member of this team. She is capable, qualified, a woman of integrity and someone who over the past few months I have been able to rely on to give me advice. The PLP is better for her stepping forward and I look forward to her continued service when the PLP are returned to government on July 18th.
- Kathy Lightbourne Simmons -

Finally, it is my pleasure to introduce our Candidate for Constituency #11 Devonshire East Mr. Chris Famous.

Chris Famous is an award winning columnist, having written hundreds of columns for the Bermuda Sun, Bernews, Caribbean News Now, Today in Bermuda and The Royal Gazette.

Having been raised in a political household Chris was groomed to be involved in grass roots party activities community action and spirit, and almost had no choice but to be on the frontline in the Political battlefields in Bermuda. As the Party's Organiser, His main responsibility is ensuring Representatives are connected to their constituents through regular canvassing; this is why you may read Chris supporting canvassing efforts equally often in Constituency #36 as in #2.

The majority of his family roots remain in Devonshire where they served as the backbone support for the late Party Leader and Legend L. Frederick Wade; and his successor Dame Lois Browne-Evans when they served the constituency of Devonshire North.

Instilled with the values of equality for all, Chris also served in the Royal Bermuda Regiment for five years achieving the rank of Acting Sergeant responsible for a platoon of 20 soldiers. His tenure in the Royal Regiment took him on hurricane relief missions to Jamaica and the British Virgin Islands where he enjoyed the satisfaction of helping others recover and re-build.

Chris is a member of the Berkeley Educational Society Management Committee which provides oversight of all aspects of the Berkeley Institute. Chris is responsible for promoting the history of the Berkeley Institute and raising this awareness across all media.

Chris is a graduate of the Berkeley Institute and the Bermuda College and has successfully completed many Technical courses during the tenure of his employment at BELCO. He is a long time resident of Devonshire and a former footballer for Wolves Sports Club. Chris is married to Maxine and is the father of 6 children and grandfather of 2.

Chris is a man who is connected to the grassroots of Bermuda's community and who has been a tireless worker to ensure that Bermuda has a government that puts Bermudians first. I am thrilled to have him as part of the PLP Team and know what he will serve his constituents well.
Christopher Famous Remarks:
Good afternoon

I am more than proud to be here today as the Progressive Labour Party candidate for Devonshire East.

For the past 6 or so years I have been an active participant in the PLP but I have been a lifetime supporter. My family and I, going back for generations, have worked for this great party and country and now to have this opportunity before me is truly humbling.

One word to define my candidacy would be "relationships". In recent years, I have spent countless hours on the campaign trail knocking on doors and visiting with Bermudians from all walks of life. The experiences have been invaluable and I am most appreciative to those who have spent this time with me. These relationships that I have built will hopefully last the rest of my lifetime, inside and outside of politics.

The reason I decided that this was the right time for me to enter the political sphere is that Bermuda needs new energy and new blood into our politics. Additionally, I feel the government we currently have is not performing satisfactorily or in the best interest of all Bermudians.

The OBA government has disrespected our people continually for the past 4 years. This disrespect is not simply due to disagreements over policy, but it has been through their words and deeds. Seniors have been told "money doesn't grow on trees", yet we have seen money allocated to America's Cup at the expense of seniors' pensions, school maintenance, and technology improvements.

I believe we have a great team for this upcoming General Election and I am confident we will assume the next government of Bermuda. I have chosen Devonshire East to contest as I have spent nearly all my life in the Hermitage Road area of Devonshire. My family history is rooted there. I'm a product of Elliott Primary. Devonshire East isn't a constituency to me, it is my immediate community.

In my canvassing I have met many people of all demographics who are looking for change. Many are disillusioned and disappointed. I have listened and I have empathized. I have encouraged and I have been encouraged. The prevailing opinion in Devonshire East is that a change needs to come and I hope that change will begin with me on July 18, being selected as your new Devonshire East Member of Parliament.
Curtis Richardson Remarks:
Good afternoon All,

I am pleased to be here today as a Progressive Labour Party candidate for Constituency 22 Paget East. I would like to express my gratitude to the members of the Progressive Labour Party whom have endorsed and guided me as I made the transition from being a member to becoming a candidate. It is with great pride that I have been chosen to become a candidate to work alongside like-minded individuals from all walks of life to form the new proposed government of Bermuda.

I am also a new candidate and will serve my country with all of the will that has been placed within me. I look forward to being a part of the solution to lift the stigma that has been cast upon the Progressive Labour Party.

We have collectively listened. We have learned.

For those family and friends who have been there your encouragement is appreciated and I will do you proud. I will work hard and continue to knock on doors and offer my empathy to those in need of a listening ear and press forward with the actions for those who need their concerns and fulfilled.

The choice to become active was not a hard one. I have always followed the PLP platforms and supported them. Once I heard the Reply to the Throne Speech of most recent and embraced the summary of the Vision 2025 I knew that it was time for me to act. I tussled with the plan to present my voice for eight months before I made it official.

Canvassing comes naturally to me and I will canvass anywhere within these shores to gather the peoples voices. No boundary is too far from my reach. A true election is won on the doorsteps and the PLP is well aware of this.

Vision 2025 speaks directly and with clarity to the country. We have a grass roots approach to solving the problems that we face and they have been laid out exceptionally well, and will be accomplished.

Among other pressing issues, higher learning is a staple of my being. There was once a day when the most prominent goal was to travel abroad to get a degree in any chosen field and one just could not wait until graduation to return to Bermuda to give back to their beloved country and serve its people. This was the most popular goal of my generation of education seekers. However, in the current environment, too many are returning home and having to settle for jobs in other fields or having to search for months or even years to acquire a job. This must change.

Additionally, the public education platform has fallen in some ways and is in need of revitalization. It is not too late for us to save this vital resource. It will take this group of competent individuals to achieve this goal. The PLP are committed to education reform and will commence with this upon forming the next government. I am confident in the team assembled for this general election that we will achieve our stated goals.

I am encouraged and honored to be part of this team that is committed to putting Bermudians first. I hope the residents of Paget East will support me on this journey. On July 18th, vote PLP!
Kathy Simmons Remarks:
Good afternoon.

I am pleased to represent Constituency 25, Warwick North East in the upcoming General Election on July 18th.

Making my way through the Cedar Hill area of constituency 25 whilst canvassing, has re-acquainted me with a part of my family roots in Warwick. The Simmons, Francis, Simons and Lightbourne families made their homes and raised their children on Cedar Hill – my in-laws, my maternal grandmother and several of my father's siblings.

However, before undertaking my responsibilities to my newly adopted constituents, I had cause to pause and reflect on the meaning of public service.

In my present capacity as advisor to the Legislature, I recently drafted the Code of Conduct for Members of Parliament which is designed to govern their conduct in public office. The fundamental premise underpinning the Code is that in discharging their responsibilities, Parliamentarians are charged with putting the interests of their constituents, and indeed the wider public, first. In other words, the public is trusting Parliamentarians to represent the public's interests and not their own.

What does this mean?

It means that under a Progressive Labour Party government, the interests of Bermudians will be protected so that a more balanced approach to governance is achieved.

It means that under a Progressive Labour Party government, policy development and the enactment of legislation will be advanced against the backdrop of putting Bermudians first.

It means that labour at all levels in our workforce, from the industrial workers to our civil servants will be treated fairly and with respect in acknowledgement of the essential roles they play in providing the services and support that keep the "engine" of Bermuda running.

It means that under a Progressive Labour Party government, the public narrative will change from one purposely designed to demean and de-humanize Bermudians to one that celebrates the social and economic advancement that Bermudians will achieve when our education system is properly funded; when cost-effective options are provided for our seniors to enable them to live with dignity and when policies which promote economic empowerment and independence are implemented.

At a constituency level, I am excited, humbled and encouraged at the reception I have received on the doorstep. The people seem ready for change and I am ready to be that change. As a wife and mother of 3 young sons, I have a vested interest in the success of Bermuda, and I will work tirelessly to ensure my sons have the same opportunities for success as others.

Constituency 25, I humbly pledge to serve your interests as a member of the Progressive Labour Party Team and, in doing so, to ensure that your voices are heard and that the appropriate actions are taken to ensure your social and economic well-being.
The previously announced confirmed candidates for the July 18th election are:
Constituency #1 St Georges North: Kenneth Bascome [OBA] Renee Ming [PLP]
Constituency #2 George's West: Nandi Outerbridge [OBA] Kim Swan [PLP]
Constituency #4 St George's South: Suzann Roberts Holshouser [OBA] Tinee Furbert [PLP]
Constituency #5 Hamilton East: Peter Barrett [OBA]
Constituency #6 Hamilton West: Simone Barton [OBA] Thad Hollis [IND]
Constituency #7 Hamilton South: Sylvan Richards [OBA] Anthony Richardson [PLP]
Constituency #8 Smith's South: Rose Ann Tucker [PLP]
Constituency #9 Smith's West: Vance Campbell [PLP]
Constituency #10 Smith's North: Rev Dr Ernest Peets [PLP]
Constituency #12 Devonshire South Central: Craig Cannonier [OBA]
Constituency #13 Devonshire North Central: Fabian Minors [OBA]
Constituency #14 Devonshire North West: Glen Smith [OBA] Wayne Caines [PLP]
Constituency #15 Pembroke East: Scott Stewart [OBA]
Constituency #17 Pembroke Central: Andrew Simons [OBA]
Constituency #18 Pembroke West Central: Nicholas Kempe [OBA]
Constituency #19 Pembroke West: Jeanne Atherden [OBA] Jason Hayward [PLP]
Constituency #20 Pembroke South West: Susan Jackson [OBA] Graham Maule [PLP]
Constituency #21 Pembroke South East: Rodney Smith [OBA]
Constituency #22 Paget East: Dr Grant Gibbons [OBA]
Constituency #23 Paget West: Rev. Dr. Emilygail Dill [PLP]
Constituency #24 Warwick South East: Nalton Brangman [OBA]
Constituency #25 Warwick North East: Jeff Baron [OBA]
Constituency #26 Warwick South Central: Robyn Swan [OBA]
Constituency #27 Warwick North Central: Sheila Gomez [OBA]
Constituency #28 Warwick West: Jeff Sousa [OBA] Dennis Lister III [PLP]
Constituency #30 Southampton East Central: Quinton Butterfield [PLP]
Constituency #31 Southampton West Central: Ben Smith [OBA] Crystal Caesar [PLP]
Constituency #32 Southampton West: Charlie Swan [OBA] Scott Simmons [PLP]
Constituency #33 Sandys South: Georgia Marshall [OBA]
Constituency #35 Sandys North Central: Michael Swan [OBA]
Constituency #36 Sandys North: Ray Charlton [OBA]

Read More About