Will the young participants of the Red Bull Youth America's Cup impact the future of the sport? Just ask three of the world's most decorated sailors.
"I think it already has had an impact," says two-time America's Cup Champion Jimmy Spithill of Oracle Team USA. "The winning New Zealand team from 2013 has graduated several sailors to Emirates Team New Zealand for this Cup, including the helmsman Peter Burling.
"There's at least another half dozen on other teams. Cooper Dressler made our team and has become one of our best athletes, and it's safe to say we wouldn't have known about him without the last event."
Double Olympic gold medalists Roman Hagara and Hans Peter Steinacher masterminded the Red Bull Youth America's Cup because they saw a gap in the career path for sailing talent.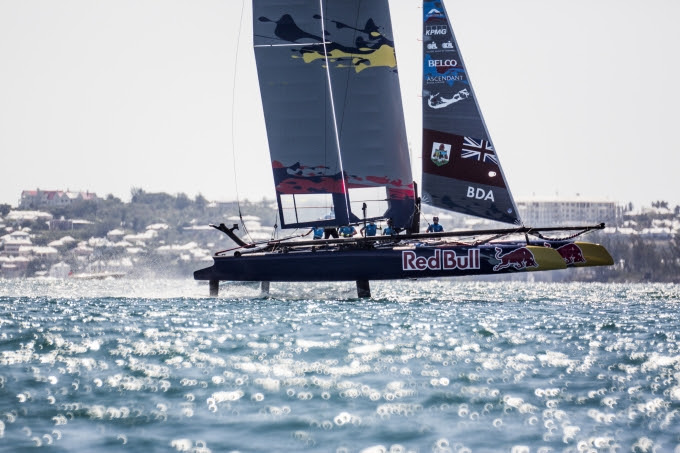 Spithill explains, "Before, I could never give an answer to kids when they asked me, 'How do I get involved in the America's Cup?' Now the answer is pretty straightforward: this is the closest thing we have to a development league, where youth sailors can test their skills and compete in an environment that closely matches the America's Cup."
The solution didn't lie in simply creating a regatta, but in providing training on sophisticated big boats. In the 2017 Red Bull America's Cup, national teams have learned to sail AC45F foiling catamarans – the same boats used by America's Cup teams in the Louis Vuitton America's Cup World Series. What's more, those senior teams have taken the youngsters under their wing.
"We've been working with both TeamBDA and Next Generation USA, and it's been rewarding," Spithill declares. "I've spent time on the AC45F with them, and we've had the teams working out in our gym and over for breakfast. Our coach Philippe Presti has been through our playbook with them along with a couple of our sailors. They're very enthusiastic. They're eager to learn and they have a lot of talent. It's been a great experience."
Sailing right under the noses of the top teams also gets young sailors noticed. In the lead-up to this year's event, SoftBank Team Japan were so impressed with two of the candidates vying for selection in the youth regatta that they've already hired them for their professional effort.
"It's a great endorsement of what the Red Bull Youth America's Cup is doing for youth sailing when things like that happen," Spithill notes. "All of the America's Cup teams watch what happens in these events very closely, so we can pick the top talent and add it to our team."
Steinacher points out that the sport's leaders have seen that the young generation in particular are a great match for today's cutting-edge boats. "The Red Bull Youth America's Cup has changed the whole America's Cup world – the age group that's sailing on the boats dropped by about 10 years," he reckons.
Hagara adds, "I'm looking forward to seeing where they'll take the sport in the future."

Read More About