In 2013, there were two US teams in the inaugural Red Bull Youth America's Cup, and they finished fifth and 10th. This year there's just one – Next Generation USA, and true to their name, they also want to spark the next generation of American sailors.
Next Generation USA — which actually includes a Bermudian member — sees fast, foiling multihulls as a dynamic and exciting part of the future of sailing, and even after the regatta in June, they aim to continue their mission to inspire younger athletes and provide opportunities for youth to experience the world of high-performance sailing on multiple platforms.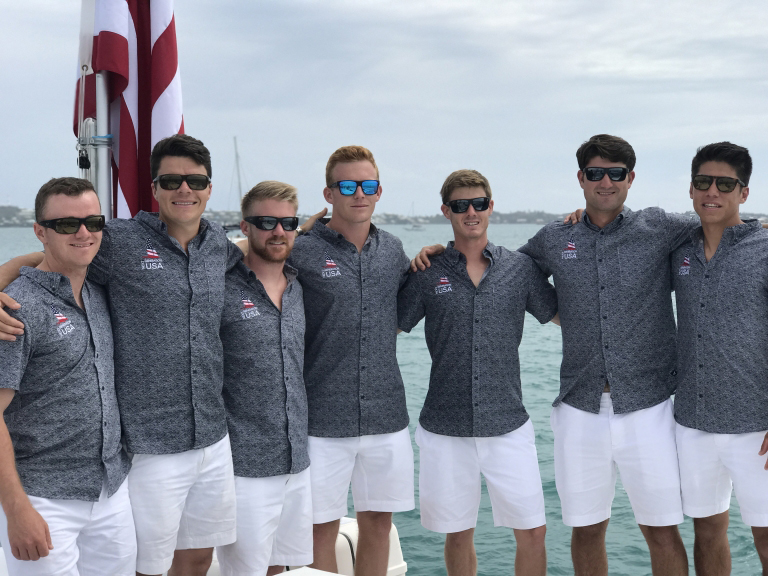 Carson Crain [skipper] is the skipper and team leader for Next Generation USA. The 23-year-old from Houston was a US Sailing Team member for four years and conducted an Olympic campaign for 2016 in the men's RS:X. Carson's background also includes experience in Laser, Foiling Kiteboard, and a variety of Multihull classes, and he was the top US windsurfer in 2013, 2014, and 2015, representing the country in the 2015 Pan American Games. He is currently completing studies in sports management and medicine at Rice University. His biggest goal is to win an Olympic medal.
Reed Baldridge Next Generation USA tactician Reed Baldridge is a former College Match Race National Champion with experience in Team Racing, Laser, Moth, and Multihull classes, as well as kiteboarding. He additionally is class president of the new US Waszp class foiling boat. Reed, who is 23 years old, was born into a sailing family. He graduated from the College of Charleston with a degree in public health and currently makes his home in Houston.
Markus Edegran Before graduating magna cum laude from St. Mary's College of Maryland with a degree in economics, Markus Edegran built an accomplished college sailing career in Singlehandeds, Doublehandeds, and Team Racing, earning third at the College Sailing Team Race National Championship. Now the foil trimmer for Next Generation USA, he has additional experience in the 49er, GC32, and M32 classes, as well as with foiling kiteboards. Markus, who also attended the US Naval Academy, is 23 years of age and makes his home in New York.
Scott Ewing, 20, is the reigning US 49er National Champion and has also earned the Collegiate Offshore National Championship as well as third in the North American 49er Championship. He gained experience in the Flying Phantom class as a Red Bull Foiling Generation athlete and also has a background sailing the Moth, Waszp, M32, GC32, and various big boats. The soft sail trimmer for Next Generation USA, Scott resides in Miami and is wrapping up studies in environmental science and policy at the University of South Florida.
Preston Farrow The Red Bull Youth America's Cup 2017 will be a home regatta for Bermuda resident Preston Farrow of St George's. Born in 1994, the Next Generation USA grinder is an experienced Nacra 17 sailor and an all-around athlete in multiple sports who has also gained experience on the GC32. He is in the process of completing studies in finance at Loyola University of Maryland.
Ian Storck Twenty-three-year-old Ian Storck of Huntington, New York brings valuable big boat experience to Next Generation USA and will fulfill a variety of roles on the team. Ian grew up sailing on Long Island Sound and raced 420s, 29ers, and 49ers internationally before attending Dartmouth College, where he became more focused on competitive varsity sailing as he earned his degree in electrical engineering and economics. After graduation, match racing brought him to the M32 class. Ian is also a two-time member of the US Sailing Olympic Development Team.
Matthew Whitehead Twenty-four-year-old Matthew Whitehead brings the experience of sailing in the inaugural Red Bull Youth America's Cup to his role as wing trimmer for Next Generation USA. A four-time Youth World Champion in the F18, he started sailing in Hobie 16s at age 12 before moving to F16s and F18s, and he was a member of the US Sailing Pre-Olympic Team in 2015, conducting a Nacra 17 campaign for the Rio Games. Matthew holds a degree in economics from the University of South Florida and currently lives in the northwestern part of the state in Panama City.

Read More About