We would like to extend our sincere gratitude to all those that assisted and attended my father's funeral on Friday, as well as all those that have extended support over this past week.
My Dad was laid to rest with full military honours, and having the Regiment escort him on his final journey was an honour he would be deeply pleased to have, and means more to the family than words can express.
The Regiment did an outstanding job in every single aspect, and my Dad, who was quite a stickler for detail, would have strongly approved.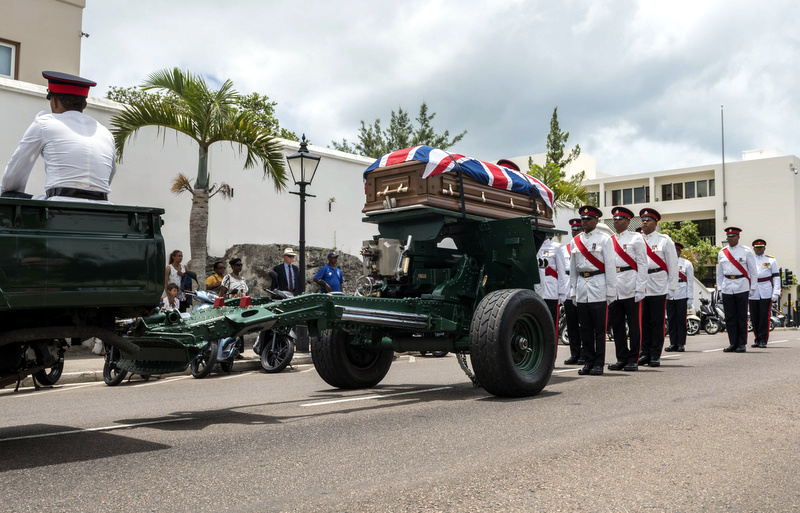 We also extend thanks to the Bermuda Police Service for facilitating the traffic logistics needed for my father's military funeral, to Wesley Methodist Church for their service, to the Rt Rev Bishop Ewen Ratteray for his prayer, and also thank Premier Michael Dunkley, Acting Opposition Leader Walter Roban, Colonel Eugene Raynor, and Sir John Swan for their tributes.
We also acknowledge the presence at the funeral of members of the Royal Bermuda Regiment and Bermuda Police Service in formal dress uniform, something my Dad, who was keen on adherence to certain protocols, would have appreciated.
To our media colleagues at the Bermuda Broadcasting Company, Islandstats, and the Royal Gazette, thanks for your thoughtful coverage, your messages of support, and for all you have done.
To our advertisers and readers thank you for your understanding, to our staff thank you for keeping Bernews going while my family was off, to our photographers thank you for capturing footage for family memories, and to our cameraman and family friend Dennis, you are the best.
We feel it was a job well done, that honoured a life well lived, and our family is, and will always remain, grateful to the Royal Bermuda Regiment, those that spoke and attended the funeral, and all those that extended support.
My Dad was a key factor behind the launch and success of Bernews. He and my Mom gave me the money to start it, and financially supported me until the business grew, and my Dad worked for us in various capacities, from court reporting, fact checking, doing live streams and more.
He was exceptionally proud of Bernews, and while my main focus right now is helping my Mother to adjust, I am back at work, and over the long term I fully intend to continue to work hard and build on what my Dad was so proud of.
- Patricia Burchall & Family
Read More About