[Updated] It is with great regret that Bernews confirms the death of Larry Burchall, our columnist, reporter, biggest supporter, and the best husband and dad we could have asked for.
He passed away peacefully last night at the age of 75.
We are a family business, so expect to be operating well below standard over the coming days as we deal with the devastating loss of our father and husband, and we extend our appreciation in advance for understanding.
- Patricia, Paddy & Laurion Burchall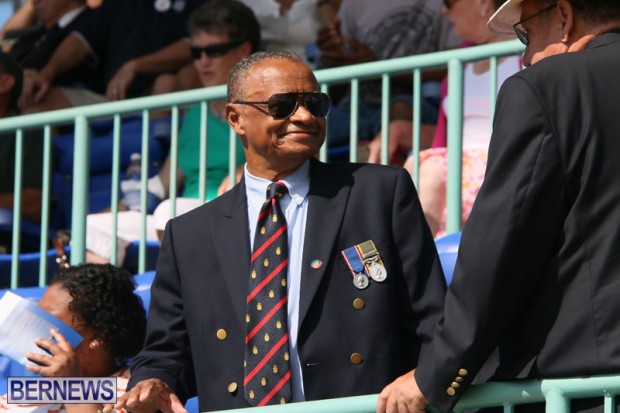 Update: OBA Chair Lynne Woolridge said, "It is with great sadness that we learned today of the death of Mr. Larry Burchall.
"Larry's contributions to Bermuda society in the Bermuda Regiment as well as an author, columnist and political and economic commentator have become part of the shared story of Bermuda and our people.
"His incisive commentary and detailed analysis of many of the issues we face as a people will stand the test of time. His words will live on for generations to come.
"On behalf of the OBA and people of Bermuda, I offer condolences to his family, wife Paddy, daughter Patricia and son Laurion, as well as his Bernews family and his friends."
PLP Leader David Burt said, "On behalf of the Progressive Labour Party, I extend our members' condolences on the passing of Mr. Larry Burchall. Larry was a champion and a fighter for Bermuda and a servant of the people. Whether it was his service in the Bermuda Regiment, in politics, or in the media, Larry excelled in all that he did.
"To his wife Paddy, his children Laurion & Patricia, and to his Brother & our former Chairman Roderick, we express our deepest condolences and pray that you will be comforted by the memories of your husband, father, and brother."
Premier Michael Dunkley said, "It is with great sadness that we learned today of the passing of Mr. Larry Burchall, one of the most dynamic Bermudians of his time.
"As a writer, soldier, journalist, publisher and public advocate, Mr. Burchall's heart always beat for Bermuda first. Few Bermudians have been as indispensable to national discussion as Mr. Burchall.
"His commentaries in recent years on the need for fiscal reform to restore financial health to Bermuda's public purse was appreciated in the corridors of government and among Bermudians concerned for the future well being of the Island.
"It was a testament to his tenacious character that he never stopped banging the drum for better performance, greater accountability and transparency in public affairs.
"Perhaps Mr. Burchall's most lasting accomplishment was his support in the establishment of Bernews, which provided a new platform for public awareness about the issues of the day – a development that revolutionized media in Bermuda.
"Mr. Burchall never stopped working for a better Bermuda, and that is a legacy we can all take to heart. On behalf of my Colleagues and the people of Bermuda, I extend sincere condolences to his family."
Royal Bermuda Regiment said, "RBR friends and family extend condolences to the family of the late Larry Burchall, a stalwart of the Royal Bermuda Regiment, long serving member of the Defense Board, author, historian, economist and commentator.
"Larry was the first Bermudian to serve as Regimental Sergeant Major, later being commissioned as Captain and serving as Training Officer. He was recognised for his service with the Royal Victorian Medal and Efficiency Medal.
"He went on to serve as Administrator of the Defense Department and from there rendered yeoman's service to various legislative boards in support of the Regiment. Larry gave tirelessly, served selflessly and counseled wisely throughout his life, not only to the RBR, but to Bermuda as a whole. May he rest in peace."
Regiment Honorary Colonel Eugene Raynor said: "Larry Burchall had a long and distinguished career and he will be missed by the entire Regiment family.
"He is very well known by a few thousand soldiers who went through the Regiment over the period and I'm sure they will all agree he served them well and got the best performance out of them."
Col. Raynor added that Mr Burchall joined the Bermuda Militia Artillery in 1961 and was part of the amalgamation with the Bermuda Rifles, formerly the Bermuda Volunteer Rifle Corps, to form the modern-day Regiment.
He said: "He did an officers' course in 1964 and passed. But he opted to serve through the Warrant Officers' and Sergeants' Mess.
"He became the first black Bermudian Regimental Sergeant Major and then went on, after joining the permanent staff, to become the training officer of the Regiment."
Col. Raynor added that Mr Burchall, who retired from the service in the mid-1980s with the rank of Captain, was responsible for several improvements in the Regiment's drill and also masterminded the Regimental Honours Parade for Her Majesty the Queen, for which he was awarded a medal.
Numerous others: We have received numerous condolences sent to our family, and while we have a hard time writing anything that does them all justice — all have been appreciated.  Thank you to everyone for their kind words.
Read More About