With families traveling to Bermuda, whether for a first-time vacation or to visit family, there has been a need for access to good-quality baby equipment to rent while holidaying on the island.
As mothers to five children between them, Linda Cook and Michelle Viera knew exactly what it is like to travel with children and found that having the essentials can make the difference between hectic travel and a hassle-free vacation.
The mothers started Little Longtails with that in mind: give families traveling to Bermuda the things they need to make their vacation as stress-free as possible.
Little Longtails caters exclusively to families with babies and children and they provide the essentials that a family may need as well as the little luxuries that they may enjoy to create a home away from home while vacationing in Bermuda.
"For tourists coming to Bermuda there wasn't an online site they could use," said Mrs Cook, who along with Mrs Viera, launched Soltrino, an online store selling a range of sun-protective clothing and accessories, last year.
"Having used these kinds of businesses overseas on trips and having loved the way it made our holidays so much more relaxed and easy for every one I thought it would be great for Bermuda to have a baby equipment rental site."
Michelle Viera & Linda Cook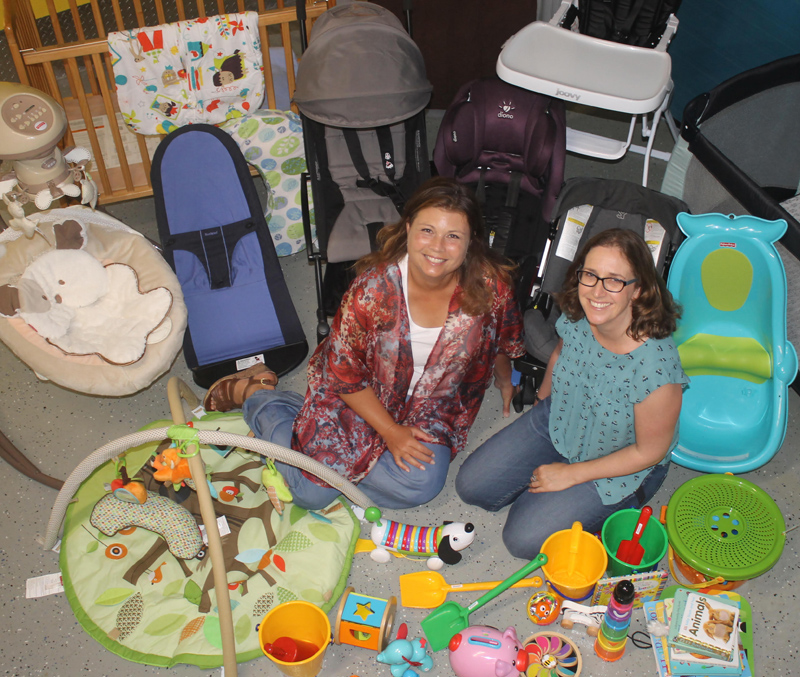 Mrs Viera added: "I've experienced stressful travel with young kids and having 'like-home' accommodations has always made our family travel much nicer and everyone happier."
One of the initial thoughts for starting the business was assisting the many vacation rental properties, such as those who rent on Airbnb, who may not have the ability to accommodate families with smaller children.
However, the duo also saw a need for people with family and friends vacationing on the island as well as hotels that may be in need of extra resources or families that don't want to lug toys and books to keep their children entertained.
"Little Longtails will allow for rental and hotel accommodations to appeal to a wider range of visitors without any extra effort on the owners' part, as the visitors deal directly with ourselves," said Mrs Cook.
Pat Phillip-Fairn, Chief Product and Experiences Development Officer at the Bermuda Tourism Authority added, "The BTA congratulates Little Longtails on identifying a potential niche opportunity within Bermuda's tourism sector.
"It's interesting to see them targeting the increasing use of vacation rentals in our local market, recognizing how families are using this option when visiting the island. We wish them much success with their new service offering."
Mrs Cook originally submitted the business plan for Little Longtails into the Bermuda Economic Development Corporation's [BEDC] Rocket Pitch Competition last year and came out the victor in the Pitch Pink Category.
"We were competing against some amazing ideas so I was surprised that we won," said Mrs Cook. "It has helped with the connections and people who have been willing to support and back us as we set up the business. It also gave me the push to get it going rather than just planning and researching it."
Jamillah Lodge, Education and Communications Officer at the BEDC, said: "Linda was the winner of the 2016 Rocket Pitch Competition in the BTA sponsored Pitch Pink category, which focuses on businesses in the tourism industry.Her business to provide services to parents that visit Bermuda is an awesome idea.
"As a parent I understand the challenges of lugging tons of stuff on vacation, so Linda's Little Longtails will be providing a much-needed service to parents who visit Bermuda. As the host of the Rocket Pitch Competition, BEDC is pleased to be able to keep the entrepreneurial ecosystem in Bermuda growing by supporting businesses like Little Longtails and we wish Linda continued success."
Little Longtails offers families essentials including beds, car seats, high chairs and strollers as well as all the extras they may need such as cradle swings, baby bouncers, bath items and breastfeeding cushions.
"We also rent entertainment for babies, toddlers and kids from boxes of toys and books to sand toys for a day at the beach," said Mrs Viera.
And because they are mothers the company pride themselves on the quality of their products and they have chosen some of the best brands available. All of the items are stored in an air-conditioned storage unit so as to ensure the equipment is kept clean and in good condition.
"We stock the latest brands and rent new equipment," said Mrs Cook. "If it isn't in the best condition or immaculately clean, we won't let it be delivered. We supply all the cribs with sheets and spares – we try to make everything as easy as possible and will deliver directly to people in vacation rentals, Airbnb and even hotels."
"Our goal is to help make a vacation in Bermuda with little ones as easy and fun as possible, leaving plenty of time for guests to relax and explore our incredible island. Our website is easy to navigate and we encourage people to take a look around and see what fantastic products we have to offer guests," she added.
For more information visit www.littlelongtails.com or call 707-7658.
Read More About