Bermudian Neletha Butterfield served as a guest speaker at this year's PNP Women's Movement conference in Jamaica, which had a theme of "Just watch us grow – The Sky is the Limit" and was held on July 15th at the Marcus Garvey Technical High School in St. Ann's Bay, Jamaica.
President Jennifer Edwards of the PNP Women's Movement reminded the women in attendance that this year celebrates 46 years of service to women and indeed families of Jamaica.
The conference reflected on the activities of the year with the social, political and economic context as the backdrop and each year the theme of the conference seeks to reflect what is at the forefront of the minds of the women in the Movement.
President Edwards said, "Women have shown that they can succeed and encouraged women to set lofty goals, stay focus, stay united, be bold and be courageous because the 'Sky is the Limit.'
Neletha Butterfield, a former Cabinet Minister and author of several books, was the only international guest present, and there were also presentations from local motivational speakers, Mrs. Foster Allen who spoke on the changes in the Education Curriculum and Ms. Norma Russell who spoke on using your voice to succeed.
In her remarks, Ms. Butterfield congratulated President Jennifer Edwards for once again being voted in as the president for 2018-2019 and gave special thanks for their friendship for over 25 years.
She also gave special mention and thanks to Ms. Eva Murdoch for staying connected with her and "always making me feel at home when I return to Jamaica."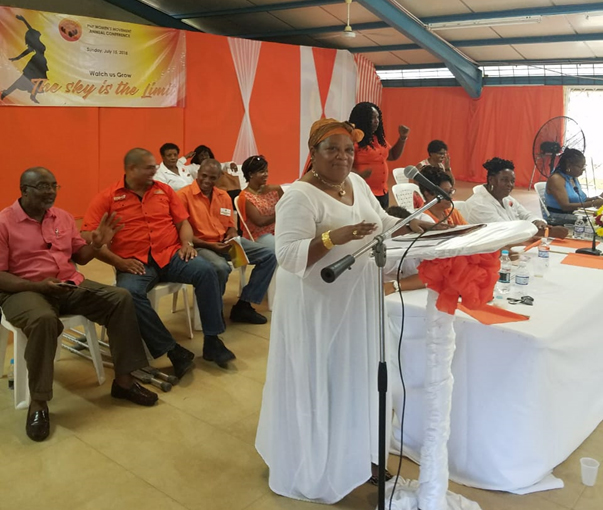 "It was back in 1997 when I visited Jamaica during a general election and Sis. Murdoch took me with her during the voting. I was impressed and shocked at the way they mobilized people to come out to vote, going down in the valleys to get them and I honestly witnessed people climbing up the banks and into vehicles to transport them to the polling stations to cast their votes," she said.
Ms. Butterfield stated that as there were so many new faces and a younger group of women, she decided to give a brief history of her involvement with the PNP Women's Movement and the wonderful experience she encountered under the leadership of the former President and former Prime Minister Portia Simpson Miller.
She said coming from Bermuda to Jamaica she stood on the shoulders of women of this great movement such as the late Pearl Earl and Greta Robinson, and in Bermuda the late Dame Lois Browne-Evans.
"In celebrating 46 years of protecting and promoting the rights, equality and dignity of women you are to be commended for your many years of service as I have travelled around the world to many women conferences and have not witnessed a powerful women's movement like this and my Jamaican sisters you are to be congratulated," Ms Butterfield said.
She stated, "Your theme 'As you grow, the Sky is the Limit,' I recall so many of us from around the Caribbean and the African Diaspora attending these conferences and you as the younger women need to get that back so we can all stay connected.
"As you reach for the sky, remember there will be clouds of discouragement and disappointments, but know too that there will be clouds of safety, hope, encouragement, and most important, empowerment to assist you to reach the stars and shine. Remember that when you climb your attitude will determine your altitude as to how high you will fly."
"It was once again great to see Mrs. Beverley Manley Duncan a stalwart of the Women's Movement, representative to the People's National Party and a friend to many in Bermuda," Ms Butterfield said after the conference.
"As always I enjoyed the conference very uplifting and moving and I have been asked by President Edwards to assist in the development of the members in moving forward and to assist in motivating the women in the diaspora through some workshops that I am looking forward to graciously accommodate them especially towards the next election where several women who are members of the Movement have been confirmed as candidates."
Read More About