The 2017 Cup Match Classic ended in a draw, with Somerset retaining the coveted Cup for another year.
St. George's Cricket Club 89 & 104/5 Somerset Cricket Club 211/7
St. George's Cricket Club were bowled out for 89, with Onias Bascome the top scorer with 20, while Malachi Jones led the Somerset Cricket Club bowling attack with figures of 11-3-20-4.
In reply Chris Douglas scored 69 runs helping to guide the Somerset Cricket Club to a declarable total of 211/7, with figures of 12-0-46-2 George O'Brien Jr led the St. George's Cricket Club bowling attack.
In their second inning St. George's Cricket Club needed to make 123 to force Somerset Cricket Club to bat again or bat out the remainder of the day, after losing early wickets they would eventually end the game on 104/5, with captain Macai Simmons the top scorer with 33, Kamau Leverock returned figures of 7.0-2-23-2.
Somerset Captain Jordan DeSilva holds the Cup up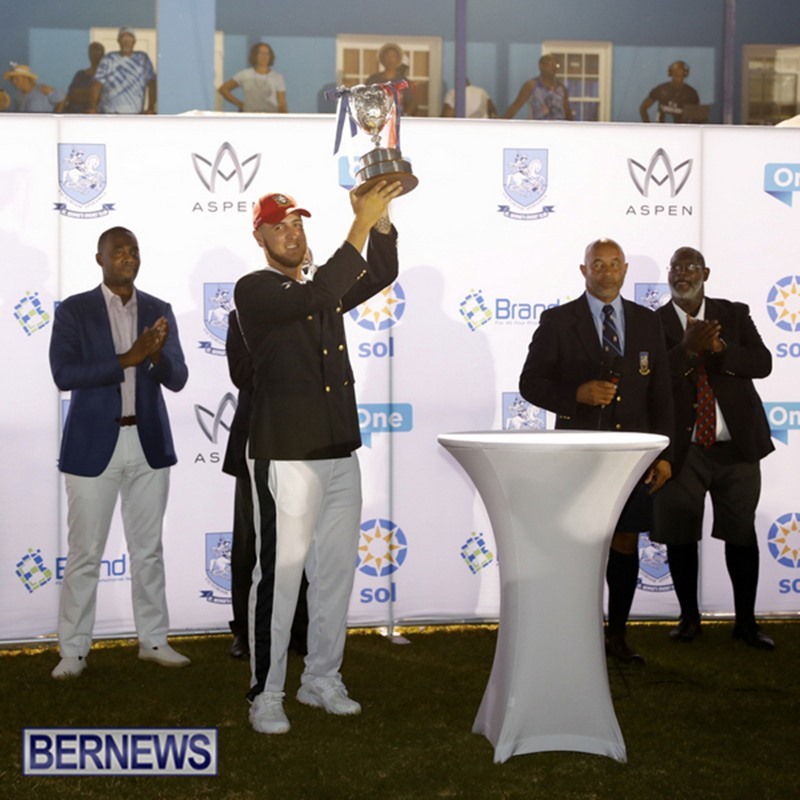 St. George's 1st Innings:
Treadwell Gibbons Jr. : 5 [4] : run out [Tre Manders]
Sinclair Smith [wk] : 0 [4] : lbw b Malachi Jones
Onias Bascome : 20 [33] : run out [Greg Maybury]
Macai Simmons : 17 [34] : c Jordan Desilva b Kamau Leverock
Lionel Cann : 6 [26] : c Jordan Desilva b Derrick Brangman
Allan Douglas Jr : 0 [2] : c Stephen Outerbridge 26 b Malachi Jones
Rodney Trott : 11 [23] : b Kamau Leverock
Nzari Paynter : 1 [7] : lbw b Malachi Jones
Zeko Burgess : 4 [14] : c Jecon Edness wk b Greg Maybury
George O'brein : 12 [16] : b Malachi Jones
Kyle Hodsoll : 6 [8] : not out
Extras: 7 [1wd 3nb 1lb 2b 0p]
Total Score : 89 for 10 in 28.0 Overs
Fall of wickets: 1-1 [Smith], 2-5 [Gibbons], 3-40 [Simmons], 4-47 [Bascome], 5-47 [Douglas], 6-62 [Cann], 7-64 [Trott], 8-66 [Paynter], 9-83 [O'Brien], 10-89 [Burgess]
Somerset Bowlers:
Bowler : Overs – Maidens – Runs – Wickets – Economy
Malachi Jones : 11 – 3 – 20 – 4 – 1.82
Greg Maybury : 4 – 0 – 25 – 1 – 6.25
Kamau Leverock : 8 – 0 – 30 – 2 – 3 – 3.75
Derrick Brangman : 3 – 1 – 2 – 1 – 0.67
Jordan Desilva : 2 – 0 – 9 – 0 – 4.50
Somerset's 1st Innings:
Chris Douglas : 69 [98] : b Rodney Trott 0
Terryn Fray : 8 [16] : lbw b George O'brein
Tre Manders : 6 [16] : st Sinclair Smith b George O'brein
Stephen Outerbridge : 29 [40] : c Allan Douglas Jr b Kyle Hodsoll 2
Kamau Leverock : 32 [20] : c Zeko Burgess b Treadwell Gibbons Jr
Dion Stovell : 17 [37] : Not Out
Jecon Edness [wk] : 5 [11] : Run out [Allan Douglas Jr]
Malachi Jones : 3 [3] : run out [Sinclair Smith ]
Jordan Desilva : 16 [13] : Not Out
Extras: 26 [0wd 2nb 5lb 19b 0p]
Total : 211 for 7 in 42.0 Overs
Fall of wickets: 1-21 [Fray], 2-52 [Manders], 3-124 [Douglas], 4-124 [Outerbridge], 5-163 [Leverock], 6-182 [Edness], 7-190 [Jones]
St. George's Bowlers:
Bowler : Overs – Maidens – Runs – Wickets – Economy
George O'brein : 12 – 0 – 45 – 2 – 3.75
Kyle Hodsoll : 8 – 0 – 20 – 1 – 2.50
Zeko Burgess : 6 – 0 – 32 – 0 – 5.33
Rodney Trott : 8 – 1 – 46 – 1 – 5.75
Macai Simmons : 6 – 1 – 20 – 0 – 3.33
Allan Douglas Jr : 1 – 0 – 8 – 0 – 8.00
Treadwell Gibbons Jr : 1 – 0 – 16 – 1 – 16.00
St. George's 2nd Innings:
Treadwell Gibbons Jr. : 14 [30] : c Chris Douglas b Jordan Desilva
Sinclair Smith [wk] : 0 [6] : b Kamau Leverock
Onias Bascome : 4 [4] : c Tre Manders b Kamau Leverock
Macai Simmons : 33 [43] : lbw b Derrick Brangman
Lionel Cann : 25 [59] : not out
Allan Douglas Jr : 1 [6] : b Greg Maybury
Rodney Trott : 24 [57] : not out
Extras: 3 [1wd 1nb 1lb 0b 0p]
Total Score : 104 for 5 in 34.0 Overs
Fall of wickets: 1-1 [Smith], 2-5 [Bascome], 3-40 [Gibbons], 4-47 [Simmons], 5-47 [Douglas]
Somerset Bowlers:
Bowler : Overs – Maidens – Runs – Wickets – Economy
Malachi Jones : 7 – 1 – 28 – 0 – 4.57
Greg Maybury : 3 – 0 – 12 – 1 – 4.00
Kamau Leverock : 7 – 2 – 23 – 2 – 3.29
Derrick Brangman : 8 – 3 – 10 – 1 – 1.25
Jordan Desilva : 4 – 1 – 11 – 1 – 2.75
Dion Stovell : 3 – 0 – 7 – 0 – 2.33
Chris Douglas : 2 – 0 – 12 – 0 – 6.00
The full scorecard follows below [PDF here]:

Read More About