BuzzFeed News recently did a story looking into Bermuda as a Zika-safe-haven and how this has led to a boom in pregnant tourists visiting the island.
The story says, "The recent spread of Zika virus, which causes serious birth defects such as microcephaly, has sent pregnant women, and women who plan to become pregnant, on a hunt for safe vacation destinations."
For many, that search has led to Bermuda, where there are still no reported incidents of locally contracted Zika.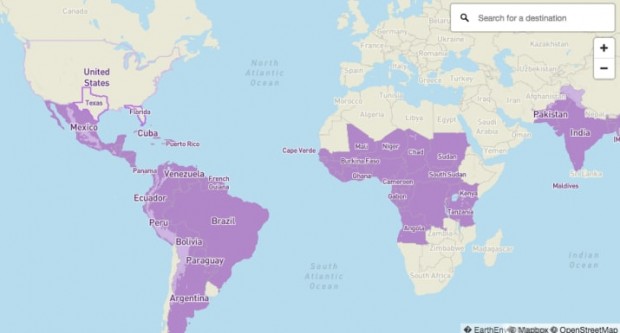 The BuzzFeed article includes interviews with photographers Mark and Ally Tatem, whose company, Two and Quarter Photography, has experienced a 133% increase in destination maternity sessions in just the first seven months of 2017, compared to all of 2016.
"It's one of those things like, when you buy a new car everyone has the same car that you bought," Mark Tatem told BuzzFeed. "Six out of 10 women who pass me have a bump going on now in the touristy areas."
According to BuzzFeed, "There have been more than 11,000 confirmed cases of Zika virus in pregnant women in Brazil since 2016, where awareness of the virus surged ahead of the Olympics last year. Thousands more have been confirmed in Mexico and Puerto Rico each, according to the Pan American Health Organization."
Victoria Davidenkoa, a pregnant Dallas resident visiting Bermuda, told BuzzFeed, "We did a bunch of research for Zika-free vacation spots. A lot of the results were either Hawaii or New Zealand, or somewhere there wasn't a beach." Eventually, Bermuda came up and, persuaded by the cheap ticket prices, she booked a trip.
Another tourist Sabrina Campbell told Buzzfeed that she found a Babymoon package at the Fairmont Southampton but was surprised more resorts weren't marketing to pregnant women. "I don't think people on the island realize why everyone is flocking there. I think the hotels would capitalize on it if they knew."
"In 2016, total visitors to Bermuda increased by 7.7%, according to statistics from the Bermuda Tourism Authority," the article also states. "Then in the first four months of 2017 — before a tourism bump from the America's Cup in May — the number visitors spiked by 13.9% year on year."
While the Bermuda Tourism Authority does not appear to be actively marketing Bermuda's Zika-free status, it does say on its website, "There is no known local transmission of Zika virus in Bermuda because the most capable mosquito species to transmit the virus, the Aedes aegypti, is not found on the island. Bermuda has one of the most comprehensive mosquito control programmes in the world.
"The Bermuda Tourism Authority continues to monitor the situation with appropriate local and international health authorities. At this time, travel to Bermuda is as safe and as easy as it's always been. For travelers concerned about visiting destinations where Zika has been identified, Bermuda is an ideal location for upcoming meetings and events."
To read the full BuzzFeed article click here.

Read More About
Category: All