Hamilton Insurance Group, the Bermuda-based holding company for property and casualty insurance and reinsurance operations in Bermuda, the US and at Lloyd's, will be Lead Sponsor of a new conference focused on disruptive technology and its effect on the evolution of the insurance and reinsurance markets.
Hamilton Re CEO Kathleen Reardon and Attune CEO James Hobson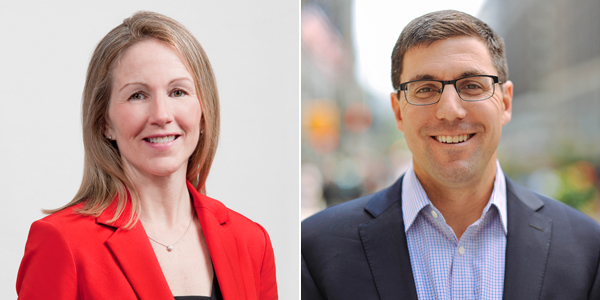 Global Reinsurance's Innovation & Insurtech conference will be held for the first time in Bermuda on Monday, November 6, 2017 at Rosewood Tucker's Point. Upwards of 200 executive-level representatives of the insurance and technology sectors are expected to attend. Information regarding conference registration can be found here.
Joining the speakers lineup will be James Hobson, CEO of Attune, the technology-enabled platform launched in September 2016 by Hamilton, AIG and Two Sigma.
"We're pleased to partner with Global Reinsurance, as well as the Bermuda Business Development Agency, in sponsoring and supporting an inaugural event that will examine the future of risk management and the global technology trends affecting that future," said Hamilton Re CEO Kathleen Reardon.
"The conference's focus on technology and its potential to transform underwriting aligns with Hamilton's commitment to leverage data science and technology to deliver client and shareholder value. We are looking forward to the Innovation & Insurtech conference becoming a fixture on the Bermuda conference calendar."
Read More About