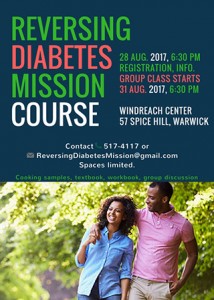 Aimed at diabetics, pre-diabetics, and their family members, you can learn how to reclaim your health with the Reversing Diabetes Mission Course starting on Thursday, August 31.
This 4-week class will meet two days per week on Mondays and Thursdays from 6.30 pm until 8.00 pm at Windreach.
A spokesperson for the Reversing Diabetes Mission course told Bernews: "The content of Reversing Diabetes Mission Course is not new.
"It was created by a diabetes specialist, dietitians, and Life and Health Network, a California-based, non-profit group of physicians and dentists wanting to do more than diagnose disease, prescribe medication and help people only "manage" their health.
"The course promotes healthy lifestyle – simple, balanced nutrition – including fiber-rich diet, regular fitness, and a positive state of mind that can work wonders for your health."
The organizers of the non-profit event said that the need to have a class in Bermuda was obvious.
"1 in 3 Bermudians have diabetes or pre-diabetes and many suffer short and long-term effects like weakness, leg pain, infections, even blindness, amputations, and heart complications," the spokesperson added.
Students can expect media-based lessons, workbook review, group discussion, and food samples.
"Get answers to questions such as: What is reversing diabetes? What is insulin resistance? What foods help diabetes? What foods to avoid? What about carbs? What about fats? What is type 1 and type 2? What about fiber?"
The team behind the course is hopeful that future classes for teens young children and parents will also be possible.
"Diabetes is growing rapidly among not only Bermuda's adults but also teens and young children," a spokesperson told Bernews. "Parents need support in educating their own children early to make healthy choices.
"Healthy choices early can prevent diabetes later."
Cookbook, workbook, and certificates of completion are included with the $75 registration.
For more information contact 517-411 or ReversingDiabetesMission@gmail.com

Read More About
Category: All