[Updated] The Government has advised of bus cancellations for this morning, Friday, September 15th, providing the list below.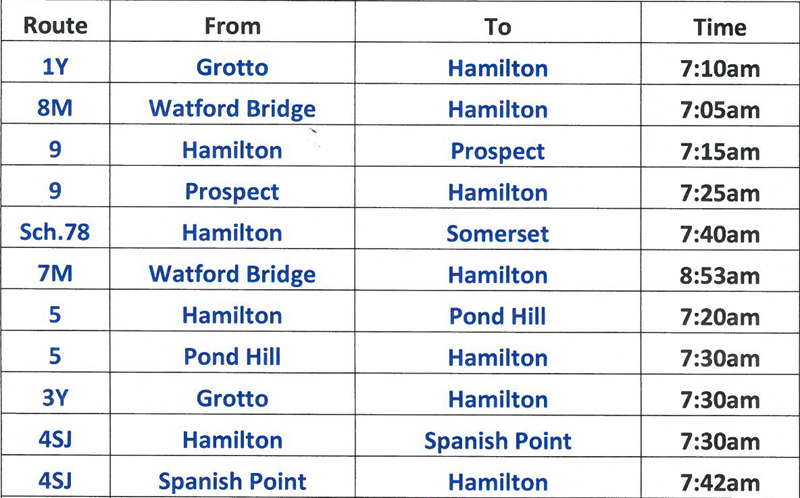 Update 4.38pm: A spokesperson said, "The Department of Public Transportation was yesterday hit with a spate of bus breakdowns forcing the cancellation of some bus runs from the Hamilton bus depot.
"The problems reduced the number of commuter buses leaving the city late afternoon and early evening.
"DPT said that the breakdowns occurred late afternoon, making it difficult to advise the public as they finished their work day.
"Notices were posted regarding the cancellations for a part of this morning's early service.
"Today, officials said they reduced the "out of service" number of vehicles down to 58, which left forty seven buses in service.
"The reasons for bus breakdowns are varied, but include oil leaks, air system failures, inoperable bells, steering problems, faulty airbags, and "doors failing to operate properly.
"The total number of 105 buses is down from 10 years ago when there was a fleet of 123. The weighted average age of the vehicles is over 10 years, while the industry standard is less than 7 years.
"Officials said the fleet has become older and less reliable as DPT operates services over 18 hours every day of the year.
"While the Department has had to wrestle with these issues over an extended period of time, circumstances will not consistently improve until the fleet is considerably upgraded.
"The DPT will endeavor to keep the public informed when there are future service interruptions."

Read More About