[Written by Mikaela Ian Pearman]
Jasmine Cocktail Bar & Lounge is a quintessential part of the Bermuda dining scene. It's been around for years and is typically filled with tourists and locals on any given night. Located at the Fairmont Southampton, Jasmine Lounge has always been great spot for great food and entertainment.
Recently, the hot spot underwent a refresh and now has new furniture, carpet, artwork and an update menu focused on cocktails and cuisine of the Americas. Also new is a section for people who are having drinks and nibbles and a different section for those who are having a meal. It is the first wave of the hotel's $1 million restaurant refurbishment.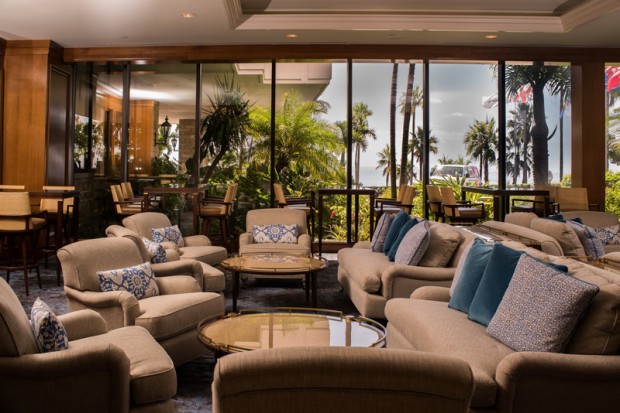 I was invited to attend a reopening event last week to sample Sous Chef Gerardo Say Colmenares' new menu, which according to the resort "blends local Bermudian classics with innovative dishes inspired by destinations throughout the Americas".
Menu highlights include Peruvian spiced Lamb Meatballs, Bermy Burrito Sandwich, Shrimp Kebabs, Fiesta Platter, Pina Colada Cheesecake, and Bermuda Mai Tai Pitchers, alongside favourites from the previous.
Before the meal, my dining guest and I sampled a few light bites including Chicken Tostadas, Tamales with Tuna Sushi, Guacamole, an updated Trio of Dips and much more. A standout favourite was the tamales – the spice in the chipotle mayo went well with the freshness of the tuna and the sweet from the tamale.
For dinner, we started with the Tortilla and Aztec Chicken Salad. It had corn tortilla, peppers, onions, tomato, signature marinated chicken and Texas dressing. The salad was full of Tex Mex flavor, but was light and refreshing – definitely something I would order again.
For my main, I went with the catch of the day – Soy and Honey Glazed Wahoo with bok choy and mashed potatoes. It also came with a side of the soy sauce to pour over the fish.
The wahoo was fresh and beautifully seared. The honey and soy added a great sweet and salty flavor. The veggies were crunchy and the mashed potatoes were creamy and smooth. It was a well-seasoned, perfectly executed dish.
Dessert, something I should not be eating, was a sample of a few of the items on the dessert menu – Pina Colada Cheesecake, Molten Chocolate Lava Cake, Blueberries & Cream and Apple & Black Rum Cutie Pie. Everything was delicious but being the chocolate fiend that I am, I would order that molten cake over and over.
My one critique would be this – there should be an option on the menu to order a dessert sampler. In the future, I would love to be able to order small portions of the molten cake, the apple pie and the cheesecake. But maybe that's because I'm greedy?
If you've been fan of Jasmine Lounge in the past but haven't been in a while, definitely go back and check out to upgrades. I guarantee you will love it. And if you've never been, head over there try it for yourself. It's a fabulous place to eat and drink.

Read More About
Category: All, Entertainment, News