Greenrock said they look forward to the 2017 Throne Speech "with hope for a greater focus on renewable energy and sustainability," saying that "in particular we hope that the challenge of climate change – the great challenge for Bermuda and humanity for the 21st Century, is front and center."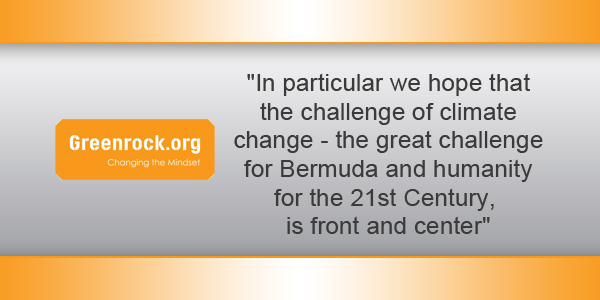 The environmental organisation said, "For this Throne Speech, our wish list is to see the following:
A strong focus on the challenge of climate change for Bermuda.
Initiatives on energy equality.
Increasing/supporting the rate of renewable energy uptake in Bermuda [and a similar reduction of our dependence on imported fossil fuels that both leak hard currency out of Bermuda and contribute to climate change].
The start of phasing in hybrid and electric vehicles for the Government's fleet of light vehicles.
The introduction of a charge on single-use bags.
A pilot project on mandatory recycling.
Consultation on a beverage container deposit system.
"This Throne Speech occurs in the wake of hurricane Harvey in the US southwest and hurricane Irma in the Caribbean and Florida – and with the looming threat of hurricane Jose," Greenrock continued.
"Rising sea levels caused by climate change increase the severity of storm surge and resulting property damage and potential for loss of life and livelihood.
"Similarly, the warmer atmosphere holds more water vapour, leading to extreme rainfall events such as the record-shattering rainfall associated with Harvey.
"Warmer ocean waters help fuel hurricanes, increasing their potential intensity. It's not possible to say that these hurricanes have been caused by climate change – but we can say with great confidence that climate change made their impact worse.
"Similarly we're seeing massive flooding in parts of India not considered traditional monsoon areas – and during what is considered the drought season. Climate change models predicted this – and predict similar events to become more frequent and widespread.
"At the same time we have seen three of the hottest years since records began, with 2015, 2016 and now 2017 [to date]. In fact, 16 of the 17 hottest years on record have occurred since 2001. Global warming is now at levels not seen for 115,000 years.
"We can no longer deny the reality of climate change. Bermuda has a moral and economic imperative to address the impact of climate change on Bermuda and reduce our own contributions to it.
"Climate change will affect all aspects of Bermudian life – from our weather, our coral reefs, flora and fauna, the economy and public health. It is for this reason that we hope that the challenge of climate change features prominently in the upcoming Throne Speech."
Read More About
Category: All, Environment, News