"We are looking forward to the upcoming Throne Speech and remain hopeful that it will pleasantly surprise us as being the greenest one to date," Greenrock said.
A statement from the environmental group said, "Monday, November 7th sees the reconvening of Parliament and the announcement of the Government's policy priorities for the next Parliamentary session [from November 2016 through to summer 2017].
"The Throne Speech is supposed to give an indication of what the Government intends to do throughout the Parliamentary session and here at Greenrock we're hoping that the 2016 Throne Speech will be particularly green. Our hope for the Throne Speech is that it will have a clear focus on addressing climate change issues.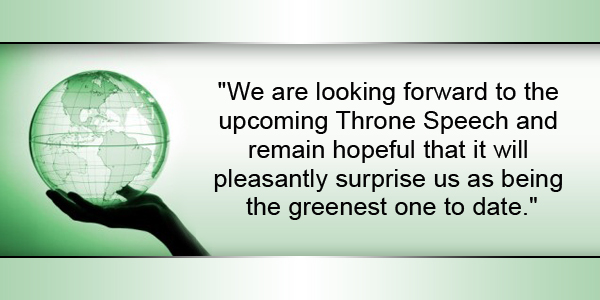 "Global climate change is the defining issue of the 21st Century, and small island states like Bermuda are particularly vulnerable to the challenges it will pose – be it in terms of food security, hurricane intensity, ocean acidification, rising sea levels, reduction of biodiversity, increased summer temperatures, energy security, disease outbreaks or more.
"What we would like to see in the Throne Speech is:
A strong commitment to tackling climate change with the introduction of a Climate Change Act.
"While the Government has set up a Climate Change Taskforce it is unclear what exactly has been done so far. We believe a Climate Change Act, like the 2008 UK Act and, in particular, the world leading Scottish Climate Change Act 2009, are indications of what Bermuda should seek to emulate. These Acts set clear targets for reducing our greenhouse gas emissions and shifting towards a low carbon economy.
"While Bermuda is a relatively small player on the global stage, we can have global influence by showing the world that a greener, fairer future is possible. At a minimum such an Act should commit us to have 50% of Bermuda's energy produced from renewable resources by 2030, and 80% by 2050. We would also like to see Government ratify the Paris Agreement, like it did with the Kyoto Agreement previously.

A commitment to reducing marine debris and threats to wildlife through the introduction of a Single Use Carrier Bags Charge Act.
"This is something that has been introduced throughout the world, in particular Wales, Northern Ireland, Scotland and England, all of which have found this to greatly reduce the amount of single-use bags being used – and as a result reducing the amount of these that enter marine ecosystems. We know that in marine ecosystems these bags form a particular hazard for wildlife, especially sea turtles, which mistake them for food. We know these charges work. We know they have popular support. It's time to act.

A commitment to reducing litter and increasing recycling rates.
"There are a number of options that we believe would be beneficial to reducing litter – especially in the form of beverage containers – and increasing recycling rates of tin, aluminium and glass. These include the introduction of a beverage container deposit like in Barbados and Turks and Caicos [and many US States and Canadian Provinces].
"Such a deposit system has been shown to greatly reduce the amount of litter and increase rates of recycling. Another option is the introduction of mandatory recycling – which has been shown to greatly increase recycling rates and is quickly adjusted to by communities where it has been introduced.

A new Sustainable Development Plan.
"The original Sustainable Development Plan is dated, being over a decade old. While much of the original plan has been implemented or is in the process of being so, it is long overdue for an update. The original plan was far-reaching and comprehensive, based on widespread consultation. We recognise that the Sustainable Development Department has now been merged with what was the Central Policy Unit, which has the potential for making sustainable development central to Government policy making.
"However, one of the weaknesses of the original sustainable development initiative was that it wasn't backed up by legislation, which greatly weakened the potential of the plan itself and the relevant department. Introducing a Sustainable Development Act that ensures [a] regular reviews and updates of Sustainable Development Plans; [b] making sustainable development central to government policy; and [c] clarifying the role of the Sustainable Development Roundtable as an independent watchdog and guardian of sustainable development in Bermuda; would be beneficial for all. We also think it is important to stress that sustainability must incorporate not simply the environmental, but also include economic and social sustainability.

An updated White Paper on Energy.
"The 2011 White Paper on Energy remains a key document in outlining Energy Policy in Bermuda, and we welcome the introduction of the Electricity Act 2016, albeit with us having some reservations concerning it as not being strong enough regarding renewables. However, we think it is time for this document to be updated to prepare a roadmap for energy policy through to 2030 – with regular five year reviews.

A new look at Blue Halo ideas.
"We were disappointed that the Government chose not to proceed with the Blue Halo proposal. This initiative was beginning to generate conversations about how best to use our Marine Economic Exclusive Zone in a sustainable manner. Our hope would be that with the America's Cup in 2017 this can provide a catalyst for greater marine conservation and protection. While we will continue to support the Blue Halo concept, we would support anything that increases marine conservation.
Other issues we would love to see in the Throne Speech include:
Renewed support for near shore marine spatial planning.
Further support for solar power.
A national plan on food security.
Amendments to the Clean Air Act.
A commitment to greener transportation.
"Our list above is not exhaustive, however we believe they are key first steps to developing a more sustainable Bermuda.
"Overall, we are looking forward to the upcoming Throne Speech and remain hopeful that it will pleasantly surprise us as being the greenest one to date."

Read More About
Category: All, Environment, News, Politics