Youth Vision Promotions and Soul Food Promotions will be hosting the 'More Love More Life' community fun day on Saturday [Sept 23] from 2.00pm to 7.00pm at Parson's Road playground.
A spokesperson said, "On Saturday September 23rd, Youth Vision Promotions and Soul Food Promotions will be collaborating to host a community fun day at the Parson's Road playground and park from 2pm – 7pm.
"Desmond Crockwell [Youth Vision Promotions], and Lynwood 'Brotha Richie' Richardson [Soul Food Promotions] are both, in their own right, community workers, who over the years have used their time and resources to promote events or initiatives to impact neighborhoods, and various demographics of people in a positive, meaningful way.
"As part of the anti-violence and L.I.P. [Live in Peace] movements, the two decided to join forces to host this event with the intent to simply create an atmosphere, and provide the space for families, neighbors, locals, or otherwise, to come together and enjoy some fun & games.
"Snacks and refreshments will be on sale, Music and sound will be provided by Trinity Sound & GoodTyme Entertainment with guest djs as well. There will also be some martial arts demonstrations performed by Tabata-Ha Shotokan Karate-Do [Sensei Charles Butterfield] and Fudoshin Ninjitsu Bermuda [Sensei Frank Burgess]."
Mr. Richardson said, "It is Desmond and I's faith that the more positive vibes that we push out there in the atmosphere, and galvanize others to do the same, it will counteract the negativity that is plaguing our island. We will continue to push and sacrifice to see more things of this nature take place island wide. Our goal is to do more community events in the West end of the island as well.
"We are grassroots based. We are not charities. Our business is about positively impacting our nation with authentic movements. We have had to learn to do much with limited resources, but we are encouraged because we recognize that are work is not in vain.
"We are grateful for those that have stepped up to volunteer, or help us with the fun day, and to the various media platforms that continue to show their support by allowing us to tell our stories, and keep people informed of our endeavors."
"For more information, contact Mr. Richardson on 703-4896 or Mr. Crockwell on 337-7786.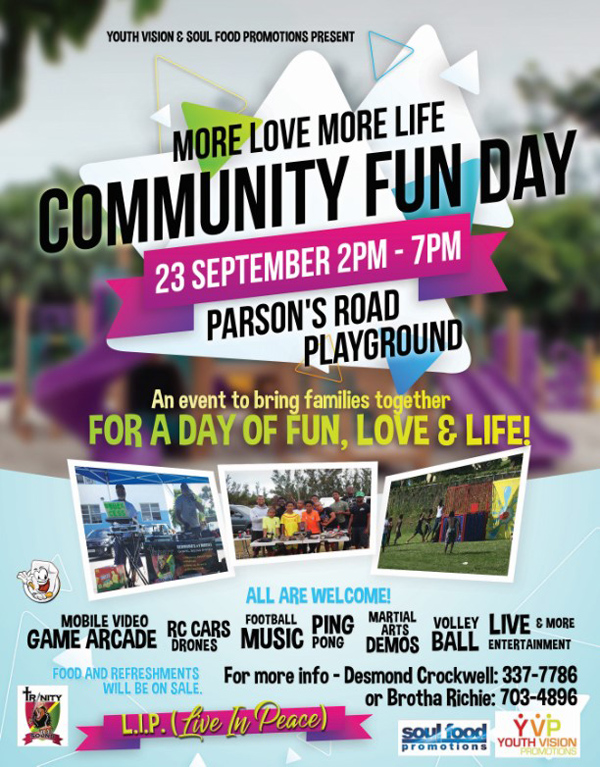 Read More About
Category: All, Entertainment