EY Bermuda Ltd. recently co-sponsored a 100 Women in Finance "Let's Talk Tech" event along with co-sponsor, Oyster Consulting Bermuda to discuss various topics centered on technology, with each speaker highlighting the top insights, trends, and innovation expected to impact us both professionally and personally.
Themes discussed included how to leverage technology effectively in the workplace, how to de-mystify technology, and automation.
Over 50 professionals from corporate Bermuda attended the event, which concluded with a Q&A session with the audience.
Susan Daniels, Zarina Santos, Kellum Stephens, Edie Jaworski, Kateryna Gorbunova, Cordelia Davis, Pam Roye, Mary Hu, Chris Maiato: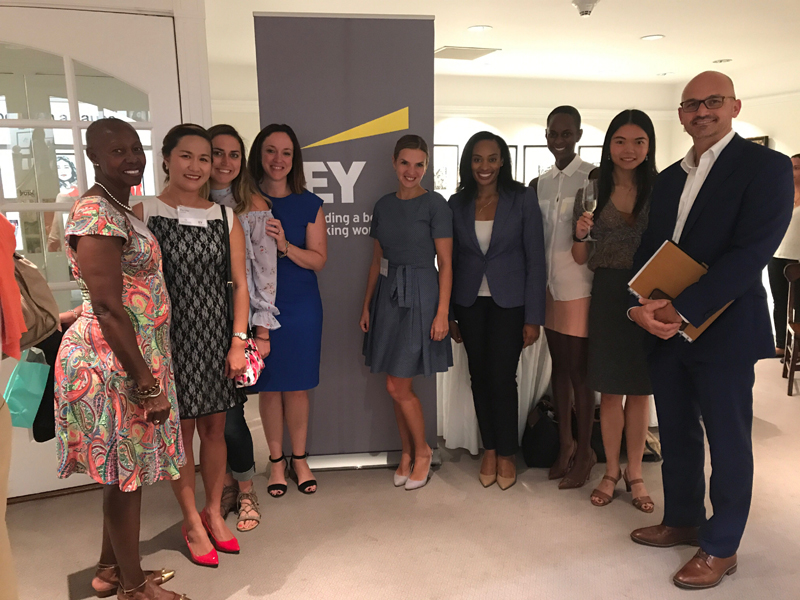 "Our clients are very focused on adopting and investing in new technology to transform their business to drive value and a better customer experience," said Chris Maiato, EY Advisory Principal of the Bermuda, Bahamas, British Virgin Islands and Cayman Island region [BBC] at EY.
"There are many exciting technologies that are being developed that are reshaping how we do things. With adoption and acceptance rates increasing, we are proud to be part of facilitating this important and timely discussion."
EY Partner Cordelia Davis, who served as the moderator for the event, said, "Technology is at the center of our lives, professionally and personally.
"As the pace of innovation continues to accelerate, it is more critical than ever to keep up with latest trends and developments, and understand their potential to radically transform business and the way in which we interact with each other."

Read More About
Category: All, Business, technology