The second Bermuda Plein Air Festival and exhibition will be held from Saturday, November 11 to Saturday, November 18 with international and local participants.
A spokesperson said, "We are delighted to announce the second Bermuda Plein Air Festival, with International and local participants, to be held from November 11 – 18th, 2017.
"As this will be another opportunity to showcase Bermuda with some permanence and develop recurring tourism, it has the support of the Bermuda Tourism Authority. We will have over 50 Local and International guest artists in Bermuda for an island wide "paint out" for an entire week.
"The final exhibition on Nov 18th will be at City Hall, BSOA Gallery, and is a must see show. The 'wet paint' work exhibited will be for sale at this one day only exhibition. In addition we will be awarding $15,000 in prizes for best work submitted in various mediums.
"To learn more about this event, where the artists will be or to sign up as a participating artist, go to the website or send an email to info@bermudapleinair.com."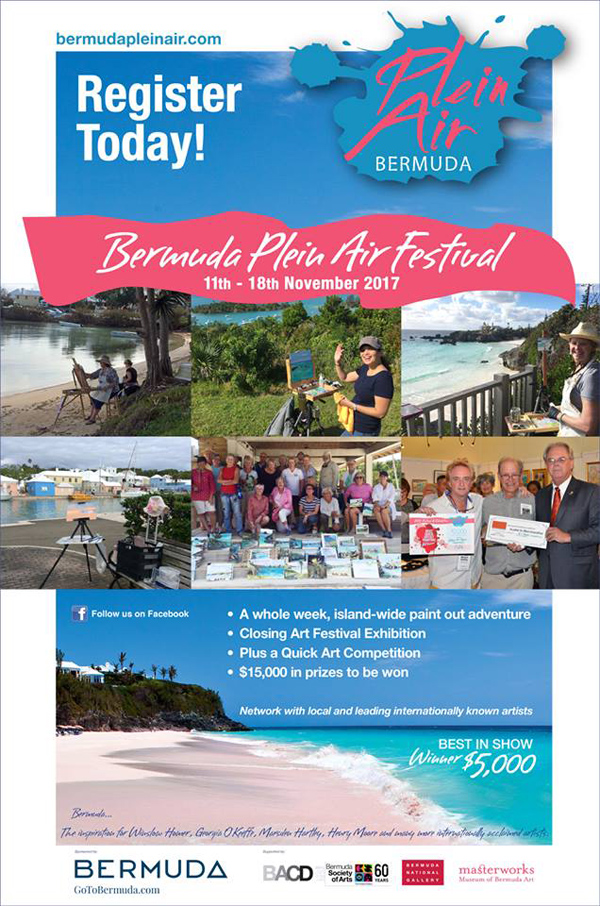 "Presently The Bermuda Plein Air Group is presently holding their annual exhibition at the Bermuda Art Centre in Dockyard, The show will continue for all to enjoy until October 6th.
"This annual exhibition showcases a full season's worth of work, up to 6 pieces from each Bermuda Plein member, of various out door locations painted in one of our Sunday sessions. The displayed work is a mix of watercolours, oils, pastels, pen and ink and or acrylics, and is of locations all over Bermuda, all framed and ready to find happy homes!
"The Sunday painters group paints in both public and private locations as guests of very generous home owners, and is open to all artists who like to challenge themselves to paint outside. Each session is from 9 to 11:30 am. All are members of the Dockyard Art Center, and anyone can join us!
"Artist exhibiting include seasoned professionals well as new members, such as Christopher Marson, Marlene Jantzen, Michelle Smith, Rhona Emmerson, Sheilgh Head, Jill Amos Raine, Judith Davidson, Brab Freeda, Graham Rendell, Heidi Cowen, Tricia Roberts , Sylvia May and Vivienne Gardner to name a few.
"You can follow this talented group on Facebook and on Instagram as well.
"Under the umbrella of the Bermuda Arts Centre at Dockyard, registered Bermuda charity #0244, the Bermuda Plein Air Painters is a group that was formed eight years ago by artists Jonah Jones and Chris Marson. The success of this group together with that of similar plein air groups worldwide usually culminating in an annual festival led to investigate the attractiveness of Bermuda as a painter's festival venue.
"It is envisaged that our festival will be a biennial event, with the next event dovetailing with the AC-17, together with all its international media exposure.
"Plein air painting is about leaving the four walls of the studio behind and experiencing painting and drawing in the landscape. The practice goes back for centuries but was truly made into an art form by the French Impressionists.
"Their desire to paint light and its changing, ephemeral qualities, coupled with the creation of transportable paint tubes and the Box easel—the precursor to the plein air easels of today— allowed artists the freedom to paint "en plein air," the French expression for "in the open air."
"Today, Plein Air painting is a flourishing trend in our art world. Artists come together for "paint out" excursions and workshops and are devoted to the practice all year and coast-to-coast. We aim to put Bermuda on the world's art map."

Read More About
Category: All, Entertainment