Alia Hamza has been awarded this year's Charman Prize for her mixed media copper and glass piece The Other.
Masterworks Museum of Bermuda Art hosted the Grand Opening of the exhibition on Friday [October 13]. The biennial award is open to local artists based in Bermuda and Bermudians abroad and is intended to exhibit artwork inspired by Bermuda as well as honor and support contemporary artists. This year stood out as one of the highest entries with 119 pieces of artwork being submitted for consideration.
Ms Hamza said about her piece: "The Other began for me as an exercise in understanding and processing certain painful experiences. It subsequently became a path to healing. Art does this and I am so grateful for the Charman Prize and the amazing team at Masterworks for unknowingly conspiring by providing such a wonderful opportunity."
 Scott Stallard, Natalie Dyrili, Alia Hamza, Sharon Wilson and Paul Blackbourn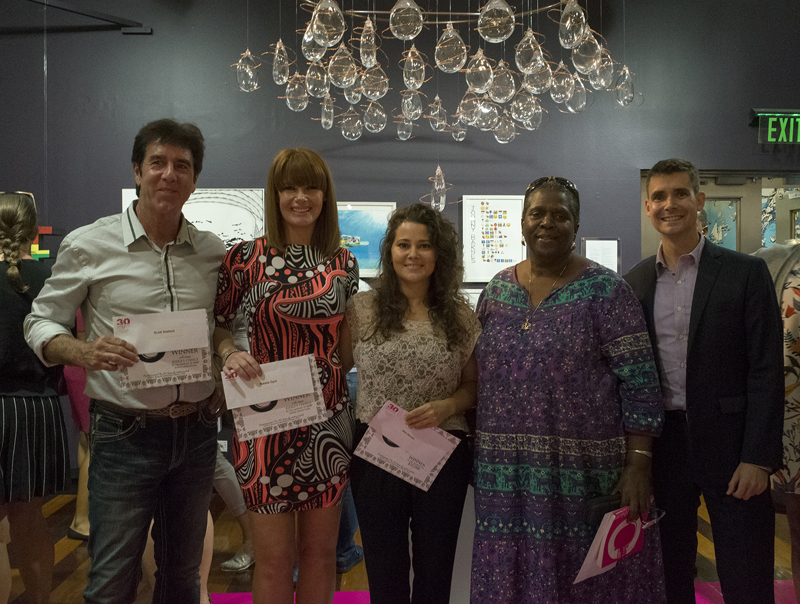 About the win she added: "To have shared space with such stellar artists is incredible to me. What has made the whole experience richer is having the guidance and support of some of the most incredibly talented and loving people.
"To Oliver and Co at Dockyard Glassworks, the staff at BAC who wondered what craziness I was up to with all that copper and to Michael Walsh, a special thank you. Thank you for sharing the journey, I am in no way celebrating alone. Here's to committing, creating and completing!"
Ms Hamza took home the grand prize of $10,000 for her work.
Other winners of the night included:
Emerging Artist $5,000 – Paul Blackbourn
Judges Choice $2,000 each:
Robin Light – Valerie Brown
Linda Wilde – Scott Stallard
Laszlo Cser -Natalie Dyrli
Masterworks Choice
Local businessman and avid art collector, John Charman established the Prize in 2008 with the opening of the Masterworks Museum of Bermuda Art in its permanent home in Botanical Gardens.
He said during the award ceremony: "It is my distinct honour and great pleasure to be the patron of the Charman Prize at the Masterworks Museum of Bermuda Art. For 2017 the Charman Prize has a theme of the 'Bermuse ' – essentially anything that that term inspires the artist.
"I spent much of my early life in Italy – a country blessed at seemingly every corner with a richness of visual arts created over the centuries. It is this, inherent deeply rooted passion for the arts that has helped me understand the critical role art plays in positively contributing to our community, our culture and our national identity and pride."
"I am very proud as well as being delighted, to acknowledge the quality, diversity and high standards of all the 119 pieces that grace these walls – the largest number of entries ever submitted."
"First and foremost, it all starts with the artists – all of whom have used their artistic and creative talents to prove to the world that Bermuda is an artistic force to be reckoned with – small but mighty."
He added: "The inspiration for the Charman Prize came from my many early and exhausting conversations with [founder and creative director] Tom [Butterfield] and curator, Elise Outerbridge. Both of them had given a pledge to our local artists – not only to honour them but importantly, to provide a platform to showcase their works. I thank them both most sincerely for their support and determination to see an event like this come to pass."
This year's Prize was judged by an international panel of experts on four criteria points falling under an overriding theme of "Bermuse".
Jury members were Laszlo Cser [professional conservationist – Toronto], Linda Wilde [art lecturer and historian – USA] and Robin Light [owner and founder of Crane Kalman Gallery – London].
The artwork is judged under four criteria points: design and composition – fine use of the principles and elements of design and composition; use of material – technical mastery and skill in a chosen medium; distinctive and convincing style – a highly developed quality of creativity and originality; and source of inspiration – a clear intent and vision.
The entries will be displayed in the Butterfield Family Gallery until February 15, 2018 and all works on display in the competition will be available for purchase.
For more information about the Charman Prize, please contact 299-4000.

Read More About
Category: All, Entertainment, News