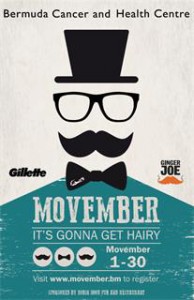 Bermuda Cancer & Health Centre, in partnership with Robin Hood Football Club, is getting set to kick off its Movember event tomorrow [Nov 1] in support of men's health.
A spokesperson said, "Across the world, men die an average six years younger than women, and for reasons that are largely preventable. Which means that it doesn't have to be that way: we can all take action to live healthier, happier and longer lives.
"Each November, Bermuda Cancer and Health Centre provides a fun platform for men to have conversations about their health. Movember, as it is now fondly called, brings on the growth of the manly moustache [in most cases], the need to move and a time to know your numbers.
"Partnering with Bermuda Cancer and Health Centre for a second year in a row is Robin Hood Football Club."
Steven Simons, Vice President, said, "As someone who has been personally touched by the devastating effects of cancer, supporting such a cause is a no-brainer.
"We at Robin Hood Football Club look forward to supporting the community, raising awareness and helping make an impact through our fundraising efforts. On top of that, this event is so much fun and is a worthwhile experience for teams and individuals alike."
"Trucker, regent, connoisseur or wisp – no matter the shape or style of the Mo this Movember, your face can inspire donations, conversations and real change. More than just follicles on your face, a Mo is a ribbon – reminding the people in your life of the importance of men's health.
"While starting clean shaven on November 1st and cultivating growth for 30 days, MoBros can seek financial encouragement from those naysayers around them. All funds raised are invested in men's health prevention, detection and treatment programmes in Bermuda.
"To become involved in Movember, register to grow a Mo [or wear a Bow for those who prefer less itch] for 30 days at movember.bm; the Movember Launch will take place on Wednesday, November 1st at 5:30 pm at Robin Hood Restaurant & Pub – come on out and get clean shaven to start the month right; and grow, bow, MOVE and know your numbers for 30 days.
"The Mo-Finale will be held on Thursday, November 30th at 5:30 pm at Robin Hood Restaurant & Pub. Come out and have some fun getting your mo shaven off; but first, get judged to win various prizes.
"Movember events are open to the public and sponsored by Robin Hood Restaurant & Pub, Gillette and Ginger Joe.
"Get your MOVE on and embrace the sweaty Mo this Movember by being active. It's what we like to call Move. Try the Catlin Man on the Run 5K being held on November 12 at 9 am at Warwick Academy. Women are welcome but only on the sidelines to cheer your man on as this race is for men only.
"Prefer to Move on your own, then set a distance goal at the start of the month, and walk, run, cycle, swim or row your way to achieving it. You can raise much-needed funds for men's health while you're at it.
"Know your numbers – free Men's Health Screening. At 50, talk to your doctor about prostate cancer and whether it's right for you to have a PSA test. If you are of African or Caribbean descent or have a father or brother with prostate cancer, you should be having this conversation at 45.
"Know your numbers, know your risk, talk to your doctor. If you don't know your numbers or have not seen a doctor in a few years Bermuda Cancer and Health Centre host a free Men's Health Screening every November. This year it is being held on November 16, 10 am, – 4 pm at the Seventh Day Adventist Church Hall on King Street.
"Use your MO, your MOVE and your Numbers to raise money to help Bermuda Cancer and Health Centre fund men's health initiatives from prevention through treatment, so that more men live happier, healthier and longer lives.
"All funds raised support the Centre's charitable outreach initiatives around men's health which includes the Centre's Radiation Therapy Initiative. For more information visit movember.bm."

Read More About
Category: All