The Bermuda Mental Health Foundation in conjuction with Benedict Associates will host a virtual lunch and learn session entitled Workplace Mental Health Awareness Online on October 10th 2017 during Mental Health Week.
The one-hour course will focus on Mental Health in the Workplace as well as an overview of the Human Rights ACT as it pertains to the mental health-related amendment and what the act means for employers and employees.
Organizations have the opportunity to select a time slot [11am-11:45am, 12:00pm-12:45pm, 1:00pm – 1:45pm or 2:00pm- 2:45pm], sign into a virtual class and participate in the workshop as if they were face to face with the facilitators.
A spokesperson said, "The Foundation is keen on ensuring that Bermuda's workforce has the information they need to make sure that they are thriving in the workplace. Although we applaud the government for updating the Human Rights Act, we believe that educating employers and employees on the new contents of the Act will allow Bermuda's workforce see real change in the treatment of those who have a mental illness.
"Workplace Mental Health Awareness Online is one of many events scheduled to take place during Mental Health Week.
"If you are interested in registering your company to participate in one of the Workplace Mental Health Awareness Online Lunch and Learn sessions, please visit here or email info@bmhf.bm.
"Once you've registered, you will receive a confirmation email with technical instructions that will allow you to access the session. To receive additional information regarding Mental Health Week, please contact Jodi Lewis by calling 400-5634. To learn more about the Foundation, please visit bmhf.bm."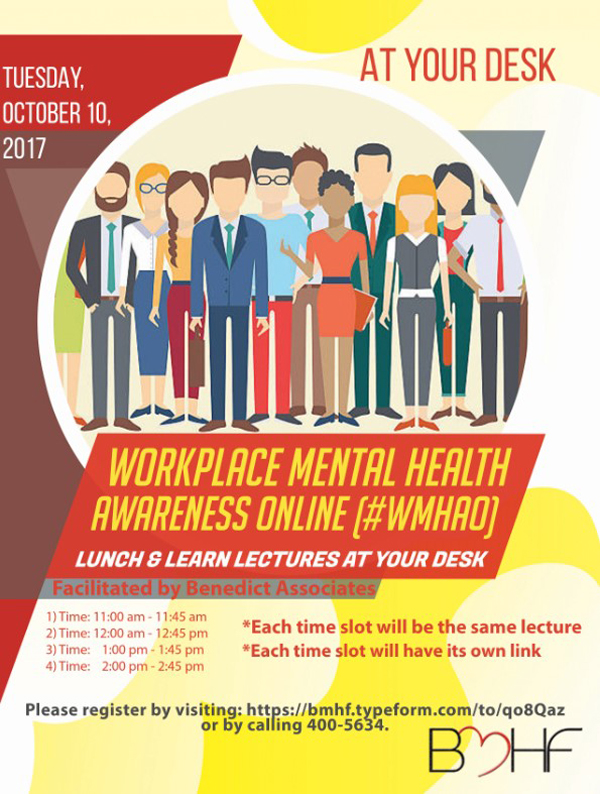 Read More About
Category: All