A food truck festival is returning to Hamilton for the second consecutive year, this time with more space, more vendors and healthier food choice options.
The Bermuda Tourism Authority introduced the Bermuda Food Truck Festival in October 2016 and has designated Sunday, November 5th, 2017 for its return.
"Whether we're celebrating Bermuda's renowned fish sandwiches or diverse local food trucks, our efforts to highlight Bermuda's food culture have captured the imaginations of visitors and residents alike," said Pat Phillip-Fairn, chief product and experiences development officer at the Bermuda Tourism Authority.
"The turnout for the first-ever Bermuda Food Truck Festival last year was very strong, every food truck operator enjoyed a busy day of sales. We were delighted with the response and we have paved the way for smart growth this year by adding new outlets and a new location."
The Bermuda Food Truck Festival will take place between noon and 5pm along Pitts Bay Road between Bermudiana Road and Woodbourne Avenue. The stretch of roadway is also known as Rosebank Road, which overlooks Barr's Bay Park.
The new location allows attendees to enjoy their food in a harbourside city park where live Bermudian entertainers are scheduled to perform. The City of Hamilton is a co-sponsor of the event.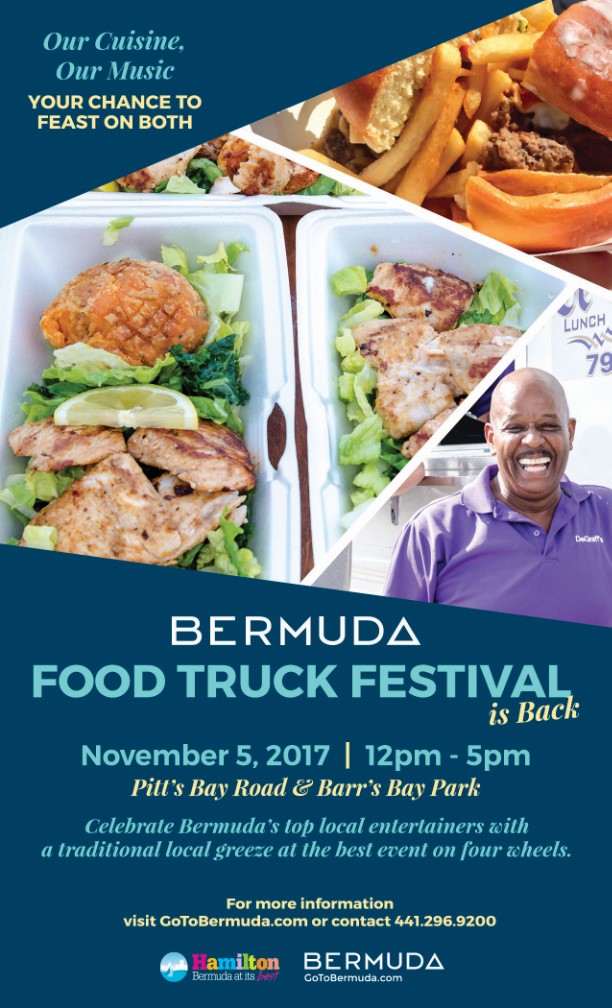 "We're pleased to work with the Bermuda Tourism Authority on the Bermuda Food Truck Festival, which will bring people into Hamilton. We're especially happy to have it take place when there is a cruise ship in the city, just a few hundred yards from where the festival is taking place," said City of Hamilton Mayor Charles Gosling.
The Bermuda Tourism Authority selected November 5th to align with the visit of the Silver Whisper cruise ship. The World Rugby Classic will also be underway during the first weekend of November. The event will be marketed to hotel guests through concierges and other means; the public is encouraged to recommend the food truck festival when they encounter travellers.
More than a dozen food trucks and pop-up vendors will be on hand for the Bermuda Food Truck Festival. Emphasis will be placed on Bermuda dishes, featured alongside traditional food truck favourites like fish sandwiches, hot dogs, snowballs and homemade lemonade.
The line-up of local live entertainment includes the Simons Brothers, Prestige, Cush Evans, In Motion School of Dance and Working Title. DJ Rusty G will bring an hour-long soca celebration during the festival. There is no admission cost. Everyone is welcomed.
Food Truck & Vendors Expected to Appear
DeGraff's Lunch Counter
Scoops n Cones Ice Cream Truck
Jor-Jay's Lunch Wagon
Stevens Lunch Wagon
J&B's Wood Fired Pizza
Nonna's Kitchen*
Twisted Spoon
Wild Herbs & Plants of Bermuda*
Bermuda Cupcake Company
Duch Pops
Hotdog Delight
Ashley's Lemonade Stand
Bite.bm Food Truck
Grillin' Stix
Coco Vida*
Dandy Donuts
* vegan options

Read More About
Category: All, Entertainment, News