Healthy food items, some with a unique Bermuda twist, are on the menu at this year's Bermuda Food Truck Festival, taking place in Hamilton this weekend.
A spokesperson said, "Nonna's Kitchen, Wild Herbs & Plants of Bermuda, and Coco Vida are all new to the festival line-up and each has curated healthy dishes to answer a demand from last year's festival-goers."
"Last year's Bermuda Food Truck Festival received very positive reviews and when we asked for feedback, adding healthy food options came up several times – especially from our visitors," said Bermuda Tourism Authority Product Development Manager Tashae Thompson.
"I think visitors and locals will be very happy with how we have responded to their feedback. The gluten-free and vegan plates, some of them with locally foraged ingredients, will be a highlight on Sunday."
"Wild Herbs & Plants of Bermuda offers experiences to visitors that include a walking tour to harvest ingredients followed by a cooking demonstration.On Sunday, some of their most popular locally harvested dishes will be available. Meantime, Coco Vida focuses on frozen coconut treats that are vegan and gluten-free."
A vegetarian platter with asparagus, mushrooms, spinach and butternut squash from Nonna's Kitchen, which will be available on Sunday: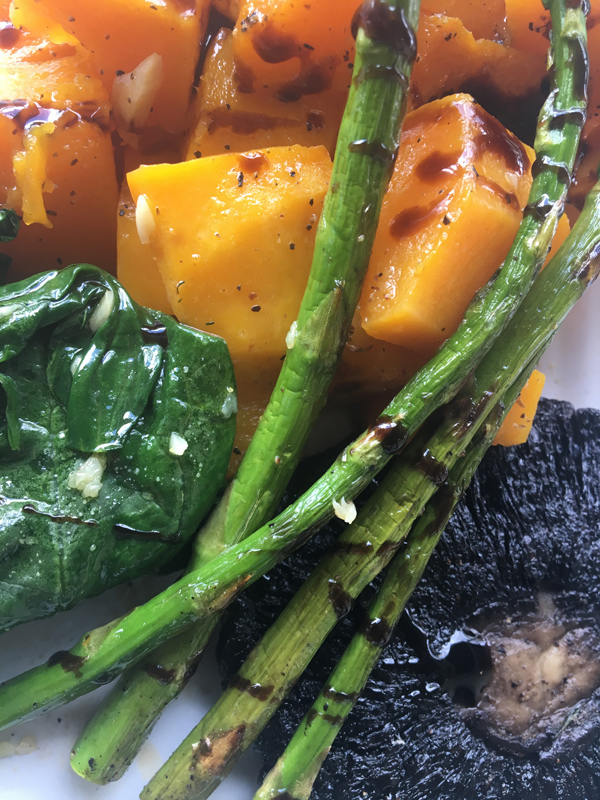 "The Bermuda Food Truck Festival is Sunday, November 5th, from noon until 5pm. More than a dozen food trucks and pop-up vendors will be on hand.
"It's the first event in the Bermuda Tourism Authority's "Uncover Bermuda" brochure, a schedule of experiences between November and April that highlight the year-round appeal of Bermuda as a visitor destination.
"Vendors expected to appear include DeGraff's Lunch Counter, Wild Herbs & Plants of Bermuda, Jor-Jay's Lunch Wagon, Dandy Donuts, Lickety Split, Nonna's Kitchen, Twisted Spoon, Bermuda Cupcake Company, Duch Pops, Hotdog Delight, Ashley's Lemonade Stand, Grillin' Stix, Coco Vida, and Kamazing Fun Castle.
"Live Bermudian entertainment will include Simons Brothers, Cush Evans, Working Title, Prestige, In Motion School of Dance, and DJ Rusty G."

Read More About
Category: All, Entertainment