The Bermuda Tourism Authority [BTA] will put a fresh take on celebrating the island's food culture when it debuts a first-of-its-kind food truck festival next month.
The BTA is organising the event in partnership with local food truck operators to create a festival on Front Street, Sunday, October 9, 2016. It will take place from 1:00pm to 6:00pm. The date was chosen because it's the Columbus Day holiday weekend in the United States.
"We're inviting visitors on island for Columbus Day weekend to come into Hamilton and experience this delicious aspect of island life," said Pat Phillip-Fairn, the BTA's Chief Product and Experiences Development Officer.
"We encourage the whole community to extend that invitation too, while also coming to enjoy what's on offer themselves. Our visitors want to mingle with locals, enjoy live local entertainment and we can build on that by helping them sample this facet of Bermuda's food culture that most visitors miss.
"We know from our consumer research that experiential travellers love food trucks so we're giving them a festival, with the help of great pop-up vendors and entertainers."
Photo courtesy of Bermuda Tourism Authority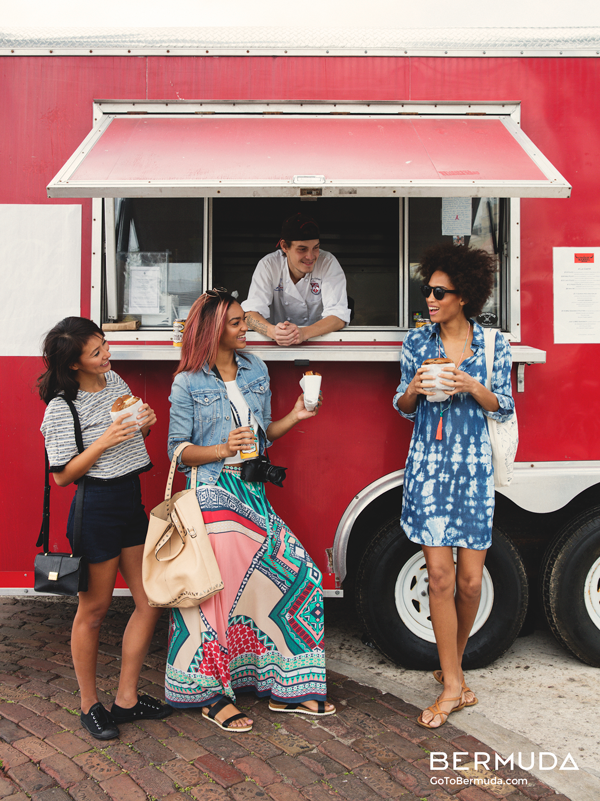 There will be 13 food trucks and pop-up vendors on hand for the Bermuda Food Truck Festival. Emphasis will be placed on Bermuda dishes, featured alongside traditional food truck favourites like fish sandwiches, hot dogs, snowballs and homemade lemonade. There is no admission. Everyone is welcomed.
The line-up of local live entertainment includes the Simons Brothers, In Motion, Kennel Boys and Working Title. DJ Rusty G will bring an hour-long soca celebration during the festival.
On behalf of the food truck operators, Arthur Dill of Jor-Jay's Lunch Wagon said: "We, the lunch wagon participants, are excited to participate in the Bermuda Food Truck Festival and look forward to it being a success.  We hope that it will become an annual event going forward."
Kendaree Burgess, Executive Director at the Bermuda Chamber of Commerce stated: "The Chamber constantly seeks to support initiatives that align with our vision, which is to cultivate the best environment in which all businesses can prosper. The food truck industry is one that we are thrilled to see now getting the attention it truly deserves; we applaud and stand behind the Bermuda Tourism Authority on this initiative."
Since the BTA's inception, the Product and Experiences team has worked with the culinary community to elevate the island's food culture and infuse it into the visitor experience.
"Those efforts have included popular Bermuda-inspired menus during Restaurant Weeks, last year's competitive fish sandwich competition and the support of the City Food Festival. This is the BTA's first formal partnership with food trucks and pop-up vendors. It's being referred to as "a 'greeze' on wheels".
Mrs Phillip-Fairn said: "Whether it's a spiny lobster, cassava pie or fried wahoo from a food truck — If there is a food tradition residents enjoy, we want visitors to have a try too.  That's how we can deliver a true island life experience to the modern-day Bermuda visitor."
The Bermuda Food Truck Festival will take place on Front Street at No.1 Car Park.
Confirmed Vendors
AAA Hot Dog Cart
Ashley's Lemonade Stand
Bermuda Cupcake Company
Cann-Da-Licious
DeGraff's Lunch Wagon
Dandy Donuts
Ginger Beer Truck
Jor-Jay's Take Out
Keith's Kitchen
Scoops n Cones Ice Cream Truck
Smokin Barrel
Snowball Shack
Stevens Lunch Wagon

Read More About
Category: All, Entertainment, News