Final touches are underway on Sunday's first-ever Bermuda Food Truck Festival and the Bermuda Tourism Authority [BTA] has made a few tweaks after receiving feedback from stakeholders in the local tourism industry.
Most notably, hotel concierges have requested, on behalf of visitors, that a health-conscious food provider be added to the line-up of vendors. In response, the BTA included BiteBM Food Truck in the festival.
"BiteBM Food Truck will help us increase the offerings available to the health-conscious consumer and our hotel concierges tell us this is important," said Pat Phillip-Fairn, chief product and experiences development officer for the BTA. "We always listen to the desires of visitors and this is another example of us doing exactly that."
BiteBM Food Truck, which began operation six months ago, approached the BTA earlier in the week looking to cater to consumers who want a local farm-to-table experience at the festival.
Given the feedback from concierges the BTA asked Bite's owners to fill the heath food gap identified by the hotel industry. They agreed to do so. Grilled fish, pumpkin rice, local produce and vegetarian dishes are expected to be on the menu.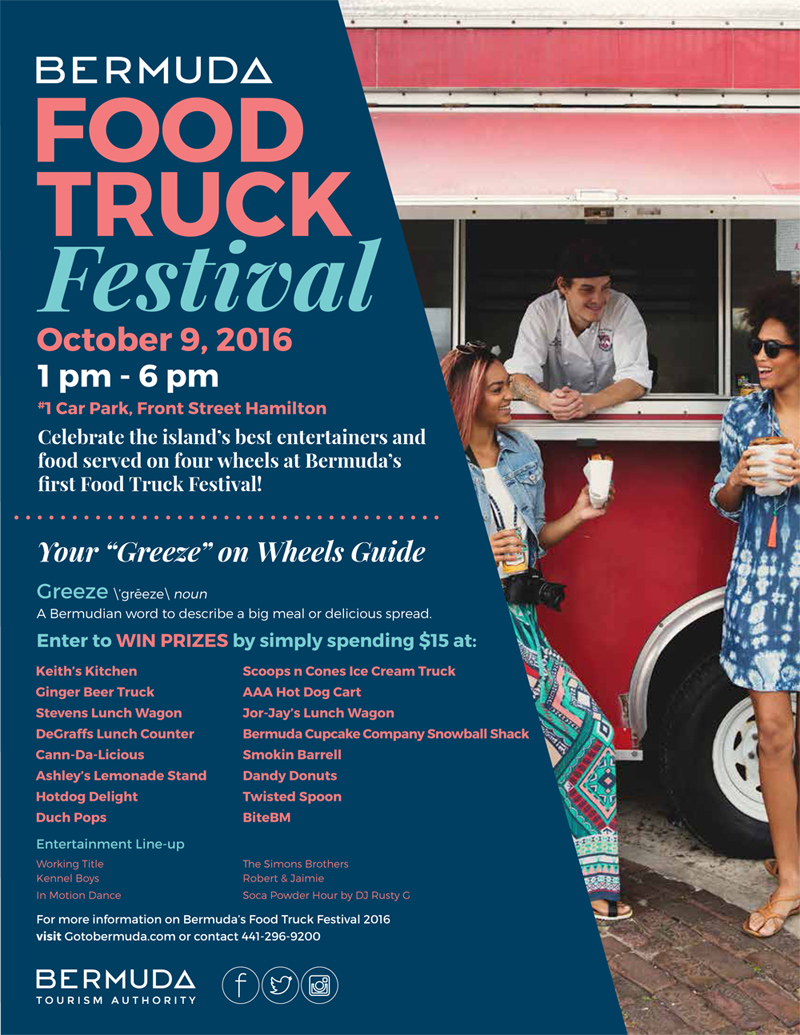 BiteBM Food Truck will join 14 other food trucks and pop-up vendors on Sunday, October 9 from 1:00pm to 6:00pmat the No 1 Car Park on Front Street. Some of the vendors have large followings of loyal customers and are practically household names in Bermuda's food culture. For example DeGraff's Lunch Counter began as a horse-drawn wagon in 1939.
"It's exciting to have a well-established food truck like DeGraff's Lunch Counter, almost 80 years-old, alongside a new outlet just getting started," said Glenn Jones, director of public and stakeholder relations at the BTA.
"We want to bring as many entrepreneurs as we can into the tourism economy and hope this Sunday is the beginning of a long relationship with a new category of small business owners."
Bermudian Chef Fred Ming will be on-hand to engage with visitors and locals about the island's food traditions. The line-up of local live entertainment includes the Simon Brothers, In Motion, Kennel Boys, Robert & Jaimie and Working Title. DJ Rusty G will bring an hour-long soca celebration during the festival.
Mrs. Phillip-Fairn said: "From top to bottom this will be an event with genuine Bermuda flavour. We look forward to visitors and residents enjoying the festival together on Sunday."
Confirmed Vendors are AAA Hot Dog Cart, Ashley's Lemonade Stand, Bermuda Cupcake Company & Snowball Shack, BiteBM Food Truck, Cann-Da-Licious, Dandy Donuts, DeGraff's Lunch Counter, Duch Pops, Ginger Beer Truck, Hot Dog Delight, Jor-Jay's Lunch Wagon, Keith's Kitchen, Scoops n Cones Ice Cream Truck, Smokin Barrel, and Stevens Lunch Wagon.

Read More About
Category: All, Entertainment, News