Executive Chef Chad Mitchell, of Red Steakhouse & Bar, will be working alongside culinary arts student Aaron Albuoy at the upcoming Plates of Passion event run by Bermuda Hospitality Institute, which sees local Culinary Arts students paired up with some of the Island's top chefs.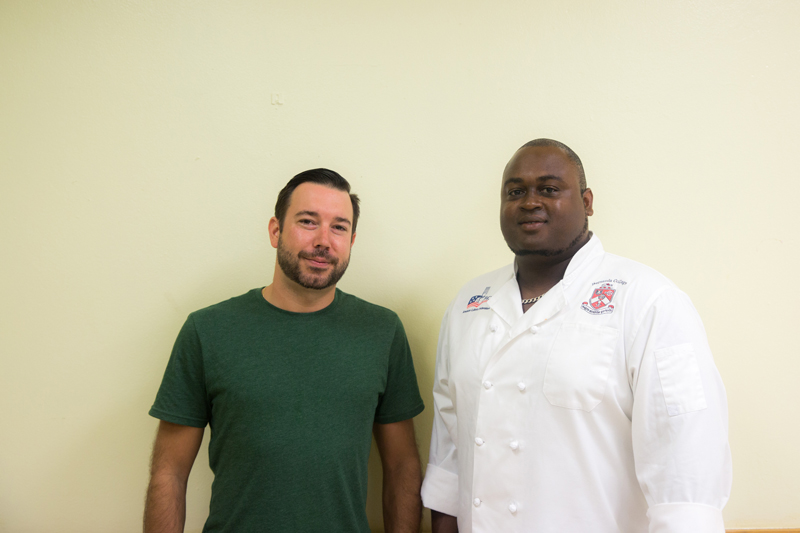 Executive Chef Chad Mitchell
How long have you been a professional chef? What inspired that choice?
I have been a professional chef in a leadership role since 2009; and have been in the industry for 17 years. I grew up working in the industry as a young teenager, being inspired first by my grandmother and then learning the trade working weekends for a friend of the family's small business. From then on it was moving into larger kitchens and working summer jobs in the industry, before I decided to enroll in hotel and culinary school.
What is your culinary arts specialty/ favorite dish to make?
Fresh Pasta, but most of all Gnocchi. It can be tedious but if done right, it's my favorite to eat and make.
Why did you agree to take part in this year's Plates of Passion event?
I have been involved before – this is my third time. Personally, I think it is a way to give back, as a young aspiring chef I know that some of my fondest memories and opportunities to obtain knowledge came while working with and under other chefs. They might be hard on you, but what you take away from the experience outweighs anything I learned while in school.
What is the biggest reward for you in doing this?
I think both the student and chef will learn from each other. Its giving the students some help and guidance along the way, but we also have fun.
What is the biggest challenge in an event like this?
Just remembering it's not a competition. Don't complicate things and enjoy the short time we have creating great food.
What's your plan when it comes to preparing for the night? How will you try to stand out above the other teams?
Build a menu that allows us to showcase the areas in food that we love. Keep it simple and don't over complicate things. Sometimes less is more.
What do you hope to impart on your student teammate? What lessons do you hope they'll learn?
I hope to teach them how to stay organized and have fun; how to focus on what we do best, run with what's local and in season. Times have changed in the industry, so using the freshest ingredients and staying in tune with trends is a big part of it.
Culinary Arts Student Aaron Albuoy, 33
How long have you been cooking? What inspired you to want to become a chef?
I've been cooking my entire life thanks to my parents and grandmother teaching me from an early age. I've found love for culinary arts ever since. Officially I've been cooking as a Chef for almost three years now professionally.
What's your ultimate goal and where you hope to end up in this profession?
My ultimate goal is to become an Executive Chef of my own restaurant. I would love to travel Europe and experience different kinds of cuisine.
Why did you decide to take part in Plates of Passion?
Cooking is a passion of mines. I'm taking the necessary steps for making my dreams come true. I want to test my skills and experience new elements within this field.
How are you feeling about the event and being paired with Executive Chef Chad Mitchell?
I feel great about this event! I'm a bit anxious and excited to be honest. Being paired up with Chef Chad from Red Steak House is a treat within itself. I look forward to working alongside with him. He such a cool laid back guy.
What will be the biggest challenge for you?
The biggest challenge for me will be plating. I can be a bit of a perfectionist and I get a slightly frustrated with myself if my plating isn't on point. I'm learning more about this as I advance with consuming culinary knowledge.
What do you hope to get out of the experience overall?
Every slice of my knife. All the different aromas I will be taking in. The way I plan on combining flavors to create a masterpiece. The various commands shouting from my Chef. I plan on retaining information from this experience that will allow me to become a better Chef.
This is the eighth in a series of profiles of the teams behind the 2017 Plates of Passion event, a one-of-a-kind dining and fundraising event run by Bermuda Hospitality Institute, which sees local Culinary Arts students paired up with some of the Island's top chefs.
This year's sold-out event takes place on Wednesday, November 1; leading up to the event students will have an opportunity to shadow their mentor chef, collaborate to create recipes and then assist with meal preparation on the night.

Read More About
Category: All, Entertainment, News