Executive Chef Enworth Davis, of Mid Ocean Club, will be working alongside culinary arts student Riona Buckle at the upcoming Plates of Passion  event run by Bermuda Hospitality Institute, which sees local Culinary Arts students paired up with some of the Island's top chefs.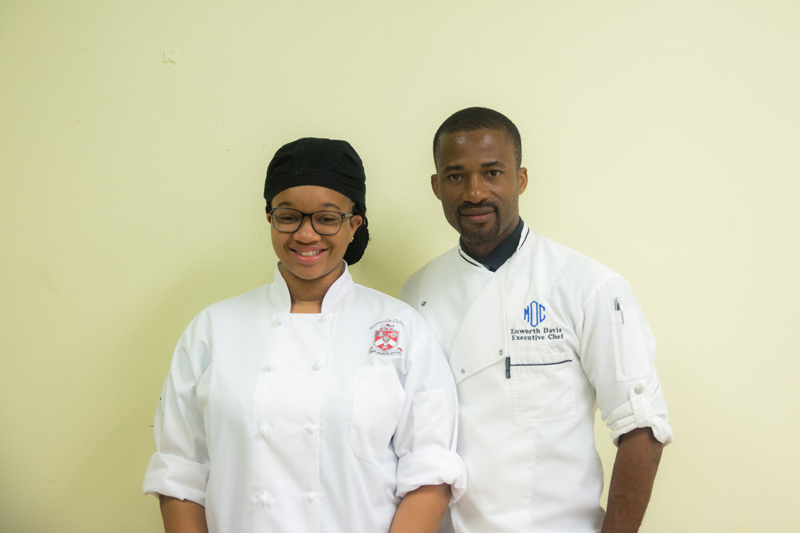 Executive Chef Enworth Davis
How long have you been a professional chef? What inspired that choice?
I been practicing professionally for over 22 years. I actually got a lot inspiration from cooking at home with my mama. It was normal for my siblings and I to prepare dinner and other meals at home from as young as I can remember. I especially loved the reaction of my family and guests when they ate and enjoyed something I cooked.
What is your culinary arts specialty/ favorite dish to make?
Being from Jamaica and having a bit of bias I'll have say my favorite thing to cook is "Jamaican Escovitch Fish". However, it must be said, I've worked and enjoyed all areas of the kitchen. I cook according to my moods and for anyone who would have me cook for them. The first kitchen I worked in was an exclusive classic French cuisine restaurant. Over the years, having worked in various hotel and restaurants with various chefs from all around the world, I have prepared many different cuisines. I have, like most modern chefs, become comfortable doing Fusion style cuisine because I just love to cook in general.
Why did you agree to take part in this year's Plates of Passion event?
I get a real sense of satisfaction from helping to develop young future chefs. So far, I have participated in this event twice before.
What is the biggest reward for you in doing this?
Having the opportunity to contribute to a very worthy cause my using culinary skills. I also enjoy being asked to mentor a junior chef and becoming a part of their journey.
What is the biggest challenge in an event like this?
My biggest challenge I suppose will be, making sure that my student partner gets the absolute most out of this Plates of Passion programme while practicing with me. I also hope what she learns will have a lasting, positive effect on her career. As far as the night is concerned, the biggest challenge will be retaining enough time and space to execute all that we've got planned, making sure we hit the mark and create raving fans.
What's your plan when it comes to preparing for the night? How will you try to stand out above the other teams?
We plan to use our time wisely and be very organized with all our mise en place. We'll stand out from the other teams by creating a menu with dishes that appeal to most people. We'll also ensure the element of familiarity is considered and add our signature flare to each recipe we prepare.
What do you hope to impart on your student teammate? What lessons do you hope they'll learn?
There's a few things I hope to teach: that we work for money and cook for glory, being one of them. I hope to impart my time and the knowledge I've acquired on my culinary journey. I want my student [Riona] to never forget to add her heart as a major ingredient to each recipe she prepares. As a chef, we cook for people not for self. I hope she will discover how to set and achieve small goals while working towards self-actualization. I also think being a chef requires you to be a little bit "Koo-Koo".
Culinary Arts Student Riona Buckle, 17
How long have you been cooking? What inspired you to want to become a chef?
I have been in the kitchen since I was about 11-years-old helping or watching my mother or my aunts. I remember seeing my family members in the kitchen making lots of food every Sunday. As a Jamaican, food was already a part of me. However, as I got older I realized that it wasn't just my culture that drove me to want to be in the kitchen rather it was the sheer joy I got whenever I created or tried something new.
What's your ultimate goal and where you hope to end up in this profession?
My ultimate goal is to be able to own my own bakery. I want to work in as many areas of the kitchen and get as much experience as possible before doing this however.
Why did you decide to take part in Plates of Passion?
A: Plates of Passion was not a choice for me – there were no doubts in my mind that I was going to be a part of this. In this industry, exposure is key. You have to get your face out to the world if you want to be successful. I knew in my heart that just as I will need water on a daily basis that I would do my best to ensure that I would be able to participate in this event. I am and always will be prepared for any amazing opportunity that is graciously thrown my way.
How are you feeling about the event and being paired with Executive Chef Enworth?
I am very excited for the competition and even more excited to see how classmates and I handle all the obstacles that may arise. I am very happy to have been paired off with my chef Chef Enworth. Not only is he very skilled, but he is a living representation for me and my fellow Jamaican classmate Navar that if we work very hard we to can climb the ladder and become great and important people.
What will be the biggest challenge for you?
My biggest challenge would be allowing myself to get comfortable in the new kitchen environment.
What do you hope to get out of the experience overall?
I hope to not only get some more experience but to also leave a very good and lasting impression with all of the people who I come in contact with during this process.
This is the seventh in a series of profiles of the teams behind the 2017 Plates of Passion event, a one-of-a-kind dining and fundraising event run by Bermuda Hospitality Institute, which sees local Culinary Arts students paired up with some of the Island's top chefs.
This year's sold-out event takes place on Wednesday, November 1; leading up to the event students will have an opportunity to shadow their mentor chef, collaborate to create recipes and then assist with meal preparation on the night.

Read More About
Category: All, Entertainment, News