Sous Chef Michiko Campbell, of The Royal Bermuda Yacht Club, will be working alongside culinary arts student Navar Dacosta. at the upcoming Plates of Passion event run by Bermuda Hospitality Institute, which sees local Culinary Arts students paired up with some of the Island's top chefs.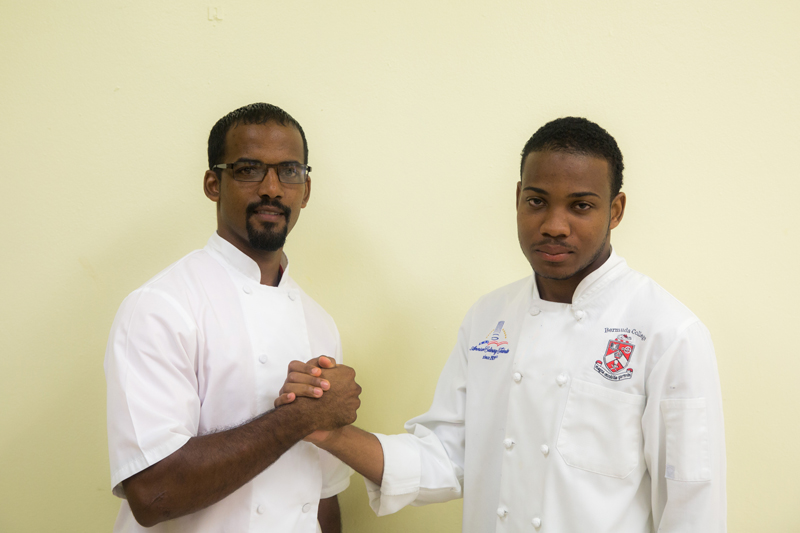 Sous Chef Michiko Campbell
How long have you been a professional chef? What inspired that choice?
I've been working as a professional chef for 12 years and counting. The reason I chose to become a chef is because I like the challenge when it came to making dishes, speeds of a fast moving and growing kitchen, new & growing trends, and most of all the passion I have for food. I love cooking food; it makes me express myself without talking.
What is your culinary arts specialty/ favorite dish to make?
My culinary specialty is anything and everything to do with grillwork and meats. I have so many favorite dishes but to choose one, I will say when I'm feeling like nice tender meat falling right off the bone is Hawaiian baby back barbeque ribs with fresh russet potato wedges and light homemade coleslaw.
Why did you agree to take part in this year's Plates of Passion event?
I agreed to take part this year because I have never participated before and I always look forward to trying something new. It's also a great experience to be able to showcase my talent and share my knowledge with others.
What is the biggest reward for you in doing this?
I feel the biggest reward out of doing this is being able to mentor and share my experience/knowledge with other upcoming professional chefs.
What is the biggest challenge in an event like this?
I think my biggest challenge is trying to find that inner passion within my teammate so he can fully allow himself to express through food and to present it in a way he feels.
What's your plan when it comes to preparing for the night? How will you try to stand out above the other teams?
My plan is very simple to execute and conquer my objectives. I think just bringing a new twist and thinking outside the box will definitely distinguish my team from the rest.
What do you hope to impart on your student teammate? What lessons do you hope they'll learn?
I hope to share my knowledge with my teammate I have learned from 12 years in the industry. Also the importance of hard work and dedication will always work out in your favor. Try to keep your mind open to new and innovative trends. Always have the end result in the vision. Always try new things and never doubt yourself or your talent. Never let anyone else doubt your talent as well.
Culinary Arts Student Navar Dacosta, 20
How long have you been cooking? What inspired you to want to become a chef?
I started cooking about 3 and a half years ago. My mother and cousin are both chefs and just from me watching them both in the kitchen let me have a love for cooking.
What's your ultimate goal and where you hope to end up in this profession?
My main goal is to have my own restaurant and to give Bermuda the real taste of a Jamaican restaurant. I am from Jamaica and over the years living in Bermuda, I feel there is something missing from some of the Jamaican food here. The Jamaican restaurants here are good, but it's different from how I want to serve it. My ultimate dream is to fill that missing spot.
Why did you decide to take part in Plates of Passion?
The main reason I agreed to take part in Plates of Passion is to gain more knowledge and also experience in the field.
How are you feeling about the event and being paired with Sous Chef Michiko Campbell?
Feel great about the event. My chef and I have similar personalities and ways of thinking, so with the both of us working together, it will be a great outcome.
What will be the biggest challenge for you?
I am ready to cook. I don't really foresee there being any challenges.
What do you hope to get out of the experience overall?
I really want to experience the rush in the kitchen and to see how well I can work without panicking when knowing I have people waiting on their meal.
This is the third in a series of profiles of the teams behind the 2017 Plates of Passion event, a one-of-a-kind dining and fundraising event run by Bermuda Hospitality Institute, which sees local Culinary Arts students paired up with some of the Island's top chefs.
This year's sold-out event takes place on Wednesday, November 1; leading up to the event students will have an opportunity to shadow their mentor chef, collaborate to create recipes and then assist with meal preparation on the night.

Read More About
Category: All, Entertainment, News