In celebration of the school's 120th anniversary, the Berkeley Institute Anniversary Celebration Committee is shining a spotlight on its alumni, with the first profile highlighting Kristin White, class year 1997, of Green House.
What does it mean to you to be a Berkeleyite?
I feel part of a rich legacy in black Bermudian history.
What made The Berkeley special to you?
My older sister also attended The Berkeley. When I was still at Prospect Primary, I was her responsibility after school, but she was often otherwise occupied with other duties, so I would have to meet her at Berkeley, find out where she was, and sit with her. I remember that each time I would walk up the huge hill from St. John's Road, see the school and all the students milling about, looking so mature and cool, and navigate through the large halls, I would feel awe. I knew that I would be a Berkeleyite.
Kristin White, Class 1997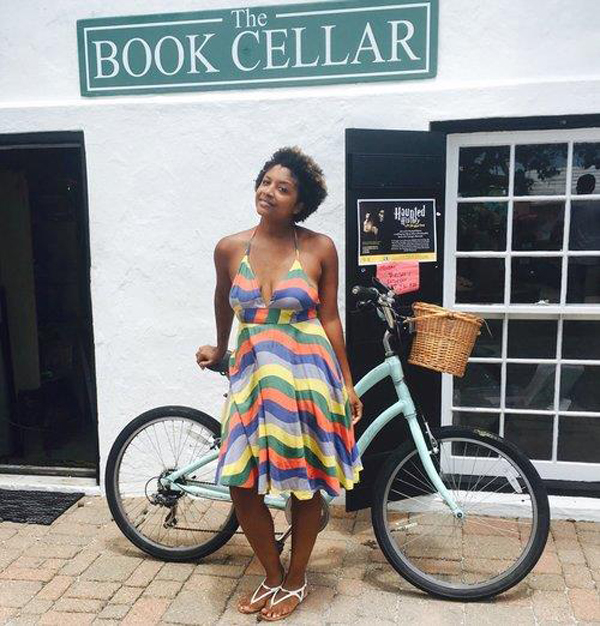 Over the five years, I gained friendships that have lasted until today as well as knowledge about the world and myself that I still reflect on. High school comes at a formative time in one's life, so I am thankful that, although my experience wasn't without flaws, it can still be a touchstone and a happy memory.
How have you applied the motto Respice Finem to your life?
I think all Berkeleyites reflect on the motto during times of struggle, of wanting to give up, of feeling that your goals always seem just out of reach. We also use the motto as a way to connect with other Berkelyites, to acknowledge them, to let them know we identify them as part of our community.
What advice would you give to current Berkeley students and other young people?
I truly believe in and practice the law of attraction and have seen remarkable moments come my way. So, rather than call it advice, I will just say that this is how I have chosen to live my life and hopefully, maybe others can find some value in it:
to be a kind person who enjoys the simple pleasures in life and values the planet and her [the planet's] gifts.
to embrace all beautiful things in my life, my loving family and friends, Bermuda, the ocean and sky, bicycles, hula hoops, bonfires, the smell of the sea… I could go on and on.
to do my best to rise above the bad things that can happen, and acknowledge the role that I, myself, play in attracting negativity to my life.
to face the unsatisfactory parts of myself, to question them and try to understand my sometimes self-sabotaging ways.
to choose a life that may not have me as the richest materially, but the richest in friendship, in love, and in happiness.
What do you do for a living? How did The Berkeley prepare you for this?
While living life every day, to earn money, I currently am a consultant for the Bermuda Tourism Authority, responsible for cultural tourism in the east end. I have a small retail store and offer tours, including the hugely popular haunted history ghost tour. I also am an emcee, and freelance writer [particularly travel].
Over the next year I'm looking to focus more on my writing, as it's my ultimate goal to have a book published.
Who was your favourite teacher and why?
Mr. Winston Laylor was my favourite. During a challenging time in my life, Mr. Laylor allowed me to attend his GCE math class and also provided extra tutoring. He was the most supportive and as a result I was successful in getting my math GCE.
How have/in what ways have Berkeley alumni helped to shape Bermuda?
Berkeley offered a high level of education to black Bermudians at a time when other schools did not. This ensured that leaders were created within our community. These individuals went on to create businesses, champion for civil rights, and join public service. Bermuda as it is today, and the strides that have taken place in the last 120 years within the black community, would not have been possible without The Berkeley Institute.

Berkeley's 120th Anniversary Celebration Committee noted that, "From the onset Berkeley has been a beacon for the minds of tomorrow. The green and gold family is steeped in tradition and culture in academic excellence, Berkeleyites have made and continue to make profound and valuable contributions to Bermuda and the world.
"The Berkeley Institute wants to recognize the exciting and innovative things our alumni are doing, here in Bermuda and around the globe.
"Berkeleyites compromise all walks of life and careers from academia and athletes, to banker and business owners, educators and engineers, politicians and preachers, dancers and doctors to homemakers and hoteliers.
"We are recreational athletes to athletes on the world stage. Classroom debaters to barristers, boardroom strategies to Cabinet Ministers."
And as part of the celebration of Berkeley's 120th anniversary, alumni of the school will be featured on Bernews over the coming months.

Read More About