In celebration of the school's 120th anniversary, the Berkeley Institute Anniversary Celebration Committee is shining a spotlight on its alumni, with the fourth profile highlighting Shernette Wolffe, Class of 1976, Green House.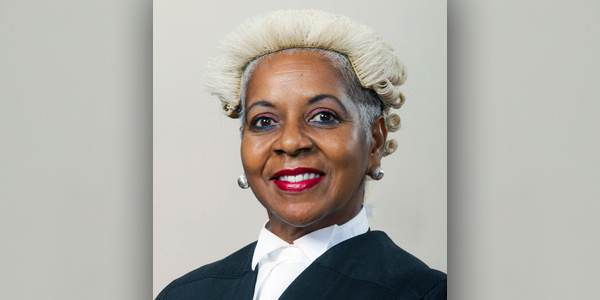 What does it mean to be a Berkeleyite?
Berkeley represents an enduring, rich and proud legacy. I descend from an impressive line of "movers and shakers" who have profoundly impacted our society and in particular our Black community.
How have you applied the motto "Respice Finem" to your life?
The motto has shaped me to become a visionary and a proactive individual regarding the decisions and goals I make both personally and professionally in my life. Even when I'm confronted with challenges or my expectations are not met, I always look for lesson[s] to be learned.
How did your time at Berkeley aid in your decision or your career path?
I was a helper/volunteer at our school library under the supervision of veteran and esteemed teacher, Mrs. Edwena Smith. Little did I know then that I would embark on a career in librarianship.
I worked at the Atlanta Fulton Public Library Special African-American collection and was even afforded the opportunity of being interviewed by Coretta Scott King for a Special Collections Librarian post at the historical King Centre in Atlanta. Subsequently I returned to Bermuda and worked as a Reference librarian at the Bermuda National Library.
Later in the years, I worked as a Foreign Language and English Teacher at Berkeley Institute and Warwick Secondary School [now T N Tatem School]. I then turned full circle and became the Head of Library and Information Services at CedarBridge Academy.
What advice would you give to current Berkeley students and other young people?
I strongly believe it is important for our young people to pursue their dreams and/or passions even if they do not travel the traditional educational route but instead embark on a career of entrepreneurship.
We do not always have to take the same path. "Dare to be different, dare to dream, dare to think", and more importantly, "don't be a follower". "The Road less travelled" is sometimes paved in gold.
What was your fondest memory of your time at The Berkeley Institute?
It is difficult to pinpoint exactly my fondest memory, as I have many warm and tender memories as a student. For the record Mr. F.S. Furbert, one of our most distinguished and past principals retired in 1971 and in his honour we had to line up in the form of his initials: F.S.F. There was also a celebratory service for him at St. John's Anglican Church in Pembroke.
What do you do for a living? How did The Berkeley prepare you for this?
Currently, I am the Clerk to the Legislature at the House of Assembly. I advise the Speaker of the House and Members of Parliament on parliamentary practice and procedure. I have always had an interest in politics and history.
My mom and Dame Lois Browne-Evans were first cousins and proud Berkeleyites and often would be embroiled in the local politics and local and international historical events. I was an avid history buff as a student.
Mrs. Sharon Parris was one of my favourite teachers and she piqued my interest in World and American history. I loved her demeanour and the manner in which she carried herself – always dignified, similar to Mrs. Vivlyn Cooper, another one of my favourite teachers. She was a strict disciplinarian, very composed and extremely well dressed. Both my sister and brother attended The Berkeley as well.

"From the onset Berkeley has been a beacon for the minds of tomorrow," Berkeley's 120th Anniversary Celebration Committee noted.
"The green and gold family is steeped in tradition and culture in academic excellence, Berkeleyites have made and continue to make profound and valuable contributions to Bermuda and the world.
"The Berkeley Institute wants to recognize the exciting and innovative things our alumni are doing, here in Bermuda and around the globe.
"Berkeleyites compromise all walks of life and careers from academia and athletes, to banker and business owners, educators and engineers, politicians and preachers, dancers and doctors to homemakers and hoteliers.
"We are recreational athletes to athletes on the world stage. Classroom debaters to barristers, boardroom strategies to Cabinet Ministers."
And as part of the celebration of Berkeley's 120th anniversary, alumni of the school are being featured on Bernews.

Read More About