In celebration of the school's 120th anniversary, the Berkeley Institute Anniversary Celebration Committee is shining a spotlight on its alumni, with the second profile highlighting Mustafa Manders Ingham, Class of 2015, Gold House.
What does it mean to you to be a Berkeleyite?
It's an honour. Growing up that's all I ever heard in my household; this shaped me as a young man.
How have you applied the motto Respice Finem to your life?
Whatever I go into I give it my best. It's about perspective and always having goals. Reach the finish line and be proud of it.
 Mustafa Manders Ingham, class of 2015 with his mother Mandy Ingham, class of 1989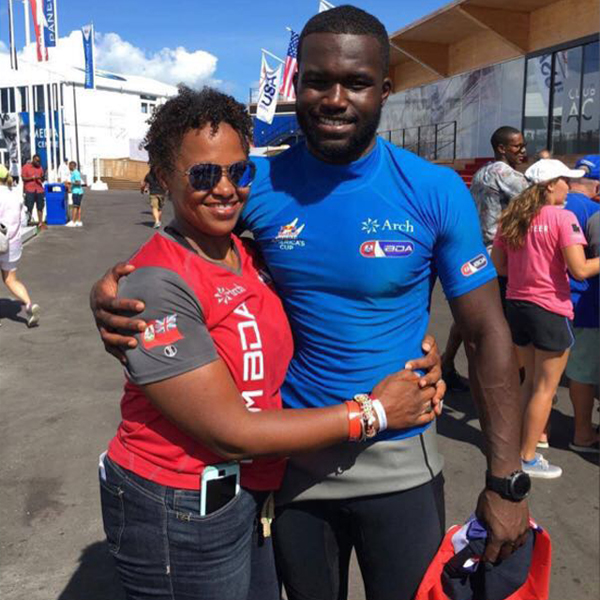 What advice would you give to current Berkeley students and other young people?
Realize that this is a serious stepping stone in your life. Berkeley is preparing you for adulthood. Keep the end in view and go after any opportunity that's given.
What do you do for a living? How did The Berkeley prepare you for this?
Presently I am working with Team Turn the Tide on Plastic who are racing in The Volvo Ocean Race [VOR]. The VOR is as big if not bigger than the America's Cup. My team is racing Volvo 65 sailboats and we travel around the world starting in my current location of Alicante, Spain.
We will then sail to Lisbon [Portugal], Cape Town [South Africa], Hong Kong [China], Auckland [New Zealand], Itajai [Brazil], Newport [United States], Cardiff [England], Gothenburg [Sweden] and finally, Hague [Holland].
I am working as shore crew/apprentice in hopes that I can acquire qualifications that allow me to sail the boat in the final legs of the race that concludes in Summer 2018. I will be the first black person to ever sail on these boats and to even be a part of the race itself.
My family, who are all former Berkeleyites, instilled a strong work ethic in me and life skills which have helped me to develop and succeed. This past summer I taught sailing to some of Bermuda's future athletes at Sandys Boat Club. Berkeley had a robust athletic program and it showed me how to have a relationship with young students and how to get the best out of them.
What factors played a role in your decision to attend Berkeley?
Family! Berkeley was seen as the elite…I don't see why anyone wouldn't want to go to Berkeley.
How have/in what ways have Berkeley alumni helped to shape Bermuda?
They are everywhere. Wherever you go you are likely to find someone who went there. I find Berkeley alumni to be accommodating, friendly and wise. They are willing to give advice and help to make sure that you are alright.
What advice would you share with a student pursuing a career in your field?
Hard work pays off. It gets you recognized.

"From the onset Berkeley has been a beacon for the minds of tomorrow," Berkeley's 120th Anniversary Celebration Committee noted.
"The green and gold family is steeped in tradition and culture in academic excellence, Berkeleyites have made and continue to make profound and valuable contributions to Bermuda and the world.
"The Berkeley Institute wants to recognize the exciting and innovative things our alumni are doing, here in Bermuda and around the globe.
"Berkeleyites compromise all walks of life and careers from academia and athletes, to banker and business owners, educators and engineers, politicians and preachers, dancers and doctors to homemakers and hoteliers.
"We are recreational athletes to athletes on the world stage. Classroom debaters to barristers, boardroom strategies to Cabinet Ministers."
And as part of the celebration of Berkeley's 120th anniversary, alumni of the school will be featured on Bernews over the coming months.

Read More About