In celebration of the school's 120th anniversary, the Berkeley Institute Anniversary Celebration Committee is shining a spotlight on its alumni, with the seventh profile highlighting Florenz Webbe Maxwell, Class of 1951, Green House.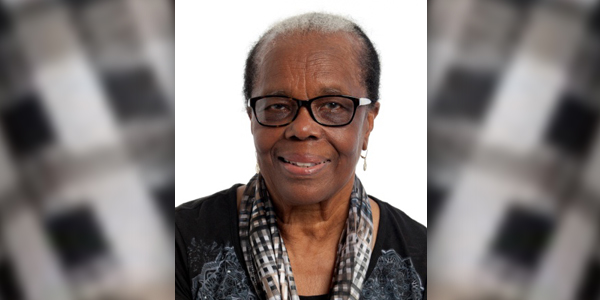 What does it mean to you to be a Berkeleyite?
I have always been inspired by the tenacity and courage manifested by the Founding Fathers who made it possible for The Berkeley Institute to exist. As a member of that stalwart family, I have learned the importance of loyalty–a loyalty that kept their vision alive.
What is your fondest memory of your time at The Berkeley Institute?
In my senior year, Mary Rose Allen was seconded from Howard University in the United States to teach Physical Education. Her emphasis was instilling in us, as young women, a strong sense of self-esteem. I marveled when she dispelled the stupidity of shade-ism by teaching the various hues that beautified our complexion. She became my heroine.
How have you applied the motto Respice Finem to your life?
Many speakers were brought to the school to motivate us on how to become better citizens. They inspired me to work hard and try not to waste time. The latter was a struggle but I was challenged to 'keep the end in view.'
How did your time at Berkeley aid in your decision for your career path?
I enjoyed every English class and was fortunate to be given an excellent foundation in the mechanics of writing. Every spare moment was used in reading and writing original poems and stories.
What advice would you give to current Berkeley students and other young people?
Time passes by like the speed of light and once gone can never be retrieved. My advice is not to waste it. Plan now to make every moment count so that you can become a valuable member of society. In the words of Gandhi, "Be the change you wish to see in the world."
What do you do for a living? How did The Berkeley prepare you for this?
I am a retired librarian and am now a published author. The motto 'Respice Finem' constantly reminded me as a student I had to work hard to do my best. When I failed a subject, I was aware of the fact that, according to George M. Moore Jr, an Irish writer, "a winner is just a loser who tried once more". And try hard I did, so in the end I can look back to my Berkeley days for giving me a solid foundation.
What factors played a role in your decision to attend Berkeley?
I attended the Central School [Victor Scott]. Students were encouraged to do well and if successful, get a high school education. Students who did not win a scholarship were required to pay tuition in order to enter high school. I was successful in getting into Berkeley through a competitive entrance exam. The history of the Founding Fathers taught me that an education was paramount in breaking down social barriers. Berkeley was for me, the first step on the rung of social justice.
Who was your favorite teacher and why?
My favourite teacher was Mrs. Elizabeth Kawaley who taught French. She made her students feel special, even those of us who did not 'parlez' well. Whenever I see her, a feeling of warmth and admiration still envelop me. I was also fond of Merle Brock Swan Williams [we share a birthday] and Mr. T. N. Tatem, the dynamite Geometry teacher who made me respect circles and triangles in life even though I was challenged in mathematics.
What advice would you share with a student pursuing a career in your field?
I have ploughed through two career fields: librarianship and writing. Both required a passion for reading. Although I qualified as a Children and Young Adult librarian, I was also trained to work in the Technical Services, Cataloguing and Adult Departments. As a novelist, I learned the ingredients of plot, character, dialogue, setting and theme, all of which hold a story together. Stories were always churning in my head and I wrote every day, even keeping a journal. There is a myth that writers become millionaires for very few make enough royalties to purchase a half basket of groceries. The wealth comes from the satisfaction of knowing that most of your readers appreciate your message.
Do you have any children who attend or attended Berkeley?
Both of my sons, Drs. Clarence and Alphonso Maxwell, attended Berkeley and are on Gold House because of their father Dr. Clifford Maxwell. Had I married before I attended Berkeley, the entire family would have been on Gold House!

"From the onset Berkeley has been a beacon for the minds of tomorrow," Berkeley's 120th Anniversary Celebration Committee noted.
"The green and gold family is steeped in tradition and culture in academic excellence, Berkeleyites have made and continue to make profound and valuable contributions to Bermuda and the world.
"The Berkeley Institute wants to recognize the exciting and innovative things our alumni are doing, here in Bermuda and around the globe.
"Berkeleyites compromise all walks of life and careers from academia and athletes, to banker and business owners, educators and engineers, politicians and preachers, dancers and doctors to homemakers and hoteliers.
"We are recreational athletes to athletes on the world stage. Classroom debaters to barristers, boardroom strategies to Cabinet Ministers."
And as part of the celebration of Berkeley's 120th anniversary, alumni of the school are being featured on Bernews.

Read More About