The Bermuda Motors will be hosting their first Open House on Friday [Nov 3] from 1.00pm to 5.00pm at  their Church Street location.
A spokesperson said, "Tomorrow, Friday November 3rd Bermuda Motors will host its first Open House on from 1pm to 5pm at our Church Street Facilities. Members from the Bermuda Motors Team will be on hand to answer questions and provide information for interested parties. There will also be live demonstrations and presentations occurring at the top of every hour.
"Throughout the day there will be hourly tours and presentations on the newly updated and state of the art facilities. Persons can
"At 5pm Bermuda Motors will host a special Get to Know us BBQ and raffle the grand prize [KYMO Super 8 125 Bike]. To win you must be present and participated in at least one of the presentations through. There will be complementary food and beverages provide to all who attend.
"This initiative has been a vision of mine since assuming this role in late 2016. Bermuda Motors does more than just sells cars and on Friday we are excited to welcome everyone to see all the exciting things that we do after the sale of a car. We will also be providing special tours for our High School and Bermuda College students who are interested in the automotive field," said Kris King, General Manager of Bermuda Motors.
For more information on the Bermuda Motors open house, visit www.bermudamotors.bm.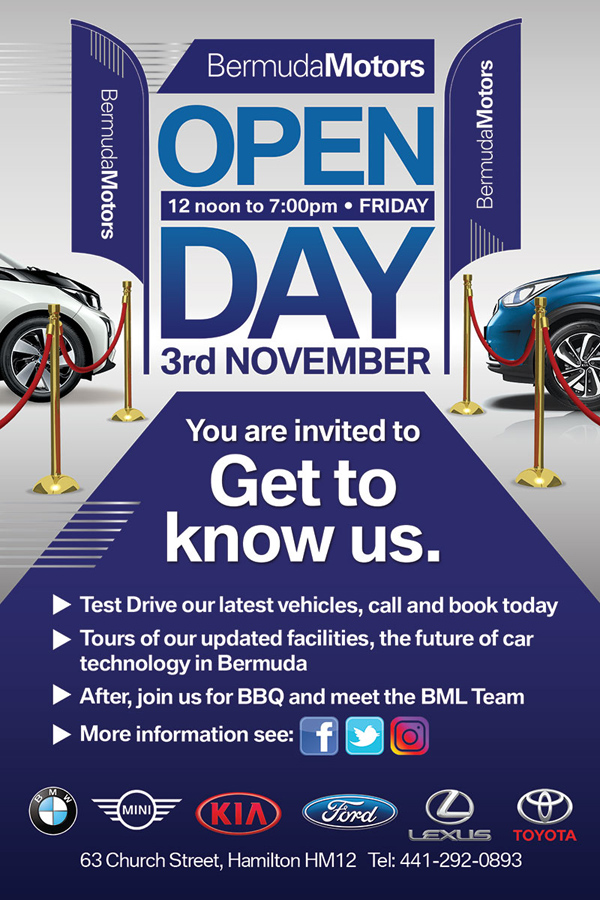 Read More About