The 2017 CEA Regional Jumping Challenge [CEA RJC] came to a very successful conclusion for Bermuda show jumping riders with the Bermuda Team, once again, claiming the top spot against the participating Caribbean countries.
In addition to winning the team division, Bermuda's Kirista Rabain riding Just Pete and Kelsey Amos riding Wiratoro were the overall individual winners in the .70m and 1.00m divisions respectively. Narrowly missing the overall top spot for the .85m division by a mere .03 seconds was Bermuda's Cody Rego riding Happy Feet. Securing the .85m spot was Cayman's Dylan Frost riding Haze.
Photo courtesy of Andy Gibbs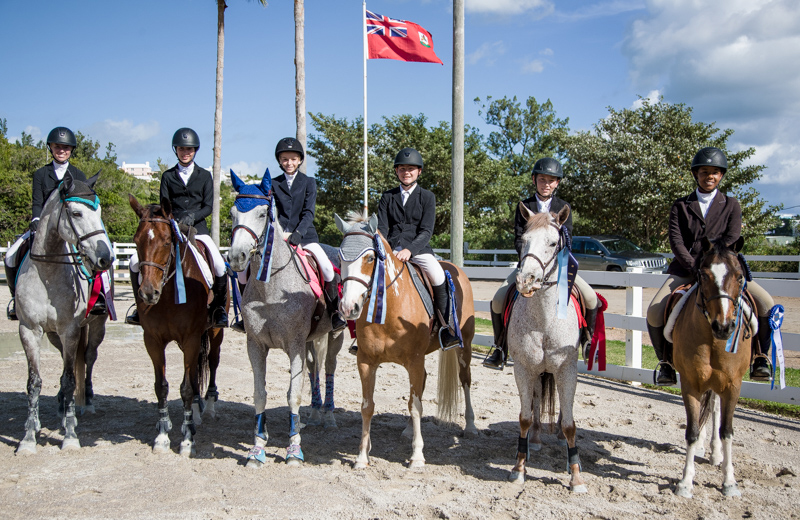 Members of the 2017 Winning Bermuda Team:
Just Pete ridden by Kirista Rabain [.70m]
You'll be Amazed ridden by Tyler James [.70m]
Happy Feet ridden by Cody Rego [.85m]
Frangelica ridden by Ariane Willmott [.85m]
Wiratoro ridden by Kelsey Amos [1.00m]
Worth the Wait ridden by Courtney Bromby [1.00m]
The BEF said "Congratulations to Bermuda's competitors on their highly commendable results in both the Team and Individual divisions. The CEA RJC provides competitors of all ages an opportunity to measure their skills against riders within the Caribbean region.
"Riders compete in their own countries over two rounds of a predetermined jumping course at heights of .70m, .85m or 1.00m. The top two scores from each division form the country's team.
"The Bermuda Equestrian Federation would like to extend its appreciation to competition's Title Sponsor Markel Global Insurance."

Read More About