Masterworks Museum of Bermuda Art has this year joined in #GivingTuesday, a global day of giving to celebrate generosity worldwide, to raise funds for art programs at the Museum.
Now in its seventh year, #GivingTuesday takes place this year on November 28 and is held annually on the Tuesday after Thanksgiving [in the US] and the widely recognized shopping events of Black Friday and Cyber Monday to kick off the holiday giving season and inspire people to collaborate in improving local communities and to give back in impactful ways to charities.
Elise Outerbridge, curator and director of collections at Masterworks, said: "We're always looking for more ways to raise funds and we have a great volunteer base that are enthusiastic enough to help us back this initiative."
"On Giving Tuesday there will be several ways to donate to Masterworks including a brand new 'Donate' button on our website or by stopping by one of our tables set up around the City of Hamilton."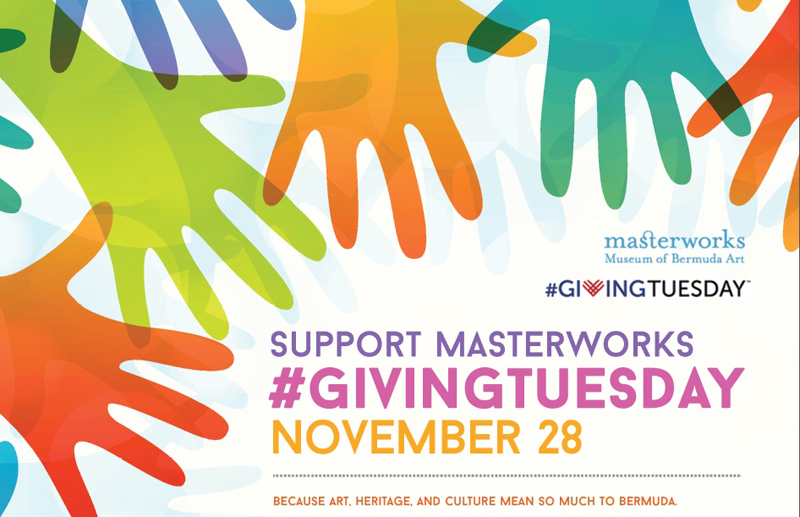 Donation tables manned by Masterworks volunteers will be set up at Butterfield Bank and HSBC Bermuda on Reid Street and in the Washington Mall during #GivingTuesday on November 28. Supporters can give an unrestricted donation or can purchase the Museum's 25th Anniversary Book. American supporters of Masterworks can also make a donation to the museum through the American Friends of Masterworks, Inc.
"This is supporting the history, the arts and the culture of the island that will be meaningful and lasting in perpetuity," said Tom Butterfield, founder and creative director of Masterworks. "The options for people to donate make it a way for people not to feel uncomfortable about what donations they can make. Every dollar helps keeps are learning programs running."
#GivingTuesday was created by 92Y in New York City with the idea of linking individuals and causes to strengthen communities and encourage giving back. Last year 98 countries around the world came together to give back and support causes they believe in. Over $177 million was raised online to benefit a broad range of organizations and much more was given in volunteer hours, donations of food and clothing, and acts of kindness.
"I hope to see Giving Tuesday catching on across the island," added Ms Outerbridge. "I hope that in years to come people will think of Black Friday or Cyber Monday and think that Giving Tuesday also has an important place during this time of year as well as about giving to a charity and the positivity of their support of an organization."
To make a donation to Masterworks on #GivingTuesday, visit www.bermudamasterworks.org, call 299-4000, email mworks@logic.bm or visit one of the tables in the City of Hamilton. US supporters can contact Kitty Haines at afmasterworks@gmail.com or call 646-706-1472 for more information.
For more information about Masterworks #GivingTuesday initiative, visit www.bermudamasterworks.org or call 299-4000. For more details about the #GivingTuesday movement, visit www.givingtuesday.org, Facebook or follow @GivingTues and the #GivingTuesday hashtag on social media.

Read More About
Category: All, Entertainment