The Bermuda Arts Centre is currently holding a fundraising event dubbed '7×52,' with seven member artists of the Arts Centre taking part.
A spokesperson said, "The fundraiser is called '7×52.' In March of this year, seven member artists of the Arts Centre came together and decided that as a fundraiser, each would paint one painting a week for one year and donate the proceeds to the gallery. Each painting to be 6″x6″ in size and sold for $66.00
"This week marks the halfway mark for the fundraiser; 26 of the 52 paintings are being produced and put on sale.
"The fundraiser was designed in the beginning to help with various needs of the gallery. An ageing air conditioning system was on the top of the list, and in the blink of an eye, the fundraiser is now helping to keep the gallery's doors open.
"We would like to give recognition and thanks to the seven artists that are participating in this fundraiser. To paint a painting and donate it to the gallery is a wonderful thing, but to take the time and money to paint 52 of them and simply donate to the gallery, well we feel that is pretty amazing.
"As we are celebrating a halfway point, we asked our participating artists to let us know what the fundraiser had meant to them."
Marlene Jantzen said, "Being part of this fund raiser has given me an opportunity to do something to keep Bermuda Art Centre going. I feel privileged to be considered an artist worthy of this amazing project.
"The biggest challenge is keeping it fresh, painting works that please me. The biggest reward is that it's gotten me back into painting regularly, which I am enjoying tremendously.
"It's a lovely way to spend time, pushing around paint, looking hard at your subject, trying out new techniques, and studying the works of master water colour painters."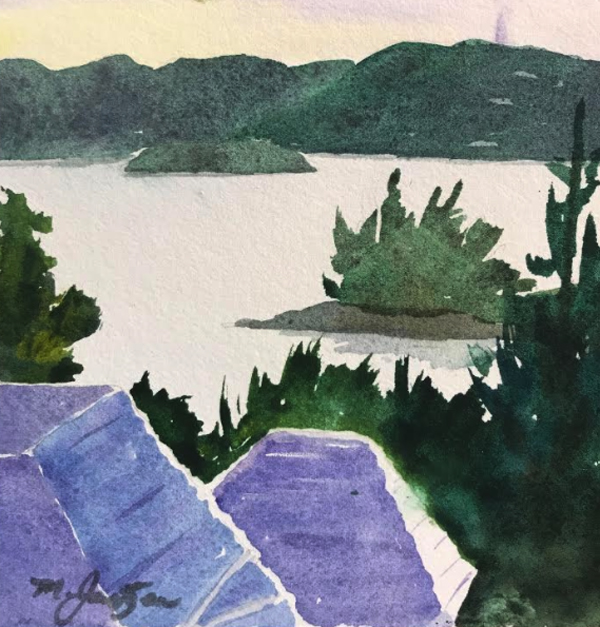 Michele Smith said, "I'm challenged to keep painting when I'm so busy during this pandemic it keeps me sane. I love painting large canvases so this has helped me keep it simple. I'm always growing and trying new mediums.
"Art is a way if keeping focused in a time of uncertainty so this year was the right time. Donating to a great cause by painting is the best."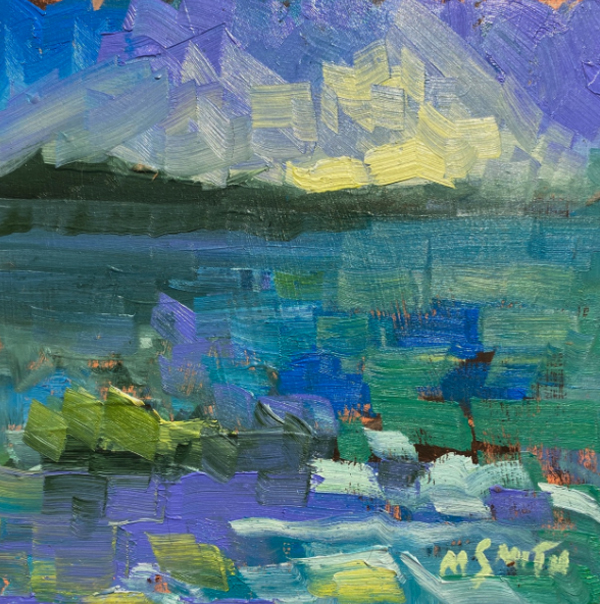 Barb Freda said, "My biggest challenge is getting a 6×6 I like. I feel I am reasonably quick and prolific, but let's face it: not everything I paint is good.
"My biggest reward? That sold comment below the photo!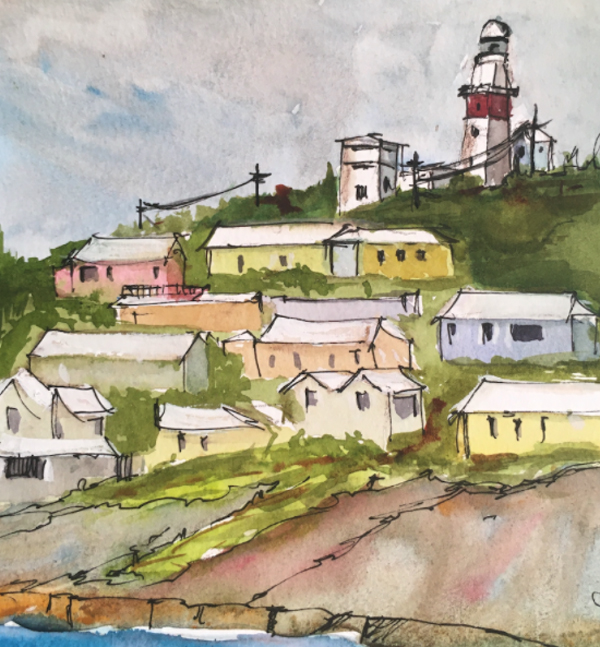 Tricia Roberts said, "The 7×52 fundraiser has given me the opportunity to stretch my talent a bit and get me to paint more often. Practice makes perfect, so the more I paint, the easier it gets. The biggest challenge is trying not to get stuck in one style.
"I like to try different methods and colours when I can. The reward comes when I finish a painting and say to myself, "that's not half bad!"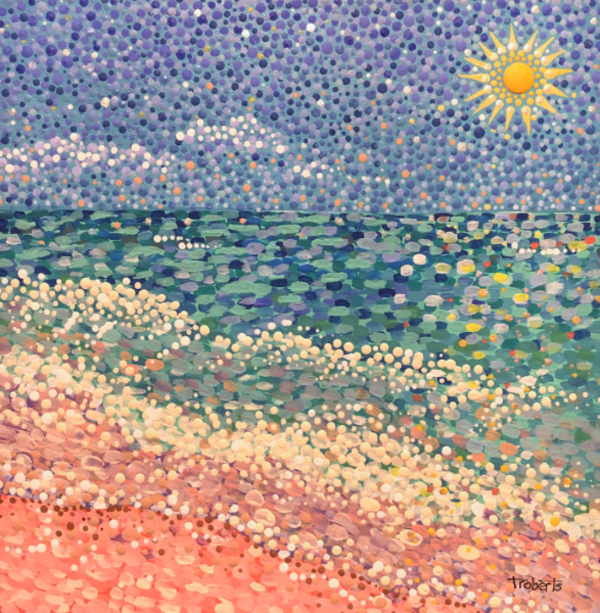 Christopher Grimes said, "Taking part in this project, apart from the fundraising aspect, has prompted me to come up with new ideas on a weekly basis.
"Working to a deadline always prompts the artist to be more efficient and at the same time to plan ahead. These small paintings also give the chance to experiment somewhat."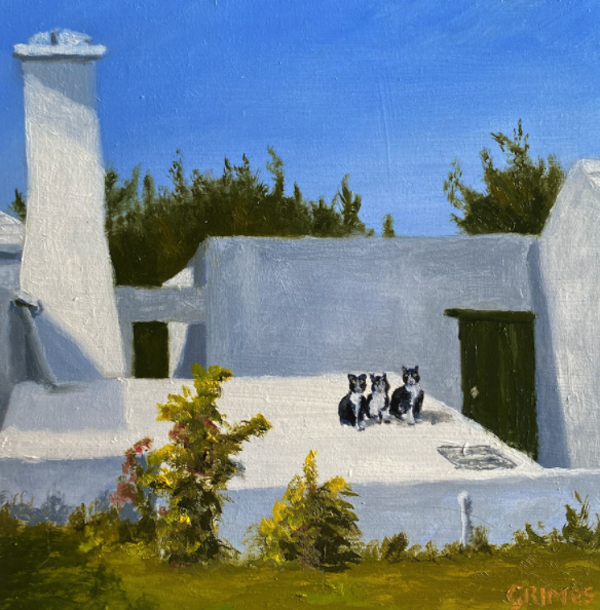 Christopher Marson said, "To quote my old painting professor Ken Lougheed: 'If i could express it in words I wouldn't have to do all these damn paintings.'
"But, for what it's worth, the challenge is to try and stay one step ahead of myself. I always set myself an assignment when I begin a painting, it might be a value exercise or a limited palette exercise or just an attempt to correct the mistakes from yesterday's painting but there is always a plan, executing it effectively is another matter altogether.Occasionally the painting works and does what I wanted it to do and sometimes it even does better than that, and that is magic.
"And of course the biggest reward for us is the support that people show by buying the paintings and helping us to keep the Arts Centre viable."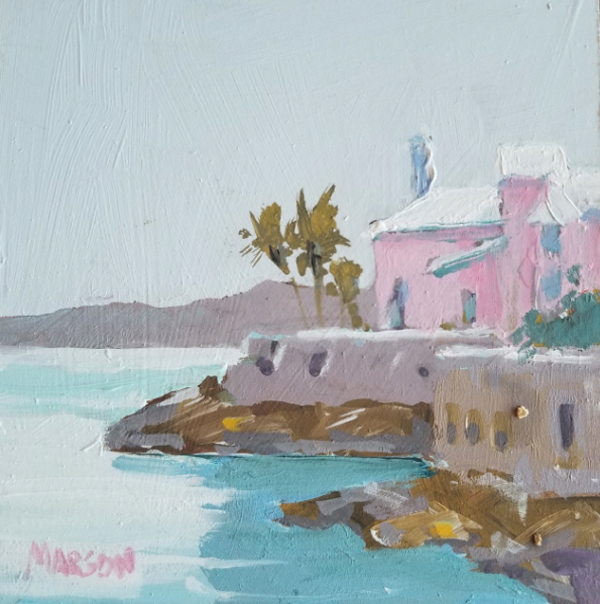 Heidi Cowen said, "It sounded like a great idea talking about it, but when it comes down to creating 52 paintings it's not that easy. Every week you have to come up with an idea of what to paint and some days I admittedly struggle.
"It has however been an interesting journey, and along with the other artists, every painting that sells is a good feeling that you are helping something as important as the Arts Centre to keep going. When it comes time to put that last painting up for sale, I'm going to sigh and say 'Whew, I don't want to do that again too soon.'"
The spokesperson said, ""The fundraiser runs for another 26 weeks. An email list has been created with those interested receiving an email every morning at 9:00 am. The painting is sold on a first come, first served basis and anyone can join the list by simply contacting the Bermuda Arts Centre.
"All paintings can be views on the Bermuda Arts Centre's website."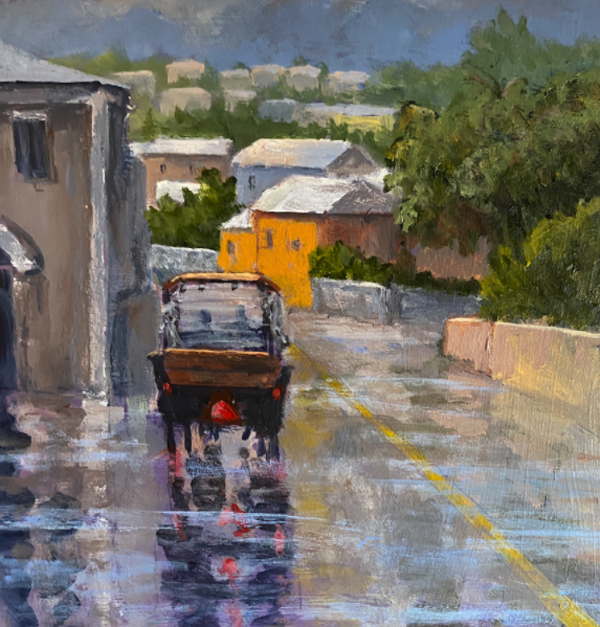 Read More About
Category: All, Entertainment, News